Meet Japanese Companies with Quality
Moving heavy metal

Konno Corporation.
Website: Konno Corporation.


Category: Japanese Machinery
Designing the tools to move modern industry
In our industrial age, massive machines mass produce almost everything we use. The machines, and the factories that house them, however, are built, set up and run by people. When moving often delicate and heavy pieces of machinery by hand, specialized, high-quality tools are required. Konno Corporation, based in Tokyo's Adachi Ward, is Japan's number one producer of these tools. Under their EAGLE brand, they've developed a number of dedicated tools for lifting and moving heavy and precision machinery safely and efficiently.
Getting things off the ground
Konno Corporation was formed in 1961 as a sheet metal manufacturing company. They produced built-to-order storage units and surfaces out of stainless steel for customers' laboratories and hospitals. It was by chance that one of their customers came to them with a request to build a jack that could lift objects which had extremely low ground clearance. They took on the challenge and, at first, failed spectacularly. But they continued to develop the idea with their customer, and through trial, error and persistence, the EAGLE jack was born.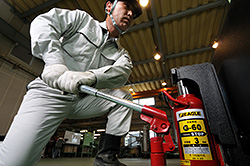 Fully tailored lifting solutions
Aside from the jack, Konno Corporation has developed a number of additional products aimed to ease the moving of heavy loads, as well as add-on accessories and control systems to enhance their jacks and meet newer challenges in the industrial heavy-lifting arena. When used in conjunction with the EAGLE jack, these machines can provide a solution to just about every current market problem. As new challenges appear, products are refined to further address them.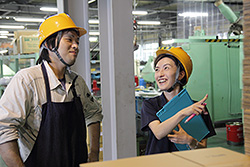 In addition to direct sales and distributors, Konno Corporation is also considering producing some of its lineup as OEM products for overseas companies to resell. To further their international reach, they've also launched an English website, which has already brought the EAGLE jack to the attention of potential customers in markets that Konno Corporation had originally not planned to expand to just yet.
Jack of all trades
The company isn't resting on its laurels though. In addition to continuing the sheet metal production business and expanding the EAGLE jack's reach, Konno Corporation is in the final testing and initial marketing phase of its newest development, the SWORD-a portable driver-assistance arm that allows lower-limb disabled drivers to adapt almost any automatic car to be driven using only their hands. Like the EAGLE jack, the SWORD is a large departure from the company's previous lineup. But, if anything, Company President Hiroyoshi Konno feels the company has proven that its dedicated staff and their attention to detail will make this and all other future endeavors a success.
---
Website: Konno Corporation.