Meet Japanese Companies with Quality
Dried vegetables make for healthy snacking and more

Kodama Foods Co., Ltd.
Website: Kodama Foods Co., Ltd.


Category: Japanese Food
Waste not
How to cut back on waste-that was the conundrum that plagued Kodama Foods Co., Ltd. founder and current chairman, Tatsuro Kodama, in the years before he founded his namesake company. Originally a purveyor of fresh vegetables, the loss of produce to rot led Kodama to dabble in pickles and finally dried vegetables, which Kodama believed would lead to the least amount of waste. With that idea, he founded Kodama Foods in 1972. Currently led by president Shozo Kodama, Tatsuro Kodama's eldest son, Kodama Foods is best known for its dried, shredded Japanese radish. The company also produces a wide variety of dried goods and products made from dried goods, including teas, juice powders, ramen toppings, dried garlic and much more.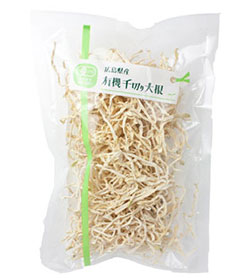 Veggie power
Everyone knows that vegetables are full of vitamins, minerals and fiber. But as Hajime Kayakiri, the international business division marketing project manager-and licensed vegetable sommelier-explains, what makes dehydrated vegetables especially good for you is that their nutritional content is concentrated. This means you can easily reach daily nutritional requirements by eating just a small amount. But Kodama Foods knows that just "doing a body good" isn't enough; if food doesn't taste good, all the health benefits in the world won't save a product from a quick trip to oblivion. As such, flavor and texture are serious business. With two products, burdock tea and aojiru (green juice powder), having received Gold Quality Awards from the Monde Selection in both 2012 and 2013, Kodama Foods' success in the taste and texture department is clear.
Healthy snacking
Taking the company's interest in health and its experience in dehydration to the wide world of snacking, Kodama Foods has developed a non-fried, vegetable chip. Crisp, flavorful and with a satisfying crunch, the chips are delicious, nutritious and low in calories. The flavors include king oyster mushroom with the deep, mouth-watering taste of a rich mushroom broth; full-flavored yet refreshing burdock; enoki mushroom with the luscious flavor of butter-sautéed mushrooms; lotus root and onion. All snacks are made without additives, so the chips are not only guilt-free but also gluten-free. They can be enjoyed on their own or as an accompaniment to beer or wine.
Chips abroad!
Already in several foreign markets, Kodama Foods plans to focus on North America, Europe and Oceania for its vegetable chips, noting the potential in the organic, gluten-free, healthy-snack cultures currently booming in those areas. Ideally, Kayakiri says, Kodama Foods would like to work closely with the businesses that sell its products, but it's also interested in building relationships with trading companies. When asked what kind of consumers Kodama Foods is interested in, Kayakiri is clear that its vegetable chips are not meant to appeal solely to Japanese or other Asian expats-and not just to health-conscious buyers-but to everyone. After all, when health and good taste combine, everybody wins.
---
Website: Kodama Foods Co., Ltd.