Meet Japanese Companies with Quality
Pioneers of the lead-free movement

IKEN Engineering Co., Ltd.
Website: IKEN Engineering Co., Ltd. (Japanese)


Category: Japanese Machinery
The green revolution
As the world faces escalating concerns about global warming and the deterioration of ecological resources, Japan is leading the green revolution as its engineering industry strives to eradicate unnecessary pollution.
IKEN Engineering Co. Ltd., a manufacturer of radiation-proof materials founded in 1978, seeks solutions to the toxicity problem through the creation of environmentally conscious construction paneling. In particular, the Tokyo-based engineering firm has made its name known in both the architectural and medical worlds due to its line of radiation shielding walls that are constructed entirely void of lead. And while lead-free products such as rubber and gasoline are already on the market, IKEN is pioneering the lead-free construction materials movement, and is currently its only prime manufacturer.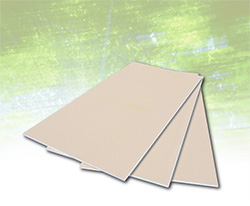 No more lead
The metal has long been favored for use in X-ray room shielding due to its ability to scatter X-rays and deflect electrons that could induce cancer; but at the same time, it has been proven to pose other health and environmental risks, largely due to its high levels of carbon dioxide emission. While more eco-friendly materials, such as concrete and iron are available, according to IKEN Engineering International Sales Manager Yuta Kondo, many find those to be very expensive and difficult to construct with. As such, many hospitals and medical facilities continue to use lead shielding in spite of the risks, "Because they have not been able to find a suitable, cost-effective alternative," Kondo said.
IKEN, however, has. Commencing research in 1999, the company has since created the Lead-Free Board Xp and the Lead-Free Sheet Sp, shielding panels that, instead of lead, are mixed with barium sulfate, a chemical that can achieve similar radiation protection effects, while being non-hazardous for human contact or even ingestion.
The barium panels also significantly reduce the amount of pollution, decreasing levels by about 30-40 kilograms' equivalent of carbon dioxide emission per panel. Per complete X-ray chamber, the numbers can add up to two tons' worth. In addition, a major perk of the barium shielding lies in its recyclability: used panels can find new life as other forms of drywall such as gypsum boards and sheetrock.
Changing the world
Their environmental consciousness in addition to the "made in Japan" tag-a holy grail in the international market that equates to top-notch production-have garnered the board's acclaim among green-minded architects, construction companies and hospitals domestically since it went on the market in 2006, and has resulted in global expansion, with IKEN now working with enthusiastic customers overseas.
"Because [the lead-free boards are] made in Japan, the world expects a high caliber of dependability and quality," Kondo said, adding that IKEN Engineering strives to maintain that reputation.
---
Website: IKEN Engineering Co., Ltd. (Japanese)