Meet Japanese Companies with Quality
A space ahead of the competition

Hirosugi-Keiki Co., Ltd.
Website: Hirosugi-Keiki Co., Ltd.


Category: Japanese Machinery
Starting Out with Measuring Instruments
"Necessity is the mother of invention," the saying goes and that's precisely what made Hirosugi-Keiki Co. Ltd. shift into a radically different business model than when it first began. The company's founder, Ichiro Sasaki, was already an experienced engineer when he started his own business in 1980 building instruments to measure water depth.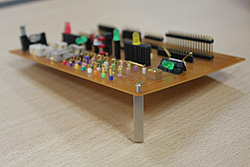 Small orders for small needs
Sasaki was making specialized equipment in limited quantities and encountered problems obtaining the small number of spacers used in his equipment. (Spacers, which comprise the majority of Hirosugi-Keiki's product line, provide space between printed circuit boards and device cases.) Suppliers would only sell the items in large quantities and at correspondingly higher prices, giving him the idea to develop a business selling spacers and other parts used by electrical and mechanical designers in small quantities. This did so well that Sasaki focused primarily on his new strategy and ceased making measuring instruments altogether.
A leading parts supplier
Hirosugi-Keiki is now a leading supplier of electrical fasteners and parts such as standoffs, washers, bushings, screws, bolts and nuts in addition to spacers. Yuji Sugo, general manager of the International Division, says the company holds approximately 70 percent of Japan's domestic market share. Per Sasaki's original problem, Hirosugi-Keiki distinguishes itself by offering customers the ability to place orders in quantities as small as 50 items, in contrast to minimum lot orders of 1,000 pieces common at other companies.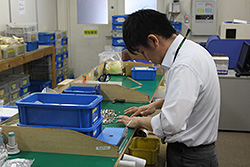 Unmatched product variety
A customer browsing through Hirosugi-Keiki's online or paper catalog will find an extremely diverse product lineup in a comprehensive range of sizes-the current 2014 edition lists 50,000 products. The company stocks full ranges of sizes, even with variations of just 0.5 mm in some cases. To provide rapid response to customer orders, Sugo estimates that 90 percent of the company's 50,000 product types are in stock at any given time.
Developing a manufacturing network
Hirosugi-Keiki works with a network of trusted Japanese manufacturers for quality control and product development. Sugo says the company has developed plastic spacers to reduce weight, particularly hexagonal-shaped ones that are physically easier to work with. And Hirosugi-Keiki is also leading the way in the reduction of lead in parts, having developed an Eco Spacer that's entirely lead-free, in anticipation of a stricter Restriction of Hazardous Substances (RoHS) directive in the U.S. and Europe. Now, most of Hirosugi-Keiki's products are supportive with RoHS.
The company is expanding its global reach and has opened sales offices in China and Malaysia to support manufacturers outside of Japan. Overseas customers can buy directly from the company or through some 13,000 trading partners in Hirosugi-Keiki's network. Sugo says the strategy for foreign customers is the same as in Japan: small orders with small lead-time, but big on quality.
---
Website: Hirosugi-Keiki Co., Ltd.