Meet Japanese Companies with Quality
Protecting humankind with Japanese invention

Fujiwara Industry Co., Ltd.
Website: Fujiwara Industry Co., Ltd.


Category: Japanese Machinery
Water for change
In recent years, modernization and human activity have brought about drastic changes to our environment. Fujiwara Industry is working to reverse this negative cycle by using basic know-how as the foundation of all its new inventions.
Entering its 34th year, the firm is based in Osaka and led by CEO and founder Michihiro Fujiwara. Its two main lines of production are equipment for water treatment plants and emergency products to help protect against disasters.
In particular, the company is known for its groundbreaking Monorail-Type Sludge Collector, a water treatment tool certified by the Japan Sewage Works Agency and patented in Japan, the US, China and other Asian countries. With the development of the device in 1993, Fujiwara laid emphasis on the importance to people and the environment of improving water circulation. Population growth and industrial development necessarily results in more water pollution. And sludge collectors are integral to the water treatment process by helping remove unwanted material.
However, the traditionally-used chain-type systems are assembled of numerous parts, putting a heavy demand on the technological capabilities of communities. With fewer components, Fujiwara's Monorail-Type is much easier to install and maintain-and it's even built to resist seismic activity. Just one rail is laid at the bottom of the water basin, making for less installation time and more efficient working schedules.
A better way to rid water of sludge
In 2012, Fujiwara developed a revolutionary new model for regions without water and sewer infrastructure, where water purification is particularly crucial. The engineers sought to create a system that would function without electricity; the Hydraulic Cylinder-Driven Monorail-Type Sludge Collector was born. The machine's rotation is powered by water pressure instead of a motor, and this makes it suitable for regions without a stable power supply. Installment and maintenance is still kept simple for users lacking in technological capabilities. Fujiwara is working to find concrete ways to provide quality water to the people who are most in need.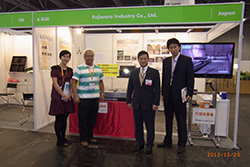 New ideas for humanity's future
This Hydraulic Cylinder-Driven Monorail-Type Sludge Collector has garnered plenty of interest in countries across the world, and is en route to installment. The emphasis on water has led to numerous innovations by Michihiro Fujiwara and his team, who never cease to explore. They're currently working on a device to create rain clouds to irrigate deserts, a project which Fujiwara believes could help stop global warming. He and his team of engineers are continuing to innovate for the future of humankind and the world.
---
Website: Fujiwara Industry Co., Ltd.