Meet Japanese Companies with Quality
Contoroller for servo moter-run packaging machine

Excelsoft Corporation
Website: Excelsoft Corporation


Category: Japanese Machinery
Automation for the people
At the end of Japan's economic bubble in 1990, Hiroyuki Saito and Junichi Abe got together to create embedded software. Though the timing was tough, their company, Excelsoft Corporation, survived and thrived.
Today, the Excelsoft Corporation has expanded. It now makes factory automation software (such as automobile production line robot controllers), office automation software (including financial applications) and electronic circuit hardware. The company strives to make secure and reliable products that focus on utility, durability and affordability. With offices in Yamagata City and Tokyo, the company has positioned itself to serve clients both domestically and overseas.
Wrap it up
Japan is a world leader in packaging technology, and one of Excelsoft's premier products is its controller for servo motor-run packaging machines used in large factories. These devices, which come in flat packing (for dry goods like instant noodles), have fewer moving parts and a simpler, more sophisticated controller than the ones run by other motors. The servo motor machines have higher speeds (up to 500 rpm), efficiency and allow fewer mistakes such as missed or empty packets. The breakdown rate is also much reduced compared to more complicated machines, and the entire process is computer-operated. Using Excelsoft's controllers, servo motors with up to ten axes can be operated at once.
Servo motor controlled machines wrap not only food products but also items such as single-use moist towelettes and medical products such as intravenous drip fluid bags. With Excelsoft's controllers, it's easy to change the size and volume of packaging, and the controller is compatible with a large variety of packaging machines.
Exporting reliability
Excelsoft's controllers for servo motor packaging machines are widely used in Japan and have also been exported to Korea, Thailand and countries in Europe and the Middle East. Recently, Chinese companies have started to use the controllers; the country has high volumes of packaging but lacks the sophisticated equipment necessary to control the efficient machines in order to meet demand. The corporation hopes to enter the Indonesian market next.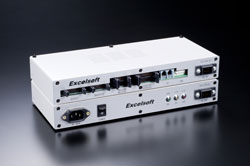 Excelsoft is a customer-oriented company, and its employees pride themselves on their communication and sensitivity to customers' needs. From conception, design and development to trials and testing, the company seeks to cater to their clients' desires as much as possible. Their greatest satisfaction comes in creating a convenient and useful product that will wrap up everything as smoothly as possible.
---
Website: Excelsoft Corporation