Meet Japanese Companies with Quality
Fishing a bright future for your skin

Daito-Suisan CO.,LTD
Website: Daito-Suisan CO.,LTD


Category: Japanese Food
From fishermen to beauty gurus
Located in the port of Yaizu in beautiful Shizuoka Prefecture, Daito Suisan Co. began as a fishing concern, harvesting the sea for tuna. Second-generation CEO Keijiro Saito has expanded on the original idea. The company has moored its boats but still produces maguro and katsuo (skipjack) tuna for supermarkets and sushi restaurants.
Keen to diversify, Saito tried out various ideas before a breakthrough came in 2008 with the help of his wife Miho. The discovery was collagen jelly. Tentative at first, swift results convinced them to keep on-and their light, refreshing peach-flavored collagen jelly has been sold ever since. Miho now heads up the company's collagen division.
Tuna skin for better skin
Collagen is present in human skin but decreases with age, causing a loss in elasticity and suppleness. To halt these effects, collagen made from animal protein, like chicken, pork or fish, can be taken as a supplement. Fish collagen is typically either made from fish scales or fish skin. Saito says 90 percent of the collagen on the market comes from fish scales-a cheaper product to make. But the absorption rate of scale-based collagen is poor compared to that made from tuna skin. That's why Daito Suisan insists on making its jelly from fish skin. And because Daito Suisan produces fish for food, they can access high-quality raw materials that might otherwise be discarded.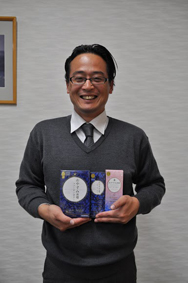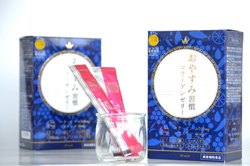 A formula for beauty and health
Daito Suisan's product contains collagen and elastin from tuna, which boosts skin elasticity. Hyaluronic acid and coix extract promote moisture retention; royal jelly contains amino acids, vitamins and minerals; and Korean ginseng extract boosts the metabolism. The jelly also contains xylitol, meaning it's safe to eat after brushing your teeth and before bed-the recommended time for maximum effectiveness. Though the jelly is a supplement, its delicate, lightly sweet peach flavor makes it suitable as a low-calorie dessert.
Breaking borders
The Oyasumi Shukan collagen jelly was released locally in 2008-Daito Suisan gave out samples in Yaizu. But the company soon branched out to domestic trade shows and the product caught on, riding the collagen boom of 2009. At domestic trade shows, such as Food Ex, overseas buyers from China and Hong Kong showed an interest. The Saitos began to see the possibilities. Trade shows followed in China, Thailand, Korea and Singapore. Today, 50 percent of collagen sales head overseas, with Singapore as the number-one destination, followed by Vietnam and Thailand. March 2015 will see Daito Suisan hit Myanmar. With the release at the end of 2014 of a mango-flavored version, Southeast Asia is set to go collagen crazy.
Keijiro Saito hopes to bring health and beautiful skin to the world, all under a simple message. "Beauty and food are connected," he says. "This jelly is about becoming beautiful not from the outside but from the inside."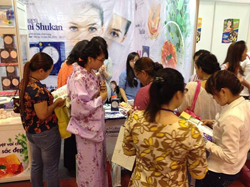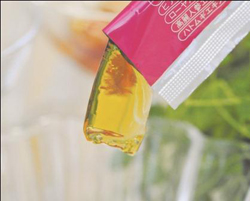 ---
Website: Daito-Suisan CO.,LTD