Meet Japanese Companies with Quality
Japan's robotic gift to humanity

Chinougijutsu
Website: Chinougijutsu Co., Ltd.


Category: Japanese Machinery
Every problem has a robotic solution
"Shape your ideas" is the slogan of Chinougijutsu Co., Ltd., and its mission is to find a robotic solution to every problem. As experts and consultants, the firm's personnel offer each customer complete service-from analyzing specific needs and the budget available to producing a practical solution with innovative technology. Company experts use the ideas of customers as basis for their projects. This philosophy has enabled Chinougijutsu to bring to life more than 60 innovative devices in diverse fields.
Engineers generally take at least a year to develop a robot, while certain more complex technologies take several years to create. Chinougijutsu excels in developing sensors and safety devices to prepare for natural disasters. And the firm works across a broad range of sectors, from construction, heavy industry and agriculture, to healthcare and the dining industry.
One particularly outstanding creation from its lineup is the feted Ladybird, a cleaning robot used at highway parking lots. Not only does it move independently to clean up dirty areas, but it can even interact with people. Another innovation was developed in partnership with a major Japanese petroleum company. The robot is the first of its kind in the world equipped to remove sediment from parts of an oil refinery unsafe for human entry.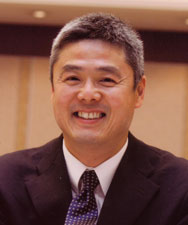 Innovation saves lives
CEO Ryoji Otsu previously worked at a major IT company. He witnessed major natural disasters such as earthquakes and volcanic eruptions in his country with their extensive death tolls. Otsu was determined to help save lives and shore up disaster prevention. He established Chinougijutsu in 2007 to develop devices that could change the future. The company has already been offered partnerships with major corporations in all fields, and it has received various awards for innovation including from the Ministry of Economy, Trade and Industry.
Cutting-edge technology for the future
Chinougijutsu has worked with companies all over Japan. But Otsu is keen to engage in overseas collaborations. "If the need exists here in Japan," he says, "it also exists globally." One such pressing need is now being dealt with through the work of Chinougijutsu. Within the last seven years in Japan, accidents caused by the deterioration of 40 to 50-year-old constructions have increased fivefold. Japanese people have faced tunnel collapses and explosions in old factories and buildings. Chinougijutsu experts are developing an innovative sensor system to perform daily inspections and detect abnormality in older structures-serving as a substitute for the human employee. A patent application is currently underway for the new technology. But this is just one of the world's urgent problems. As more and more crop up, Chinougijutsu will continue to seek global partners, to provide innovation and cutting-edge technology to diverse sectors all over the world.
---
Website: Chinougijutsu Co., Ltd.