Meet Japanese Companies with Quality
Original Materials for Unique Lifestyle Products

Chemifelt Japan Co.,Ltd.
Website: Chemifelt Japan Co.,Ltd.


Category: Japanese Design & Daily goods
The chemistry of comfort
Hisashi Yoshida, the fourth-generation CEO of Chemifelt Japan Co.,Ltd., promotes the use of safe and natural non-petroleum-derived materials, such as rubber and cork, to create products that enrich people's lives.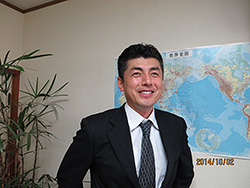 Enriching everyday life
Chemifelt Japan's products add value across all walks of life. They include clothing, electrical products, and items for Japan's burgeoning care industry. Front-runners include base cushions that support TVs, cork-covered non-slip bathroom chairs for the elderly, roof spacers for insulation and soundproofing in vehicles, and many other products made with Chemifelt's versatile materials.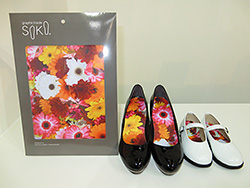 Stylish, original, kind and odorless
Chemifelt has collaborated with renowned designer Satoshi Umeno on "SOKO," a Japan-made brand of colorful cork insoles. Standing for "stylish, original, kind and odorless," the insoles provide comfort while giving shoes an original and stylish edge. As well as being antibacterial, odor-resistant and highly breathable, cork is an environmentally friendly material that can be harvested from trees without deforestation.
The graphic insole concept
SOKO means "underneath" in Japanese, making it a perfect word to describe insoles.
They come in a compact package and can be cut to fit the inside of any shoe. Themes to choose from include "Kimono," evoking Japan's four seasons, and "Surprise," which associates a sense of surprise and humor with the removal of shoes. The "Wonderland" series was created by famous Japanese illustrator Ricco, whose charming creations include "King of Cat," "Jewelry," "Dance of Cloud" and "Secret Forest." Insoles can also be made to order with original designs such as a favorite illustration or a company logo.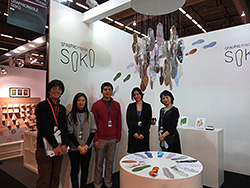 Exporting Japanese culture
Yoshida wants the world to embrace the Japanese tradition of removing shoes before entering a house. "With more and more mixed marriages between Japanese people and other nationalities, the culture of removing shoes at the front door is increasingly prevalent," he explains. "Our insoles do not only offer practical comfort and a playful aesthetic, but they are also a great way to export Japanese sensibilities." While still a niche product, the multifunctional SOKO insoles are in demand in Australia, Singapore, Germany and other overseas markets. Parisians in particular are quite taken with SOKO after a display at international interior design and decoration trade show Maison & Objet in 2014.
---
Website: Chemifelt Japan Co.,Ltd.