Meet Japanese Companies with Quality
Stylish ceramics from an ancient kiln

Ceramic japan Co., Ltd.
Website: Ceramic japan Co., Ltd.


Category: Japanese Design & Daily goods
Great expectations
Ceramic Japan Co., Ltd. started with a lofty goal: to create porcelain goods worthy of the Design Collection at the high-end department store of Ginza Matsuya. The firm certainly has the right pedigree-it's based in Seto, Aichi Prefecture, an area with a 1,300-year history of porcelain production and home to one of the six famous "Ancient Kilns" of Japan. Under the initial leadership of Toyokazu Sugiura and now with his younger brother Masayuki Ohashi as CEO, Ceramic Japan continues to put high-quality design and craftsmanship first, producing outstanding yet functional works of art.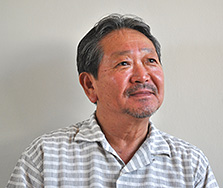 Collaboration is the key
Like many families in the Seto area, Sugiura and Ohashi's family has been involved in ceramics production for generations. Young Sugiura was training in Tokyo when he made friends with a designer-a meeting that would change everything. Rather than returning to work in someone else's shop, Sugiura and his new partner decided to go it alone. Thus, in 1973 did Ceramic Japan begin its long history of collaborating with professional designers. Currently there are 13, some of whom have been with the company for decades. That sums up another of Ceramic Japan's aims: longevity. And that applies to both working relationships, and the lifespan of its high-quality goods.
Lasting design
Ceramic Japan is not about riding the latest trends. Its dishes, cups, teapots, earthenware pots and other goods are steeped in Scandinavian style with simple lines and subdued colors. The company produces the kind of ceramics that never go out of style. Even its knickknacks have a lasting quality, with sumo-wrestler trinkets popular among visitors to Japan for 30 years. A testament to its success in creating lasting works of art is its inclusion in the Permanent Collection at the New York Museum of Modern Art (MoMA), an honor received in 1983.
Porcelain accolades
Acknowledgment by MoMA is just the tip of the iceberg. Between 1973 and 1978, 24 of its products received the Good Design Award from the Ministry of International Trade and Industry back then. Further awards followed, along with invitations to exhibitions both at home and abroad, a trend that has continued throughout the years. But the proudest feather in the cap came in 1986 at the first International Ceramic Competition, Mino, Japan, when Ceramics Japan won the grand prize: the Prime Minister's Award.
Crossing borders
Ceramic Japan is already making a name for itself abroad, with products available in the U.S. and U.K., France, Germany, various Asian countries and, since February 2014, Kuwait. It has also formed partnerships with companies and designers overseas, providing craftsmanship to go with design. In the future, Ceramic Japan envisions further partnerships and increased global availability, particularly in Europe. With emphasis on quality, design and craftsmanship, the world is surely within Ceramic Japan's reach.
---
Website: Ceramic japan Co., Ltd.