Meet Japanese Companies with Quality
Heat staking machine

Azuma Engineering Machinery Inc.
Website: Azuma Engineering Machinery Inc. (Japanese)


Category: Japanese Machinery
Automated, labor-saving equipment
Founded in 1973, Azuma Engineering Machinery Inc. has carved out a niche over its 40 years of operation as a specialist in automated and semi-automated, labor-saving equipment. Akihisa Akano, director of the company's administrative section, says its main products are servo heat staking machines, rapid prototyping 3D plotter machines and plastic gate-cutting machines. The company started out supporting manufacturers of optical products, which now comprise approximately 60 percent of their business, while 40 percent is related to electronics and auto parts manufacturers.
Heat staking for component production
Heat staking refers to the process of joining two materials without using any screws or glues, offering benefits that Akano describes as "low cost and labor-saving." One example involves a plastic or metal material with a hole in it, and a boss-shaped portion of another plastic material fits within that hole. With the application of heat and pressure, the boss-shaped portion is softened and deforms like riveting; when it cools and hardens, a very strong bond is created. Another example is where an optical lens fits within a plastic frame and the frame's periphery deforms and fixes the lens in place. Akano noted that his machine balances the optimal pressure and temperature to stake plastic without melting it, an important attribute for high-bright lens units and auto parts as strong, heat-resistant plastics are increasingly replacing metal components.
Patented, precision technology
There are other manufacturers of staking machines, but their equipment is typically powered by air cylinders or use ultrasonic waves, while Azuma Engineering Machinery's patented (in Japan) machine is powered by a servo motor. Akano points out that the servo motor numerically controls position, speed, pause time and load simultaneously, so it's "more precise and higher quality" than air cylinders. Meanwhile, ultrasonic wave technology requires relatively expensive jigs to be created and can harm sensitive components including IC chips and LEDs due to vibrations.
3D prototype printing
As for 3D printing, Azuma Engineering Machinery developed the technology behind their rapid prototyping 3D plotter machine in 1993 and patented it in Japan in 2004. The 3D plotter machine is based on technology called stereolithography and employs an ultraviolet laser to cure liquid resin for ultra-precise shapes. The global 3D printer boom has lead to a surge of interest in his 3D plotter machine for its capability in modeling ultra-small samples, and Akano said he has been "getting inquiries from all over the world." The majority of users are university and company research labs that use the machine for prototyping samples, but based on market interest and trends, his company is currently contemplating development of the technology for actual production with faster output.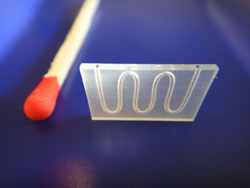 Growing needs for automation in Asia
Akano is heading his company's initiatives to promote sales overseas, especially in such areas as Thailand, where there are increasing needs for automation. With just 13 employees, Azuma Engineering Machinery may be a small company, but it has big ambitions and the technology to support them.
---
Website: Azuma Engineering Machinery Inc. (Japanese)