JETRO Global Connection -Accelerate Innovation with Japan-
Report


How will COVID-19 Crisis change the ecosystem?

(World)
October 28, 2021
With the spread of COVID-19, many countries and cities around the world instituted lockdown, greatly restricted the movement of people. Startups featuring digital technology have played a considerable role in solving problems related to COVID-19 with their flexibility and speed, providing countermeasures against COVID-19 and services for post-COVID-19. How has Japan's ecosystem changed in 2020 when COVID-19 spread?
Advancing Technology against Covid-19
According to Preqin (headquartered in the U.K.), which provides data related to the alternative asset market, startups worldwide raised $365.2 billion of funds in total in 2020, a solid 23.5% year-on-year increase (see Figure 1). On the other hand, the number of investment projects has declined, peaking at 23,000 in 2015. The trend continuing from before COVID-19 is a tendency to invest small amounts in startups in the earlystage and heavily in companies in the growth stage, with the amount of raised funds per company increasing. As startups have risen worldwide since the mid-2010s, some pointed out that they were investment bubbles. However, with the corporate value approaching appropriate levels under the COVID-19 crisis, investors see that now is time for investment.
Figure 1: Global V.C. Funding Values and Number of Investment Projects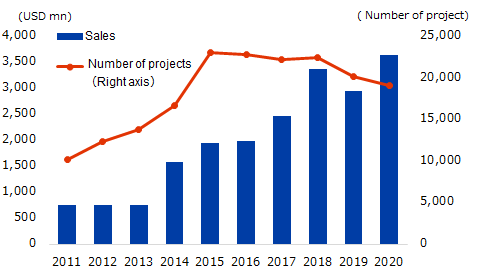 Source: Created based on Preqin data
Pitch events where startups gather to introduce their products and services shifted to online due to the spread of COVID-19. Under these circumstances, many startups presented so-called "Technology against Covid-19," which provides new services needed under the COVID-19. In the medical field, new services such as telemedicine are attracting attention. Services that allow users to receive various medical services without going to a clinic have been developed, such as Doctolib (France) that provides a video medical examination platform, and Tyto Care (Israel) that develops terminals for sharing patient data measured at home with the doctor. They are working to establish these as permanent services (see the table). Contactless and automation technologies are also expanding. Cameras and sensors equipped with artificial intelligence (A.I.) for management of human traffic and avoidance of 3C (Note 1) and cashless payments have installed throughout Japan.
E-commerce (E.C.) has made remarkable progress. Going out has been restricted to prevent the spread of COVID-19. Sales of E-Commerce increased sharply because people could purchase goods online while staying home. Globally, the E.C. market grew 25.7% year-on-year to $4 trillion in 2020 and is expected to exceed $7 trillion in 2025 (eMarketer estimate). Especially in China, live commerce (Note 2) is growing rapidly as a new e-commerce tool. Taobao, Jingdong (JD.com), and other major platforms have opened dedicated web pages for live commerce one after another. Subsequently, more various tools have been introduced, such as the live commerce platforms on social media.
Table: New Businesses with Technology against Covid-19
Digital Technology
Field of Application
New businesses and response
to needs under Covid-19
IoT/AI
Management of human traffic, 3C avoidance
Grasping the human movement using A.I.
and sensor cameras (Locarise, Owl/Japan)
Non-contact, automation
Development of technology to recognize
hand movements with A.I.
(Motion Gestures/Canada)
Unmanned stores without cash registers
in partnership with restaurant operator Levy
(American Express/U.S.A.)
Popularization of cashless payment
(Linkaja/Indonesia)
XR
More realistic virtual experience
Virtual real estate tour using V.R.
(Beike Zhaofang/China)
Sports viewing (KDDI/Japan, Intel/USA)
Establishment of remote business systems
Use of V.R. to confirm product prototypes
(AGC/Japan)
EC
Response to shopping demands as going out has been restricted
Delivery service for small grocery stores
(Mercato/ USA)
Marketing via Live Commerce
(Taobao Live, Wechat/China)
Cloud
Telemedicine
Video medical examination platform
(Doctolib, France)
Development of a terminal for sharing patient data
measured at home with the doctor (TytoCare/Israel)
Work remotely
Incrementally enhancing video conferencing
features to meet the remote work needs
(Microsoft, U.S.)
Provision of a virtual event platform
(Hopin, U.K.)
Others
Delivery
Last one mile home delivery service
(JOKR, Germany)
DX (Digital Transformation)
Services for promoting DX for SMEs
(Compre dos Pequenos/Brazil)
Increase in demands arising from staying home
Development of instant play games
not requiring app download (Playco, Japan)
Expansion of video distribution services
(NETFLIX, U.S.)
Source: Created from various materials
Japan's ecosystem ranks 15th for the first time
Tokyo ranked 15th for the first time in the ecosystem ranking released in June 2020 by Startup Genome, a research company that comprehensively examines the world's ecosystem based on amounts of raised funds and network statuses. In recent years, the startup ecosystems in Asia have been making rapid progress. Nine out of top 30 cities are in Asia. Tokyo ranks higher than Singapore (17th) and Shenzhen (22nd), and interest in Japanese startups from overseas is growing. As of July 2021, there are six unicorns (Note 3) in Japan. Most recently, Paidy, a developer of real-time online payment services, Playco, a provider of an instant game, and SmartHR, a developer of cloud H.R. and labor management software, have become unicorns. On the other hand, the United States produces as many unicorns as 377. China has154 unicorns. The presence of these two nations is huge, accounting for more than 70% of the total number of unicorns in the world.
TSE Mothers (Market of the High-Growth and Emerging Stocks) market in Japan continues to boom. In 2020, the number of new IPOs was 50, of which 31 were listed on TSE Mothers (see Figure 2). Since March 2020, many companies have temporarily postponed the plan for IPO due to the effect of the COVID-19 spread. However, the number of listings gradually began to increase around June. The total numbers in 2020 exceeded the previous year. Since the movement of venture capital (V.C.) funds is relatively small in Japan, companies can raise funds at an early stage by listing on TSE Mothers. In 2021, the Appier

Group of Taiwan and Omni Plus System

in Singapore got listed on TSE Mothers. TSE Mothers market increased its presence as an entrance for Asian startups. On the other hand, it is also pointed out that early listing has hampered the generation of unicorns in Japan. By going public, companies tend to pursue short-term profits to secure profitability for shareholders. Thus they may take longer to expand globally than unlisted companies. James Riney, CEO of Coral Capital, a major U.S. V.C. company, points out that it is difficult for overseas investors to access unlisted startups because potential unicorn companies in Japan go public at a stage of Series A or B (Note 4).
Figure 2: Number of Listed Companies on the Tokyo Stock Exchange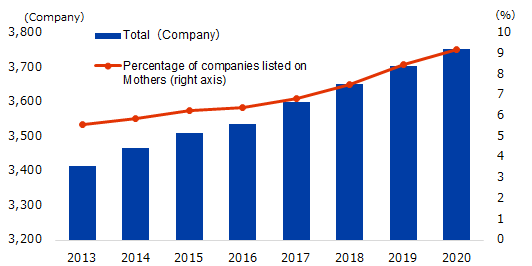 Note: In 2013, merged the spot market with the Osaka Securities Exchange.
Source: Tokyo Stock Exchange
On the other hand, in the U.S., a listing method called SPAC is attracting attention under the coronavirus crisis. In this method, a special purpose acquisition company (SPAC) that operates no commercial businesses but is established exclusively for acquiring an unlisted company or business goes public on the market. Subsequently, the SPAC acquires an unlisted company engaging in a commercial business and then distributes the shares of the acquired company on the market. Since this is a faster IPO method than conventional processes, more startups that struggled to raise funds during COVID-19 crisis have chosen this listing method. More than 30% of the listings in the U.S. in the first quarter of 2021 (January to March) used the SPAC listing method (Note 5). In April 2021, Grab (Singapore), the largest unlisted startup in Southeast Asia, was listed on the U.S. Nasdaq, the largest IPO through SPAC. Among startups originating in Japan, Coinbase Global, an operator of a crypto-asset exchange, and Next Meets, an alternative meat company, listed through SPAC. With the fund-raising techniques diversifying these days, further growth of startups is expected.
Will it be a business opportunity for forming a regional ecosystem?
Since the restriction of distances has been eased by the development of online communication, digital technologies, and remote control of robots, opportunities for startups are expanding in other areas which are not renowned ecosystems. Forbes, a U.S. information magazine, reported that some Silicon Valley startups have moved their offices from San Francisco where office rents and labor costs are soaring to Austin and Miami. The formation of a tech community of migrants has begun in these regions.
In Japan, the startup ecosystem has continued to expand mainly in Tokyo. Now, ecosystems are gradually forming in other prefectures (see the "Startup Ecosystems Pop Up Across Japan" dated April 15, 2021) . Funding amounts in major prefectures other than Tokyo over the past decade have been increasing as a whole, although there is a yearly fluctuation in some projects (see Figure 3). In Osaka, Kyoto, and Yamagata in particular, fund-raising amounts increased despite the impact of COVID-19: 9.7 billion yen, 9.5 billion yen, and 8.6 billion yen, respectively, in 2020. Major Japanese cities are also listed in the Ecosystem Rankings 2021 published by Startup Brink, which covers 1,000 cities around the world, including Kyoto (124th place, up by 127 from the previous year), Osaka (128th place, up by 54), and Fukuoka (240th place, the first listing)
Figure 3: Changes in Fund-raising by Region
Note: The top six prefectures (excluding Tokyo) in 2020 are listed.
Source: Created based on INITIAL
While the concentration in Tokyo continues, ecosystems in other regions are actively inviting startups by highlighting the low cost of business and living expenses. Local governments such as Saitama, Chiba, and Shizuoka Prefectures offer financial support programs for entrepreneurship. Osaka and Fukuoka provide growth opportunities through contests and pitch events. Tokyo and Nara provide support for entrepreneurship for women. Other local governments also provide various support programs. In non-urban areas, the declining birthrate, the aging population, and labor shortages of farmers are common social issues. Startups with high flexibility are expected to play an active role in solving them. As ecosystems expand throughout Japan, diversity in startups will be created and nurtured, and innovation will be accelerated.
The Japanese government also promote the formation of ecosystems in various parts of Japan. Eight Startup Ecosystem Base Cities Projects were selected by the lead of the Cabinet Office, the Ministry of Economy, Trade and Industry, and JETRO: Startup Ecosystem Tokyo Consortium; Central Japan Startup Ecosystem Consortium; Osaka-Kyoto-Kobe (Hyogo) Consortium; Fukuoka Startup Consortium; Sapporo-Hokkaido Startup Ecosystem Promotion Council; Sendai Startup Ecosystem Promotion Council; Hiroshima Regional Innovation Strategy Promotion Council; Kitakyushu City SDGs Startup Ecosystem Consortium. Government organizations and private supporters work together to provide intensive support programs for startups in these cities. Starting in the fall of 2021, acceleration programs will begin with themes such as environment and sustainability, bio-healthcare, and B2B enterprise.
---
Note 1: 3Cs: Closes spaces; Crowded places; Close-contact setting
Note 2: Live commerce is a sales method that combines E-commerce and live streaming. Influencers and celebrities sell products by introducing products to viewers in live streaming.
Note 3: Unlisted companies with a corporate valuation of more than $1 billion. The number of companies is based on the research by C.B. Insights.
Note 4: The fund-raising stage of startups is generally classified as follows: Seed: Pre-establishment stage; Series A: Prototyping products and establishing a business model; Series B: The business begins to get off the ground and generate profits; Series C: Business becomes stable.
Note 5: Based on research by Pegasus Tech Ventures.
Report by:

IOKI Tomoko, International Economy Division, Overseas Research Department, JETRO
---