JETRO Global Connection -Accelerate Innovation with Japan-
Report


Innovation in Regional Cities
- Piecing Together the Whole Picture -

(JAPAN)
Mar 26, 2020
*Authored by eiicon, based on the planning by JETRO.
*Japanese version of this report is available at eiicon lab website

.
Piecing together the whole picture on the Japanese innovation ecosystem that is bringing unique progress to regional cities.
Corporate venture capital (CVC) investment by big companies is increasing at a feverish pitch (*), making venture investment all the rage in Japan. On the back of this copious capital flow, innovation ecosystems are developing rapidly due to collaborations among players, such as big companies, venture firms, local governments and universities. Naturally, the capital Tokyo is at the heart of all that, but, in fact, regional cities are also architecting their own unique innovation ecosystems. And, within those, an increasing number search for cooperative industries, both in and out of Japan, in an effort to attract a diverse range of ideas, projects, technologies and human resources. In this report, we want to shed some light on areas highly likely to cooperate with overseas companies, with our spotlight falling on Fukuoka, Osaka, Nagoya Kobe and Sendai, places where the local governments and companies are noted for their energetic collaborations. So, without any further delay, let us take a look at each region.
*The fiscal transition of CVC investment amount shows investment amount increasing rapidly
Plenty of administration assistance in the national strategic special zone, Fukuoka, a city attracting IT companies
Fukuoka has developed into being the core city of the Kyushu area. In recent years, being geographically close to China and South Korea, Fukuoka is striving to be a business hub of East Asia. The gateway of this area, Fukuoka Airport, is only five kilometers (approximately five minutes by train) from Hakata Station, the central urban area, with flights linking not only domestic cities but also international major cities in Asia. Admired for being compactly laid out and easy to live in, Fukuoka's population is on the increase, with many young people flooding in, to give the area a high concentration of human resources.
In former days, this region was a big producer of coal, which was put to use to build up heavy and chemical industries. However, these have declined with the times. Thus, Fukuoka has persistently sought new industries worthy of being fostered. Since Soichiro Takashima became mayor of Fukuoka in 2010, the city has been boosting efforts to entice startups and IT companies, with the aim of nurturing new industries and bringing in young people. In addition to extensive support from the administration, the ready availability of human resources and inexpensive office rents have triggered a surge, which now sees close to 50 companies a year moving into the city. In 2013, South Korea's LINE company opened its second office in Fukuoka, while companies like Mercari – one of the few unicorn companies in Japan – have built new offices in Fukuoka, as well. Consequently, Fukuoka is now a city that is home to many IT companies.
Fukuoka is a national strategic special zone (*) with special zone facets for global expansion and job creation. Taking advantage of this status, the city has deregulated in various areas. In fact, the city was the first to introduce business-founding support for foreigners by providing "startup visas" and "tax reduction for startups" (a reduction in corporate tax for startups). In addition, field testing is going on for autonomous travel, drone flights, home healthcare and more thanks to deregulating. A specific example of this is a collaboration between the City of Fukuoka and the Fukuoka Medical Association enabling drugstore pharmacists to provide online medication counseling (Normally "face to face" is required by the regulation) which is reducing the burden on home patients.
*National strategic special zone: Audacious deregulation of rules and systems as well as taxes is applied in revolutionary ways with the goal of creating an environment that is the easiest in the world to do business in.
A startup-friendly environment has already been developed in Fukuoka. It has an incubator in the shape of Fukuoka Growth Next (fgn), which is housed in a disused school renovated in a public-private collaboration. Fukuoka Growth Next is home to the "Startup Café", a facility for assisting in business startups. Overseas startups can come to this café to get advice on starting up in Fukuoka, obtain startup visas and office space as well as pick up info on finding places to live. Fukuoka Growth Next also frequently holds pitch contests on a variety of subjects, such as tourism, food and sport. So, if you can give a pitch in Japanese, then, of course, the door is wide open to you as an overseas startup, to get involved, as well. Moreover, there are multiple venture capitals specializing in Kyushu area such as F Ventures. Their existence makes finance easier for startups there.
Furthermore, in partnership with transport companies, such as Nishitetsu and others, underpinning the region's transport infrastructure, and leading local companies, such as the IT arm of the YASKAWA Group, Fukuoka is advancing an acceleration program. Nishitetsu is digitalizing bus stop signs. And, to make even greater use of that digitalization, Nishitetsu advertised for a wide range of ideas. One of the idea applicants was Timee (Japan), a part-timer matching app company, and they have agreed to work with Nishitetsu to jointly bring some new added value to bus stops. Indeed, both companies have linked up with the general trading company Mitsubishi Corporation, starting an AI-using, on-demand bus service in 2019 in Fukuoka, with the booking and dispatching system being provided by Spare Labs (Canada).
―Founded on extensive government assistance, Fukuoka is well equipped to welcome overseas startups, showing greater strength in startup passion than anywhere else. And, if you want to start up in Fukuoka, you had best get yourself down to the "Startup Café" in Fukuoka Growth Next.
Challenging-spirited Osaka accelerating activity in open innovation in readiness for the World Expo
The Osaka area has long flourished as a business hub, even maintaining its position as Japan's economic and logistic dynamo for a long time after the seat of national power was transferred to Tokyo at the beginning of the 17th century. Set against such a historical background, Osaka enjoys an abundance of "people, goods, money and information", leading to the emergence of big Japanese manufacturers, such as Panasonic, Daikin and Takeda Chemical Industries, which claimed their stakes in business during the postwar recovery. The number of big companies with head offices in Osaka is second to Tokyo.
Having flourished as a home to merchants, Osaka is known for its vigorous entrepreneurship and the magnanimity to laugh even when all is lost. One example of these characteristics is seen in one of Osaka's big players, Suntory, a company that has turned out numerous new products on the back of the attitude known as "Yatte Minahare" (the spirit of bold ambition). And, ever picking up the challenge, Osaka has won the right to stage the 2025 World Exposition (Expo 2025 Osaka, Kansai, Japan), eagerly spurring on Osaka into a new challenge. The principal economic organization in the area, Kansai Association of Corporate Executives, is leading the way in visualizing the "open innovation points" involving diverse companies (including startups), research institutes, administrations and citizens.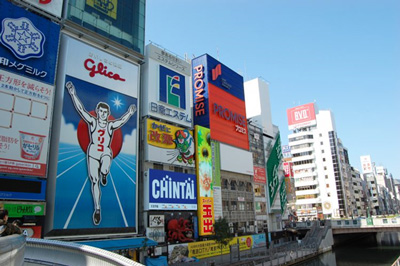 Now let us introduce you to the current state of Osaka's innovation ecosystem. In 2013, in a bureaucrat-led initiative, the "Osaka Innovation Hub" was launched. It is an organization that aims to develop an innovation ecosystem in Osaka, and it is housed in Knowledge Capital, an incubator adjacent to Osaka Station. In this setting, there are events taking place all the time, such as seminars, pitches, ideathons, hackathons and workshops, totaling some 300 events annually. There are also plenty of English pitch contests, with "Get In The Ring" (a pitch contests for startups first launched in Holland in 2012) holding its Japan contest at the Osaka Innovation Hub, with plenty of overseas startups stepping up on stage, such as HoloAsh (USA) and Que Q Thailand (Thailand).
Knowledge Capital is a wonderful place for people aiming to become innovators. It is a gathering point for human resources who are challenging to launch new businesses, including researchers from major companies, university researchers, entrepreneurs, students, engineers, creators and investors, all gelling into a huge community. Knowledge Capital functions as a lab for experimenting, and it is home to the first "Kindai Tuna" restaurant, serving tuna that have been wholly farm-raised under the pioneering efforts of Kindai University.
There are many famous universities in the Kansai area turning out an abundance of human resources. One such representative is Osaka University. It was the first national university to establish VC, which led to 106 university-launched companies by FY2018. Among the VC companies powered by Osaka University, notable examples include JEPLAN INC. in chemical recycling and Remohab in remote cardiac rehabilitation.
—Open innovation momentum is picking up in Osaka as the city gets ready to stage the Osaka Expo. If you want to get on, now is the ideal time to jump onboard. So, if you want to start up in Osaka, first, get in touch with "Osaka Innovation Hub".  
A magnet for auto-industry business, Nagoya is where mobility ventures are leaping forward
Along with Tokyo and Osaka, Nagoya in Aichi prefecture is one of the three major metropolitan areas. A big feature of this area is its thriving auto industry. Aichi prefecture is home to Toyota and a broad swathe of supporting industries. Aichi also boasts notable auto-component suppliers, like the famous Denso, Aisin Seiki and JTEKT. Apart from these, there are many small-to-medium-sized manufacturers that have gathered in Aichi, making the prefecture well known for its concentration of skilled manufacturers.
Yet, a time of change has come to this automaker rich area. In 2018, Toyota announced a business model change, which would see it shift from being an automaker to being a mobility company developing all sorts of transport services. The auto industry is being hit by the waves of change that come with CASE (connected, autonomous, shared, electric) and MaaS (mobility as a service), and Aichi is no exception, with innovative mobility industries emerging in the area.
Let us tell you about a few examples. Tier IV (Japan), an autonomous driving venture launched from Nagoya University, has raised more than 12 billion yen in funds, and is providing the autonomous driving technology for Toyota's e-Palette, an autonomous bus that will provide a shuttle service in the Olympic Village in Tokyo. Yet again, Nagoya University has launched Optimind (Japan), which is receiving capital from companies, such as Toyota, and makes use of combination technologies to provide a service that optimizes driving routes.
Moreover, SkyDrive (Japan), a company developing flying cars, has its head office in Tokyo, but has concluded a cooperation agreement with the City of Toyota in Aichi prefecture, to run its test flights out of Toyota, as it moves toward commercialization. In January 2020, the automaker Toyota announced that it was investing approximately 43.3 billion yen (394 million dollars) in the American startup Joby Aviation, a company developing electric vertical takeoff and landing aircraft. Joby Aviation is putting a lot of effort into open innovation, accelerating cooperation with startups domestically and internationally. In 2019, the Chinese startup Pony.ai announced a collaboration in the technical field of autonomous driving, with a Pony.ai autonomous driving system installed into a Toyota vehicle and trialed.
Thus, amidst these private-sector actions, the public sector also has begun to make an effort. And, in 2019, under the auspices of Aichi prefecture, the "Aichi Open Innovation Accelerator" was started and is currently up and running. Also, modeled on the massive French incubator "STATION F", Aichi prefecture is preparing "Station Ai" for a launch in 2020. This giant incubator will combine the manufacturing skills of Aichi prefecture with digital technology.
―Aichi is undergoing huge changes in auto industry terms due to the business transformation at Toyota. And, anyone looking to get into mobility venture in Japan should definitely go to Nagoya.
Putting its hand up to be a healthcare industry city, Kobe invited in a famous accelerator
Kobe has prospered as a port city since it became one of the five major cities to open its docks to international trade in the mid-19th century. After Japan opened up to the world, Kobe was one of the places where the unknown cultures, customs and technologies of Europe and America flooded in. Kobe was quick to enthusiastically embrace those new wonders, morphing into a city brimming with exotic features. Thus, Kobe consolidated itself as a fashionable, state-of-the-art city. However, in 1995, that image was transformed in an instant with the horrendous devastation of the Hanshin Awaji Earthquake. Since then, the revival plan from there is shaping Kobe today.
What started out as an earthquake recovery project has grown into the "Kobe Biomedical Innovation Cluster", with members of the medical industry, including a leading healthcare research bodies, hospitals, a pharmaceutical manufacturers and medical equipment manufacturers invited to establish themselves on Kobe Port Island (reclaimed land). The island has grown into one of Japan's biggest biomedical clusters, with 368 companies and organizations involved in healthcare (as of December 2019). It was here that a sheet of retinal tissue incorporating iPS cells was used in a transplant operation for the first time anywhere. Moreover, the island is home to the Institute of Physical and Chemical Research (RIKEN), an institute equal to the National Institute of Advanced Industrial Science and Technology. And, in a move to stimulate drug development research, the supercomputer Fugaku is scheduled to be installed at RIKEN.
Local government is pushing ahead with the development of an innovation ecosystem in Kobe. In 2016, the famous Silicon Valley accelerator "500 Startups" was invited to Kobe, and it started a program to nurture entrepreneurs. A feature of the program is that guidance is provided by globally renowned mentors. From 2019, this program was tied into the "Kobe Biomedical Innovation Cluster", with the program advertising for startups from around the world to get involved in themes focusing on healthtech. As a result, the number of applicants reached 174, with 116 of those teams being overseas ones, which is greater than the domestic response. The overseas applicants have been whittled down to eight teams, and they are working on initiatives that make use of the network in the city's biomedical innovation cluster. Over the last three years, a total of 56 companies have participated in this program, with funding (capitalization) exceeding a total of eight billion yen.
The city is also planning to build an incubation facility. In 2019, Kobe announced that it would collaborate with the United Nations Office for Project Services (UNOPS), with the intention of opening Asia's first global innovation center (GIC) in Kobe, to use leading-edge technologies to solve the issues incumbent in SDGs. Also, in September 2020, an open innovation base that focuses on the healthcare industry will be launched on Kobe Port Island, to provide drug development innovation programs, regenerative medicine workshops and joint development of healthcare products.
Also, in a move separate to the healthcare industry, work is moving ahead to bring about digital transformation in local government. Indeed, the project "Urban Innovation Kobe", launched by the City of Kobe in 2017, is the platform from where the City of Kobe and a startup are working together to solve regional and administrative issues. This project is the vanguard for "GovTech" in Japan. Cofounded with Graffer (a Japanese company that provides services to assist local government procedures), this collaboration is creating solutions to simplify the form filling and paperwork procedures faced by care businesses.
―Steeped in the history of being a port city, Kobe has long been open to other countries, which makes this city a winner when it comes to overseas startups versed in health tech, govtech or SDGs.
As a disaster-resilient & environmentally-friendly city, Sendai is introducing disaster-prevention-tech in response to the city's earthquake experiences
Sendai, located in Miyagi prefecture, is the biggest city in Tohoku area. Sendai Airport, just20 minutes or so away from the city center, handles direct flights to and from South Korea, China and Taiwan, making it the gateway to the Tohoku region. Moreover, Sendai is home to branch offices of many major companies, with the greater part of its industrial structure built around businesses such as wholesalers, retailers, accommodation providers, wining & dining facilities and service industries.
The Tohoku earthquake of 2011 took a heavy toll on Sendai. The coastline was washed away by the post-earthquake tsunami, which also triggered a nuclear accident in neighboring Fukushima prefecture. Thus, on the back of such experiences, Sendai is striving to become a disaster-resilient & environmentally-friendly city, prepared for the risks that accompany disasters and climate change.
Let us introduce you to some specific initiatives. The City of Sendai joined forces with the major communication carrier NTT to test out drones that can check the state of tsunamis, broadcast evacuation messages and carry emergency medical supplies. The same trials are being run with the Nokia Group. Also, in addition to disaster prevention, administrative-led initiatives are starting to make use of technologies. From 2019, the city administration has launched a pioneering project called "SENDAI X-TECH Innovation Project". The aim of the project is to fit technologies into the processes of conventional industries and businesses, such as fishing, agriculture, care and retail, to create innovation. An accelerator program is also under way, with Sendai's long-established department store Fujisaki and professional baseball team Rakuten Eagles onboard to help out.
Sendai also has a university producing human resources. Tohoku University sits in the middle of Sendai. It has an Open Innovation Strategy as its industry-academic collaboration platform. In 2015, the university launched its own venture capital, which it has used to invest in promising startups. With plans to create 100 ventures by 2030, Tohoku University is boosting its incubator program and has even launched the "Tohoku University Startup Garage" as an incubator on campus.
In yet another move, an app contest "DA・TE・APPS!" is held in Sendai annually. And, within that, in 2019, a contest was held between Tohoku and Finnish students. To clarify this, it should be said that the City of Sendai has concluded an industrial economy agreement with the Oulu region of Finland, which paved the way for support to students and members of society involved in console game and ICT manufacturing industries.
―Having experienced a massive earthquake, Sendai is looking for solutions related to disaster prevention and local production of energy for local consumption. In addition, Tohoku has the fastest aging population in the country, making it well-suited to the introduction of AgeTech for the elderly in the area.
What other cities are creating innovation ecosystems?
Having looked closely at five city areas, let us simply introduce you to several other locales that are working to create innovation ecosystems.
First, Yokohama in Kanagawa prefecture, a port city that approaches startups in a very similar way to Kobe. Yokohama has invited in CONNECT (an entrepreneur support organization) from the USA to launch an acceleration program, which will push ahead with open innovation in the field of life science. Also, as many major companies have their head offices in the city, Yokohama is running numerous programs that involve collaborations with big companies.
Tsukuba in Ibaraki prefecture has a distinctive setup too. Tsukuba Science City is a research city built to accommodate the planned move of a national research institutes and a major companies' R&D bases from Tokyo to the Tsukuba area. Drawing universities and R&D bodies, such as Tsukuba University, the National Institute of Advanced Industrial Science and Technology and JAXA, this area has become Japan's flagship academic area. What is more, in recent years, successes in research have also produced many venture business partnerships. Tsukuba is also strengthening industry-government-academia collaborations in an effort to realize "Society 5.0", so the further activation in this region is expected.
Hokkaido's Sapporo has also started putting effort into the promotion of open innovation, with major companies, such as Hokkaido Gas and the Sapporo Group, implementing their own unique open innovation programs. Hokkaido Gas is making use of the cold climate of Hokkaido to test out a mobile battery sharing service developed by the startup GREEN UTILITY (Japan).
Hiroshima, looking out over the Inland Sea of Japan in Hiroshima prefecture, is, in fact, a big auto industry area, the head office of the automaker Mazda located in the city. From that auto industry axis, the city collaborated with Hiroshima University to launch Hirojiren (a Hiroshima-based formal collaboration between the auto industry, academia and government). Although collaboration with overseas companies is not in full swing, the possibility of co-creation in the automotive industry is high as in Nagoya.
Next, let us introduce the city of Matsue in Shimane prefecture, facing to the Sea of Japan. Matsue is special in that it is encouraging regional development and industrial development through the use of "Ruby", a programming language invented by an engineer from Matsue. Making use of that unique factor, the city is using Ruby to attract people to the area, with out-of-town engineers moving into the city. Indeed, every year, Matsue holds the "Ruby World Conference", a major event with lectures, etc., that overseas engineers are invited to.
Finally, let us introduce Kyoto, It's a city from ancient with 1200 years of history and many universities are gathering. Kyoto University produces not only Nobel Prizewinners but also many entrepreneurs, and it is only second to Tokyo University when it comes to the number of venture startups. And, with the allure of young human resources, more and more companies are annually choosing to focus on Kyoto. Major local companies include Kyocera, Shimadzu, Nintendo and Omron. Last year, the global accelerator "Plug and Play" opened its second office in Kyoto.
Conclusion
Cooperation with overseas startups is on the increase in Japan. Naturally, Tokyo is involved, but regional cities are also putting their hands up to collaborate with overseas startups, because they want to bring a wider range of ideas, products, technologies and human resources to cover domestic and regional shortages in such areas. And, in response to this trend, JETRO is also supporting efforts to attract overseas companies to Japan. JETRO invites overseas startups to CEATEC, a massive event held in Japan, which also has a business matching role built into it. So, if you are a company that wants to create new business together with a Japanese company, or want to run a PoC project in fields in Japan, then please consider coming to this country. And, remember that other than the usual destination of Tokyo, there are also plenty of regional cities that deserve exploring.