JETRO Global Connection -Accelerate Innovation with Japan-
Report


IPO on Tokyo Stock Exchange Mothers: New Initiatives to Attract Asian Startups

(JAPAN)
August 4, 2020
The startup ecosystems of Southeast Asia and India have matured, and many unicorns with corporate valuation of more than $1 billion have emerged. The stage is being set for Asian startups to launch an initial public offering (IPO) in Japan, which they consider as the best way of exiting (harvesting).
Most Asian startups exit by M&A
Asian startups are making remarkable growth in recent years. The startup ecosystem (Note 1) in the region has also matured. In the early days of the boom, some startups simply imitated the US style of management with some customization for local conditions. Today, however, there is no such "time machine style" of management. The startups are active in developing advanced technologies and providing services that best meet the local needs. The startup boom in Asia has historically been led by China and Singapore, but it has expanded to other ASEAN countries and India. Nearly 10 years have passed since startup businesses saw a boom in many parts of the world around 2010. A number of startups are looking for the opportunity to exit successfully.
Globally, the most popular method of exiting is merger and acquisition (M&A). In contrast, the ratio of M&A to IPO is roughly 3:7 in Japan. This is a tendency uncommon in other countries and regions (See Fig. 1). Tokyo Stock Exchange (TSE) Mothers has helped fast-growing venture businesses get listed in Japan. A startup may be listed on TSE Mothers based on growth potential even if it is in a deficit yet. Furthermore, not a few startups want to sell or transfer their own companies. Accordingly, many startups have chosen to make an IPO on TSE Mothers. Success stories include Mercari, a flea market app operator; Sansan, a business card management app developer; and Freee, a cloud-based enterprise resource planning (ERP) system service provider. Through public listing, even relatively small startups can earn a high social reputation and gain access to a greater number of investors.
Fig. 1 How startups exit: a regional comparison
Notes: Europe includes sales to business companies. M&A of Southeast Asia includes secondary sales.
Data: for 2018 except India (for 2016)
Source: prepared by JETRO from Venture Enterprise Center, VEC Yearbook 2019 (Nov. 2019); Cento Ventures, Southeast Asia Tech Investment in 2019 (Nov. 2019); CB Insights, CB Insights (Nov. 2019)
More than 90% of exits in Southeast Asia and India rely on M&A. Very few startups resort to IPO. Asian startups do not have great latitude in fundraising after they reach the stage of Series B (Note 2). The problem is that they must rely on a small number of big corporations to grow more. A closer look at the exiting environment shows underdeveloped stock markets for venture businesses in the respective home countries. Consequently, IPO is a tool available only to a small portion of startups (see Table 1).
Table 1: Exiting environment of Southeast Asian countries and India

| Country | Environment |
| --- | --- |
| Singapore | Startup IPO in Singapore Exchange Limited (SGX) is underdeveloped. The realistic option for many startups is M&A by big corporations or IPO in the US and others. |
| Indonesia | Domestic market for venture businesses is underdeveloped. Exiting option is mostly M&A. IPO in foreign markets is difficult because of very few case examples and low global profile except for some unicorns. |
| Vietnam, Malaysia, Thailand, Philippines | Domestic IPO environment is underdeveloped. Consequently, M&A is the realistic option for startups and investors. Especially in Thailand, startups and domestic big corporations have close relations. The general trend is that prior to the Series B stage, startups are already bought by Thai corporations. |
| India | An exchange market for startups was opened in 2018. However, many people point to the difficulty of making an IPO there because of tight profit requirements and other reasons. Accordingly, several startups continue to look for M&A or overseas IPO opportunities. |
Source: prepared by JETRO based on Ministry of Economy, Trade and Industry (METI), Startup Investments in Southeast Asia and India and Recommendations to Japanese Companies (in the Japanese language) (May 2020)
The choice of exiting method reflects strongly the intent of the startup founder and investors. Ideally, many options should be available to startups in their development of growth strategies for the usually rough road to success. Indeed, some Asian startups have made IPO outside their home countries, notably, in the US. It is understood however that listing on New York Stock Exchange (NYSE) or NASDAQ is very difficult unless the startup is at least comparable with a unicorn.
Fig.2 Comparison of major stock exchanges in the world (2018)
Source: prepared by JETRO from the WFE data
Individual investors account for more than half of the total trading in TSE Mothers. Willing individual investors are active there (see Fig.3). By having access to a group of investors willing to invest and sustaining liquidity, startups making IPO can expect to continue procuring necessary finance even after listing. In 2019, 94 companies got listed newly on TSE, 63 of which on Mothers. In 2020, COVID-19 forced canceling or postponement of IPOs planned for April and May. Since June, however, there have been signs of recovery. Each year, the share of nonresidential investors in total trading is increasing. It was nearly 40% in 2019. This may be explained by the following: (1) a draft corporate governance code that was announced in 2015 increased the reputation of TSE Mothers among foreign investors to whom governance is crucially important, and (2) many startups recently listed have been successful in initial formation.
Fig.3 TSE Mothers share of trading by type of investor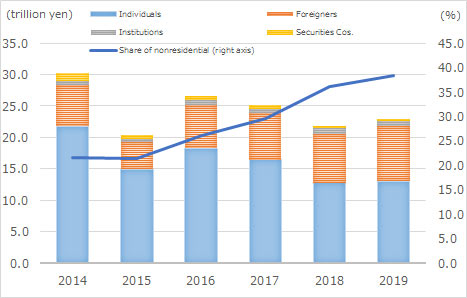 Source: prepared by JETRO from JPX data
Meanwhile, only four non-Japanese companies are listed on TSE (as of July 2020). The ratio is just 0.1%. For listing on TSE, foreign companies have to prepare the application documents and perform investor relations (IR) activities for Japanese individual investors, all in the Japanese language. The language barrier is the toughest challenge to overcome. Another challenge is the high cost and long time required for the procedures. For example, requirements under the Japanese accounting standards and internal control and reporting system should be addressed.
Initiatives to strengthen collaboration between ecosystems of Asia and Japan
Efforts are made to attract Asia-based startups to consider listing on TSE Mothers and deepen the relationships with Japan. For example, TSE has opened a branch office in Singapore to promote public relations. Spiral Ventures Pte. Ltd. headquartered in Singapore is a startup founded by a Japanese. In December 2018, it started an assistance service to unicorns in Southeast Asia and India which are interested in making IPO on TSE Mothers. The purposes are (1) to offer wider options to Asian venture businesses for their exiting strategy and (2) to enhance the presence of Japan as a capital market and deepen the startup ecosystems of Asia and Japan.
Mitsubishi UFJ Trust and Banking Corporation assists foreign companies to go public on TSE by foreign stock Japanese Depositary Receipt (JDR) (Note 3). One good example of listing through this method is the US-based fabless semiconductor company Techpoint, Inc. According to press reports, Techpoint chose JDR because no foreign securities account was needed to be opened and margin trading was also possible.
Listing of Asian startups now entering the harvesting stage on TSE Mothers will provide Japanese companies with broader opportunities for open innovations and help them enhance their competitiveness. For this reason, Ministry of Economy, Trade and Industry (METI) launched the Digital Transformation (DX) Platform in May 2020 together with JETRO and others. The platform aims to help create new business through collaboration and partnering with Japanese companies. The online platform promotes business partnerships between the companies of Southeast Asian, Indian, and other Asian emerging economies and those of Japan. Collaboration between the startup ecosystems of Japan and Asia is expected to set the stage for new growth for both ecosystems.
---
Note1
Startup ecosystem produces continually startups who are good at pursuing highly innovative businesses and thus help companies maintain their dynamism through "corporate metabolism." For details, see Has Japan's Startup Ecosystem Been Formed?—Japan's Strengths and Weaknesses Compared with Major Countries (in the Japanese language)
Note 2
Generally, the financing stage of a startup is divided as follows:
Seed: Before starting
Series A: Product prototype is made and the business model is defined
Series B: The business is on track and starts making money
Series C: The business is at cruising altitude
Note 3
Foreign Stock JDR means the Certificate of Beneficial Interest issued in Japan according to the Trust Act. Foreign security is the beneficial interest. The company in this way does not need to become a Japanese corporation in order to approach potential investors. Using the US American Depositary Receipt and the European/British Global Depositary Receipt as references, the 2007 Amendment of the Trust Act created the JDR. (JPX) (website

)