JETRO Global Connection -Accelerate Innovation with Japan-
Interview


Building Startups from Day Zero to Investment


-The Inspiring Story of Startups Built through Antler's Investment Program-

(Japan)
Aug 17, 2023
Building a successful startup from scratch is never an easy task, but with the right support, resources, and guidance, it can be a rewarding and transformative journey. As we reported in the previous article

, Antler's cohort program aims to realize it by helping entrepreneurs from day zero to investment. In this article, we will closely look at the inspiring stories of three startups that have been built through this program:Yap

, iiba

, and Lombard Standard

. These startups have all gone through the 10-week cohort program and will receive pre-seed funding from Antler to kick-start their businesses. Let's delve into their journeys and discover the innovative solutions they're bringing to the world.
Interviewees, Ryo Umezawa and the members of three cohorts (provided by JETRO)
From Vision to Action: Yap's Dedication to Solving Industry Pain with Antler
First of all, we met Yap, a trailblazer in the field of distribution management, aiming to reform the way pharmaceutical products are distributed in Japan. Led by visionary founder Mr.Yamamoto, Yap has set its sights on transforming the industry through their innovative business process outsourcing (BPO) service, aptly named Yap-BPO.
With over 25 years of experience in the pharmaceutical sector, Mr. Yamamoto intimately understands the pain points and challenges associated with distribution management. Motivated by a deep desire to bring about positive change, he embarked on a journey with Antler's program to further refine his vision.
Mr. Yamamoto says, "I have been able to fully commit to addressing the pain points in the healthcare distribution industry, thanks to the passion and dedication of the Antler team." The program proved instrumental in his entrepreneurial journey, providing invaluable mentorship, guidance, and the opportunity to find co-founders who shared his passion and ambition.
With the upcoming launch of Yap-BPO's beta version in autumn, Yap is poised to make a significant impact in the pharmaceutical industry. Yap-BPO streamlines and automates various distribution management tasks, addressing inefficiencies and reducing costs. The platform aims to provide medical institutions and healthcare professionals (HCPs) with instant and accurate information, improving the efficiency of the pharmaceutical distribution process.
Yap's potential reach extends beyond the borders of Japan. With a focus on attracting overseas pharmaceutical companies, Yap aims to facilitate the entry and expansion of these companies into the Japanese market.
Yap's members (Left: Mr. Sasaki COO, Center: Mr.Yamamoto CEO, Right: Mr. Huse CTO) (provided by JETRO)
The AI solution to Commercial Real Estate matching: Lombard Standard
Lombard Standard, the next startup we'll explore, uses superior AI technologies such as OpenAI and ChatGPT to find the best matching buyer for Commercial Real Estate deals. By leveraging the power of generative AI, the team is on a mission to create an online platform to facilitate transactions and access to industry data for market operators in Europe and Asia Pacific.
Lombard Standard's matching platform (provided by Lombard Standard)
During Antler program Mr. Saruggia – the founder of Lombard standard with 20 years of experience in real estate and engineering – was able to onboard Mr. Yamada, a senior Japanese executive, and to accelerate the development of the platform, which has now been launched as a trial product with 10 pilot customers from Japan, Germany, United Kingdom and other countries in Asia-Pacific. You can explore the trial product at this link: https://lombardstandard.com.
"Our technology allows Commercial Real Estate operators to quickly generate the profile of thousands of investors in any language with detailed information about funds, recent news, past transactions and relevant contact people. This product is designed for Small and Medium Enterprises on the sell-side to expand their business network, cut their deal-introduction expenses and make better and faster decisions when searching for buyers." said Mr. Saruggia.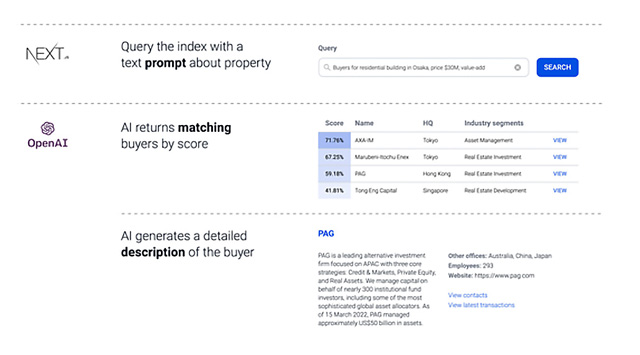 Lombard Standard's product image (provided by Lombard Standard)
Lombard Standard is positioned to disrupt the market and digitalize the way Commercial Real Estate transactions are originated. The latest AI technology, combined with Antler's support and Mr. Saruggia's vision and experience, sets the stage for Lombard Standard's big step into the transformation of the Commercial Real Estate market.
Lombard Standard's investment agreement with Antler (provided by Lombard Standard)
Empowering Parents with Personalized Recommendations: iiba's Quest for the Perfect "Good Place"
iiba, derived from the Japanese phrase for "good place," is revolutionizing the way parents find personalized recommendations for family outings. Founder Nana Aizawa, a mother herself, identified the lack of digital resources in this area and leveraged multiple geolocational technologies to create a platform that connects parents with ideal spots. In pursuit of her vision, Nana joined the Antler cohort program, where she found a like-minded co-founder and experienced engineer who shared her passion for empowering parents.
Scheduled for launch in September, iiba has already gained significant traction with 10k Instagram followers, demonstrating high demand. Emphasizing collaboration, iiba is actively seeking partnerships with Maas service providers, train companies, and developers to enhance accessibility and user experience in Japan.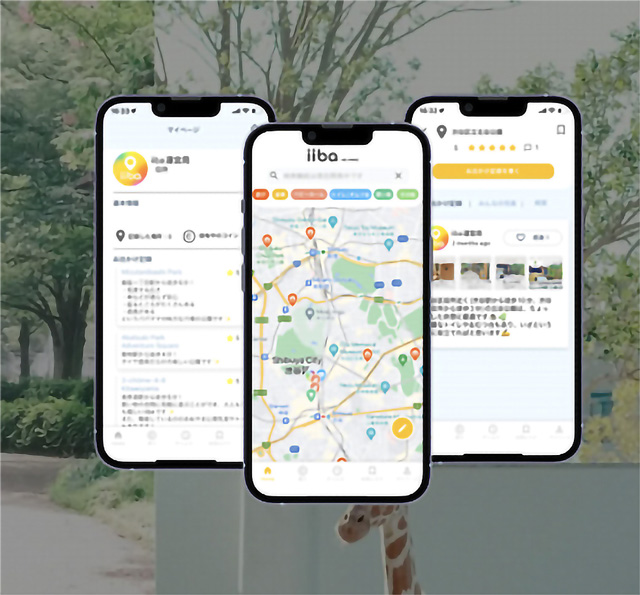 iiba platform image under development (from iiba website)
Throughout iiba's journey with Antler, Nana found immense value in Antler's entrepreneur community, where she connected with like-minded cohorts who embarked on their entrepreneurial journeys together from day one. This supportive network provided a valuable space for sharing experiences, seeking advice, and finding solutions to common challenges, making the Antler community an indispensable resource for iiba's growth.
With plans for international expansion, iiba aims to forge connections with overseas venture capitalists, enabling them to bring their innovative platform to parents worldwide. By empowering parents with personalized recommendations, iiba is reshaping the way families discover and enjoy "good places" together, thanks to their Antler-fueled journey of entrepreneurship.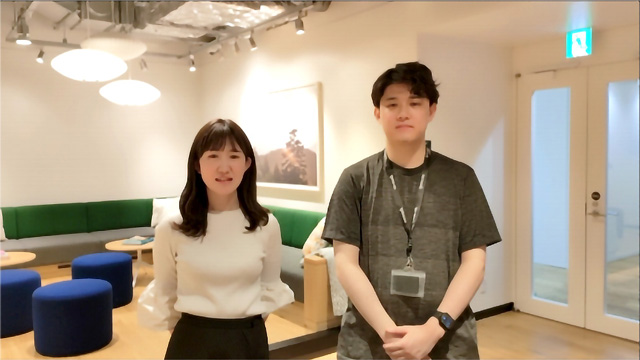 iiba members (Nana Aizawa, founder and CEO; Takanori Itabashi, CTO) (provided by JETRO)
Through Antler's cohort program, startups like Yap, Lombard Standard, and iiba have been able to transform their visions into reality. These innovative solutions showcase the power of entrepreneurship and the impact of the right support system.
In the spirit of celebrating their achievements, Antler will be organizing a showcase event in this September, where Yap, Lombard Standard, and iiba will have the opportunity to present their final pitches to a diverse audience of investors, industry experts, and fellow entrepreneurs.
Looking ahead, Antler is gearing up for its upcoming cohort program scheduled to commence in October 2023. The program will welcome a new wave of ambitious entrepreneurs who are ready to embark on their startup journey. With a proven track record of success, Antler continues to attract talented individuals from various backgrounds, offering them the necessary resources, mentorship, and funding to turn their ideas into thriving businesses
As the startup ecosystem continues to evolve, Antler remains at the forefront, empowering entrepreneurs to bring their visions to life. The success stories of Yap, Lombard Standard, and iiba are just a glimpse of the transformative potential that lies within the world of entrepreneurship. With each new cohort and each innovative solution, Antler is shaping the future of startups and driving positive change across industries.
Startup founding story through Antler's program in Japan.
Building Startups from Day Zero to Investment
Report by:

KAGA Yusuke, Startup Support Division, JETRO