JFOODO (The Japan Food Product Overseas Promotion Center) was established by the Japanese government in 2017 as part of the Japan External Trade Organization (JETRO) with the aim of boosting the export of Japanese agricultural, forestry, fishery and food products by branding them and promoting them widely around the world.
JFOODO was named with the hope and vision of increasing awareness of Japanese Food and winning fans for it all over the world, in the same way that other Japanese cultures do.
In Japanese, the kanji character「道」(read as "dō") literally means "the way" or "the code." In addition to world-renowned Japanese arts such as bushido (武士道, or "the way of the warrior"), kendo (剣道, or "the way of the sword"), and sado (茶道, or "The way of tea"), JFOODO aims to promote "the way of food" together with Japanese culture. Culture can be translated as 「風土」("fudo") in Japanese, which sounds and rhymes with "JFOODO".
Business Operation
Integrated marketing communication for focused products to countries/areas determined by government strategy.
Provision of information on overseas markets.
Provision of information on business practices of overseas markets.
Provision of business assistance in overseas markets by local field marketers.
Profile
President

KOBAYASHI Eizo

COO

NAKAYAMA Isamu

CAO

KITAGAWA Hironobu

Director-General

TAKAHASHI Yoshitoku

Date of establishment

April 1, 2017

Background November 2016 : The "Agricultural Competitiveness Strengthening Program" was approved by the Cabinet Office of the government of Japan in which the launch of a new organization specializing in the branding and promotion of Japanese food products, and support for Japanese exporters was determined.
December 2016 : 15 organizations including the Ministry of Agriculture, Forestry and Fisheries, JETRO and Japan Agricultural Cooperatives (JA) signed a partnership agreement for strengthening the comprehensive support for the export of Japanese agricultural, forestry, fishery and food products




Address Ark Mori Building, 12-32, Akasaka 1-chome, Minato-ku, Tokyo 107-6006 Japan
E-mail: JFA@jetro.go.jp
Tel: +81-3-3582-8344
Organization Chart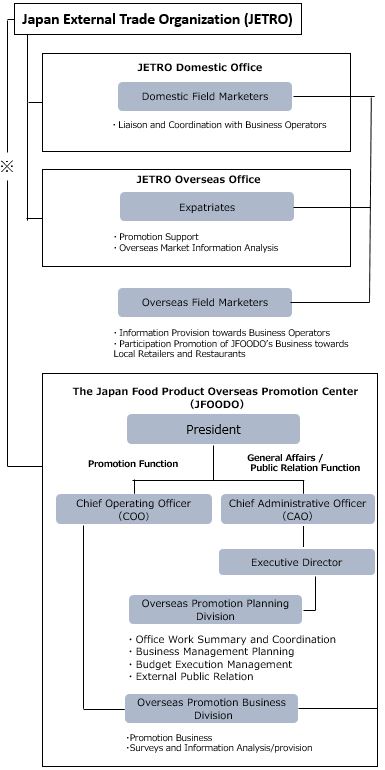 *Specialized Agency for Export and Promotion of Japanese Agricultural, Forestry Fishery and Food Products within JETRO
Message from President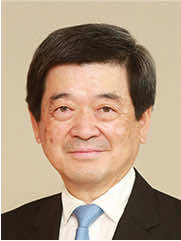 KOBAYASHI Eizo
President
Japan Food Product Overseas Promotion Center (JFOODO) within the Japan External Trade Organization (JETRO) was established in 2017 as a new organization to take charge of consumer promotion to brand Japanese agricultural, forestry, and marine products and food.
During this period, the importance of Japan's policy to promote exports of agricultural, forestry, fishery and food products has been increasing, and in 2020, the Cabinet decided to set export value targets of 2 trillion yen by 2025 and 5 trillion yen by 2030.
In order to achieve this goal, the "Action Strategy for Expanding the Export of Agricultural, Forestry and Fishery Products and Foods" (hereinafter referred to as the "Action Strategy") was agreed upon at the Ministerial Meeting in 2020 and has been further revised.
In the Action Strategy, JFOODO is expected to strengthen overseas local structure to play a role of introducing and leading consumption of Japan's agricultural, forestry, and fishery products and food products by conveying the attractiveness to consumers in expanding overseas markets.
In order to meet the growing expectations for JFOODO, we will actively endeavor to keep introducing products in new fields, by new approaches.
While respecting the opinions of private business operators, we at JFOODO are committed to branding Japanese products and promoting them to the world with a new spirit, in a joint public private sector effort.
We want to make Japanese producers, and consumers around the world, happy by promoting superior Japanese products.
Please stay tuned to our new approach.
Our Logo
The logo of JFOODO consists of 47 dots,
which is the number of prefectures in Japan.
The size of the dots are representative of the size of each prefecture. These dots are combined and enclosed in a circle, expressing JFOODO's commitment to collaborate with all 47 prefectures.