"Japan-Vietnam Business Roundtable Hiroshima" held in conjunction with G7
On May 21, JETRO held the "Japan-Vietnam Business Roundtable Hiroshima" in Hiroshima City together with the Ministry of Planning and Investment of Vietnam, the Embassy of Vietnam in Japan and Hiroshima Prefecture.
The meeting was organized at the request of Prime Minister Pham Minh Chinh in conjunction with his participation in the outreach meeting of the G7 (Group of Seven) Hiroshima Summit from May 19 to 21. A total of about 100 people, including government and corporate representatives, attended, and a dialogue meeting between the Vietnamese government and Japanese companies was realized.
From the Vietnamese side, in addition to Prime Minister Chinh, government officials such as Minister-Chairman of Government Office Tran Van Son, Minister of Planning and Investment Nguyen Chi Dung, Minister of Finance Ho Duc Phoc and Minister of Transport Nguyen Van Thang participated. From the Japanese side, in addition to Vice Governor of Hiroshima Prefecture Tanabe Masahiko, JETRO Chairman Ishiguro Norihiko and Member of the House of Representatives Kobayashi Fumiaki, representatives of companies and organizations active in Vietnam also took part, such as Mazda Motor Corporation, Hiroshima Bank, Rorze Corporation, Matsuoka Corporation, Hiroshima Toyota Motor, Tempearl Industrial, Sumitomo Mitsui Banking Corporation, the Chugoku Economic Federation, the Kyushu Economic Federation and the Shikoku Economic Federation.
In his opening remarks, Chairman Ishiguro explained how the meeting came about, saying, "When I visited Vietnam in early May and met with him, Prime Minister Chinh listened to the voices of Japanese companies and promised to improve the investment environment in Vietnam to make it easier for Japanese companies to operate." He also expressed his hope that the economic relationship between the two countries would be further strengthened through the delivery of messages by companies and organizations with close ties to Vietnam.
From the Japanese side, nine companies and organizations then made statements, requesting, among other things, the need for simplification of various administrative and licensing procedures. In response, Prime Minister Chinh announced that he would create favorable conditions for Japanese companies and other foreign investors. He expressed his hope that Japanese companies will continue to grow together with Vietnam by strengthening investment in areas where Japanese companies have strengths, such as supporting industries, electronic components, renewable energy and digital technology.
Opening remarks by Chairman Ishiguro
Prime Minister Chinh commenting on remarks by Japanese companies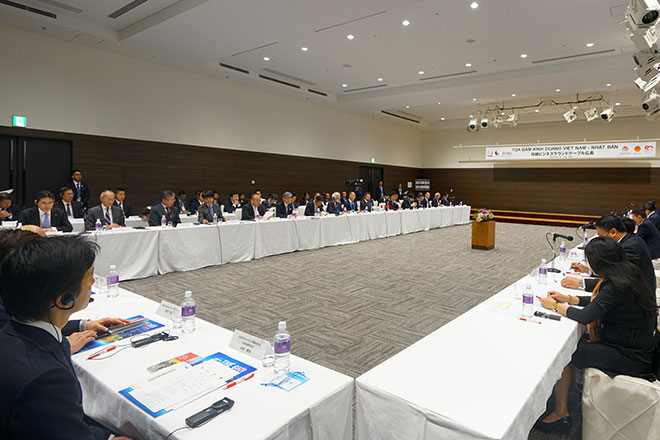 Meeting venue