Conclusion of comprehensive cooperation agreement with Yamagata University
On February 3, 2023 (Friday), JETRO concluded a comprehensive cooperation agreement with the nationally administered Yamagata University.
Yamagata University has been developing its unique and distinctive "Yamagata Model" for over 10 years, which provides practical global education by utilizing its network of partnerships with domestic and overseas companies to involve students in cooperative projects between Japanese and overseas companies, and JETRO has been also supporting the activity. With the signing of the agreement, the two parties will expand the scope of the fields—from industry to agriculture—and regions—from the cities of Yonezawa and Yamagata to the entire prefecture—of the "Yamagata Model." Furthermore, the global human resources development will be expanded to include not only students but also financial coordinators who have been collaborating with industry, government, academia and finance.
With the (initially online) establishment of the JETRO International Collaboration Office (tentative) in the future, JETRO will work on this activity together with relevant organizations.
Yamagata University President Tamate and JETRO Executive Vice President Aoyama at the signing ceremony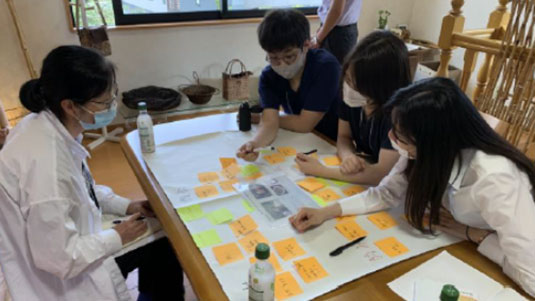 In a basic education class for all first-year undergraduate students at Yamagata University titled
"Advertising Products Made in Yamagata to Global Market" (taken by 10 students every year),
students find local companies with the desire to expand business overseas, visit their business sites,
conduct a SWOT analysis and present a proposal with PowerPoint. (In cooperation with JETRO Yamagata,
Yamagata Prefecture and Yonezawa City, this program has already been implemented three times since FY2020
[offered to two new Yamagata companies with the desire to expand business overseas a year] )
Outline
Yamagata University and the Japan External Trade Organization (JETRO) have concluded a comprehensive cooperation agreement with the aim of promoting international development in academic research, human resource development and industry-academia collaboration in cooperation with each other and to contribute to the development of Yamagata Prefecture and the region.
Background and achievements, future development and how to proceed

With its network of partnerships with domestic and overseas companies, Yamagata University has promoted its distinctive and unique "Yamagata Model" for over 10 years to provide a practical global education (short and long-term overseas internships, primarily for graduate students, and a basic-education intensive lecture course for first-year undergraduate students of all faculties) by involving students in the cooperation between the university and overseas companies, as well as between domestic companies with which the university works and overseas companies (international joint research, joint prototyping, export-import transaction and sales promotion). JETRO has cooperated in the development of this activity through its Regional Industry Tie-up (RIT) program and the university's basic education course "Advertising Products Made in Yamagata to Global Market."
The efforts to date have focused mainly on industry, food, handcrafts and textiles, and the target areas have been cities such as Yonezawa and Yamagata, but in the future the scope will be expanded to include agri-related fields, such as agricultural products and farming, and the entire prefecture. In addition to students, the scope of the practical global education program's human resource development will be expanded to include financial coordinators and others who have been involved in cooperation between industry, government, academia and finance. This will further link Yamagata with the rest of the world and contribute to regional development.
For effective promotion of this activity, the JETRO International Collaboration Office (tentative) will be opened (initially online) in cooperation with relevant organizations.

Contents of collaboration and cooperation

Yamagata University and the Japan External Trade Organization (JETRO) will collaborate and cooperate with each other mainly on the following matters.

Matters related to international academic research, human resource development and industry-academia collaboration
Creation of innovation
Support for social application of research results
Promotion of academics, education, culture and industry in Yamagata Prefecture and the region