Forum for Promoting Business Exchange Between Russia and Japan

- Joined by local government officials and prospective companies from Russia-
On February 4, JETRO jointly held the Forum for Promoting Business Exchange Between Russia and Japan in Tokyo with the Agency For Strategic Initiatives (ASI) and the Roscongress Foundation, which have both concluded a memorandum of cooperation (MOC) with JETRO. Presentations were delivered by local government officials from Russia on the business environment and attractiveness or their respective areas as well as startups which have been drawing attention in the country. After the forum, opinions were exchanged through individual talks and networking between the Russian participants and Japanese companies and local governments.
Introduction of business environments by officials of eight Russian local governments
Russia has seen remarkable improvement to its business environment, with the country ranked 31st in the World Bank's Doing Business Report

in 2019. Activities by local authorities have played a significant role in achieving this. The ASI, a co-organizer of this forum, is a government-affiliated organization tasked with making proposals and conducting monitoring in order to improve the Russian investment environment. JETRO concluded an MOC with the ASI in the presence of the leaders of both countries last May.
The forum held on this occasion was based on this MOC, and joined by officials of eight Russian local governments who promoted the potential lying in the main industries and business environments of each region.
Presentations by Russian prospective companies
In addition, the forum was joined by prospective Russian companies comprised mainly of startups and IT ventures who were seeking potential for working with Japanese companies in developing new business models. From the Japanese side 176 people joined the forum, and more than 40 individual talks took place between them and the regional officials and business people from Russia who took the podium. It is expected that the forum will be a catalyst for facilitating exchange between regions and companies of the two countries.
Opening remarks by JETRO Chairman &CEO Ishige
Mr. Pirozhenko, Deputy General Director, ASI
Guest speeches: Mr. Galuzin Russian Ambassador to Japan Russian
Mr. Egorov Trade Representative
Mr. Tsuruda Director, Europe Division, METI
Presentations by officials of eight Russian local governments
Sverdlovsk region
Kaluga region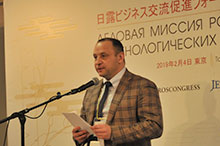 Voronezh region
Primorye territory
Khabarovsk territory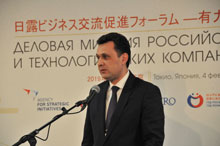 Krasnoyarsk territory
N. Novgorod region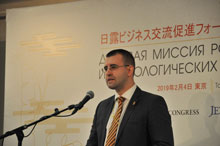 Novgorod region
Outline of forum
Date and time
February 4, 2019, 13:30-17:30
Venue
5th Floor Exhibition Hall, JETRO Headquarters
Program

Greeting by organizer

Hiroyuki Ishige, Chairman and CEO, JETRO
Alexander Pirozhenko, Deputy General Director, ASI

Guest speech

Mikhail Galuzin, Ambassador of the Russian Federation to Japan
Sergey Egorov, Trade Representative of the Russian Federation to Japan
Masanori Tsuruda, Director, Europe Division, METI

Presentations

"The Latest Economic Trends in Russia"
Kunihiro Nomura, General Director, JETRO Moscow
"Introduction of Business Environments in Promising Local Regions"
(Sverdlovsk, Kaluga, Voronezh, Primorye, Khabarovsk, Krasnoyarsk, N. Novgorod, Novgorod)
(All at the vice-governor level of each region)
Presentations by 12 Russian companies
(Skolkovo Foundation, Copter Express Technologies, Heedbook Cloud, Skyeng, TalkBank, Uremont, Intelligent Security Systems, Innodata, Spirit DSP, Aiger, White Soft, Kontinent TAU)