Vietnam Investment Conference during the visit of President Tran Dai Quang Conclusion of 17 memorandums
On May 31, JETRO jointly held the Vietnam Investment Conference under the theme of "Towards an interactive relationship between Japan and Vienam" with Vietnam's Ministry of Planning and Investment on the occasion of a state visit to Japan by Vietnamese President Tran Dai Quang. The aim of the event was to further expand bilateral business relations through the promotion of two-way investment and mutually complementary partnerships in the milestone 45th anniversary year of the establishment of diplomatic relations between two countries.
President Quang emphasized in his keynote speech that both countries have become the most important of partners over the past 45 years, and that that partnership has been contributing to peace and prosperity throughout Asia. In addition, he promised Japanese companies that the Vietnamese government would provide an open and fair investment environment.
Following the keynote speech, a panel discussion was joined by Vietnamese Trade Minister Tran Tuan Anh, Director General Do Nhat Hoang of the Foreign Investment Agency and representatives from Japanese and Vietnamese companies. Panelists engaged in a lively discussion regarding the orientation Vietnam should take going forward and what form next-generation partnerships will take between the two countries.
In the conference, authorization credentials were given for three cases of investment into Vietnam and one case for flight services, while 13 memorandums of understanding regarding investment by Japanese companies were exchanged.
JETRO held the Vietnam Investment Conference in June 2017 by welcoming Prime Minister Nguyen Xuan Phuc, which also included an exchange ceremony for MOUs. Numerous investment cases announced during that ceremony have steadily seen progress over the last year, while the amount of investment from Japan to Vietnam in 2017 hit a record high.
This conference was joined by more than 600 people including government officials and business people from both countries. During a concurrent network event, Vietnamese and Japanese business people were proactively exchanging opinions on the possibilities of future collaboration, giving hope for the expansion of business. JETRO will continue working to strengthen economic relations between Vietnam and Japan through activities such as this conference.
President Quang's arrival at venue
Opening remarks by Chairman and CEO Ishige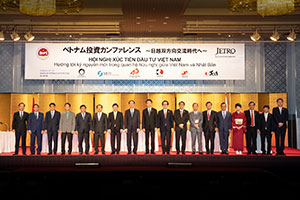 VIPs photo session
Outline of Conference
Date and time
Thursday, May 31, 2018
[Conference] 13: 30 - 16: 00 , [Network meeting] 16: 00 - 16: 30
Venue
Hotel New Otani
[Conference] Tsuru (West) , [Network meeting] Edo-ROOM
Organizer
Japan External Trade Organization (JETRO)
Co-organizer
Ministry of Planning and Investment of Vietnam (MPI)
Sponsors
Ministry of Foreign Affairs of Japan, Ministry of Economy, Trade and Industry of Japan, Embassy of the Socialist Republic of Vietnam in Japan, Keidanren, Japan Chamber of Commerce and Industry, Japanese Chamber of Commerce and Industry in Vietnam
Program

Program 1st session: Ceremonies for opening and exchange of MOUs

[Opening remarks] Hiroyuki Ishige, Chairman and CEO, JETRO
[Guest speech] Yoji Muto, State Minister of Economy, Trade and Industry
[Keynote speech] Tran Dai Quang, President of the Socialist Republic of Viet Nam
An exchange ceremony for MOUs
[Presentation] Nguyen Thanh Hung, Vice Chairman, Vietjet Air
A photo session

2nd session: Presentation and panel discussion


Presentations by Vietnamese and Japanese companies

Shigeru Kimoto, President, Takashimaya Co., Ltd.
Toshikazu Saito, Chairman, Renaissance Inc.
Masayuki Inoue, Representative Director, Inoue Rubber Co., Ltd.
Truong Gia Binh, Chairman and CEO, FPT Corporation

Panel discussion


[Panelists]

Tran Tuan Anh, Minister of Industry and Trade of the Socialist Republic of Viet Nam - Do Nhat Hoang, Director General of Foreign Investment Agency of the Socialist Republic of Viet Nam - Representatives from Vietnamese and Japanese companies

[Moderator]

Yuri Sato, Executive Vice President, JETRO

3rd session: Closing

[Closing remarks] Tran Tuan Anh, Minister of Industry and Trade of the Socialist
Republic of Viet Nam

Network meeting