Third Invest Japan Symposium in New York with Prime Minister Abe
On September 19, JETRO held a major symposium calling for investment into Japan in New York with Prime Minister Shinzo Abe and the heads of local Japanese governments. This is the third year in a row for an Invest Japan Symposium to be held on the sidelines of a visit to New York by PM Abe. This year's agenda was the Japanese government's growth strategy and further development of economic ties between Japan and the US. In addition to PM Abe, a wide range of speakers, including a well-known economist, executives from the financial sector and executives of US companies with a long history of doing business in Japan, presented on the current economic policies of the country and opportunities available through business alliances between America and Japan. This year's symposium had a higher turnout than the previous year, 320 people mainly from business sectors, making it an ideal opportunity to promote the benefits of doing business in Japan as well as its attractiveness as an investment destination.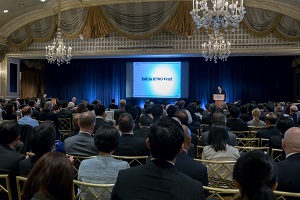 Japan's improved investment environment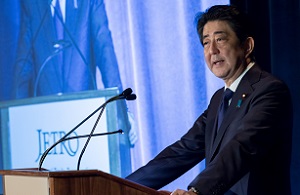 PM Abe sent a clear message at the onset of his greeting, saying "There is no dispute that Abenomics has improved Japan's investment environment," and "We are now putting into action further reform with the goal of increasing FDI stock to 35 trillion yen by 2020." He also referred to the significance of the Trans-Pacific Partnership (TPP) as a driving force of this reform. He called for more investment by underlining how Japan's advantage as an investment destination would grow if stronger economic ties throughout the Asia Pacific region were formed through the TPP, and that JETRO is well prepared to support foreign investors in collaboration with Japan's diplomatic missions abroad.
Positive economic turnaround and potential of market
Keynote speeches were given by three speakers: Takatoshi Ito, Professor of International and Public Affairs at Columbia University; Stephen R. Volk, Vice Chairman of Citi and Chairman of Citi's Institutional Clients Group; and Akira Kiyota, Director and Representative Executive Officer and Group CEO of Japan Exchange Group, Inc.
Professor Ito emphasized that the Japanese economy has been steadily making a turnaround and explained various structural reforms and financial policies which had been undertaken by the government. He concluded that Japan would create a stable investment environment through policies to encourage employment of foreign workers and promotion of women in the workplace.
In his own remarks, Mr. Volk stated that the Japanese government's efforts at structural reform and cutting corporate tax in order to double FDI stock by 2020 should be applauded, and he expressed his expectations for Japan's heightened position as an investment destination, especially in the medical and tourism sectors.
The third speaker, Mr. Kiyota, mentioned the new stewardship code introduced in Japan to ensure that the effects of Abenomics would not be short-lived and to make Japanese companies more competitive internationally. He said that proliferation of this stewardship code has already begun increasing the value of these firms.
To wrap up the first half of the event, Hirotoshi Tanaka, President of JETRO New York, gave an explanation on Japan's sophisticated consumer market as well as its position as a competitive R&D base. He called for further investment into Japan, citing how the economy had improved under Abenomics.
Benefits of business in Japan for US companies
The latter half of the event was commenced with a greeting from Ziad Haider, Special Representative for Commercial and Business Affairs of the US Department of State. Mr. Ziad emphasized the strength of recent Japan-US relations and said it was necessary to pay attention not only to value but also quality of investment. He also said that active involvement in the TPP by member countries would lead to stability throughout the Asia Pacific as a whole and expressed his expectation for early implementation of the trade accord.
During the company presentation session following Mr. Ziad's speech, presentations were given by two speakers: Marco Annunziata, Chief Economist and Executive Director of Global Market Insight at GE, and Kathryn E. Wengel, Worldwide Vice President of Johnson & Johnson Supply Chain. Mr. Annunziata shared his views based on his company's 130 years of experience in Japan, in which he praised the great power and future potential of Japanese industries. He said Japan was the best country for innovation because of its excellent human resources and research environment. Ms. Wengel spoke about a healthcare center that her company established with JETRO's support. She said that high degree of health-consciousness of Japan and the Japanese people allowed the country to serve as a role model for the healthcare-related industry. She also expressed her expectations for a deepened relationship between her company and Japan for years to come.
Local information from head of local government
Hamamatsu Mayor Yasutomo Suzuki delivered a speech on behalf of local governments throughout Japan, and introduced various advantages his own city offers such as a rich natural environment, its traditional culture and solid transportation infrastructure, while referring to examples of foreign companies with a presence already established in Hamamatsu. He made an appeal for investment from the US, explaining the ongoing improvement of incentives including enriched subsidy programs and the establishment of an industrial park.
At the end of the symposium, Hirofumi Katase, Vice-Minister for International Affairs, Ministry of Economy, Trade and Industry (METI), took the podium and added his own voice to the praise for Japan's investment climate by expressing his expectations for the economy to continue improving even after the era of Abenomics.
A PR booth by Hamamatsu City and a consultation booth by JETRO were set up for the networking reception following the symposium. Both booths saw active exchange with participants.
Outline
Title
Investment Opportunities in Japan toward the New Asia-Pacific Era
Date and venue
September 19 (Mon) , 2016 9:50 - 12:05 (Networking reception scheduled afterwards)
The Pierre, A Taj Hotel, New York
Organizer
Japan External Trade Organization (JETRO)
Co-organizer
Ministry of Economy, Trade and Industry (METI), Hamamatsu City
Supporters
Consulate General of Japan in New York, Japan Society, Japan National Tourism Organization (JNTO), Council of Local Authorities for International Relations (CLAIR),
Japan Foundation (JF), Japan Chamber of Commerce and Industry (JCCI), Massachusetts Office of International Trade and Investment (MOITI)
Participants
320 persons (US companies and organizations, the press, Japanese companies and organizations)
Program
Greeting: Shinzo Abe, Prime Minister of Japan
Keynote speech: Takatoshi Ito, Professor of International and Public Affairs at Columbia University
Keynote speech: Stephen R.Volk, Vice Chairman of Citi and Chairman of Citi's Institutional Clients Group
Keynote speech: Akira Kiyota, Director & Representative Executive Officer and Group CEO of Japan Exchange Group, Inc.
Speech by JETRO: Hirotoshi Tanaka, President of JETRO New York
Greeting from the US Government: Ziad Haider, Special Representative for Commercial and Business Affairs of the US Department of State
Presentation by business sector: Marco Annunziata, Chief Economist and Executive
Director of Global Market Insight at GE
Presentation by business sector: Kathryn E. Wengel, Worldwide Vice President of Johnson & Johnson Supply Chain
Speech by local Japanese government: Yasutomo Suzuki, Mayor of Hamamatsu City
Closing remarks: Hirofumi Katase, Vice-Minister for International Affairs of METI
Networking reception