Working-Level Meeting for Asian Trade Promotion Forum in Miyazaki
On June 14 and 15, JETRO held a working-level meeting for the Asian Trade Promotion Forum (ATPF) in Miyazaki, which was joined by 35 members from 22 countries and regions.
Discussion for revitalization of ATPF
With the holding of the 30th ATPF CEO meeting next year, the following two frameworks were discussed during this working-level meeting: "further revitalization of the ATPF" and "utilizing the platform of the ATPF to support supplier matching and investment relations." Regarding "supplier matching", a particular scheme for responding to company inquiries by TPOs was introduced. During the "investment" session, a presentation was made on a recent example of collaboration between the Malaysia External Trade Development Corporation (MATRADE) and the Vietnam Trade Promotion Agency (VIETRADE). The meeting also included presentations on other cooperative projects conducted by ATPF members, best practices implemented by each TPO and a joint exhibition at "China Import Expo 2016." The day after the meeting, members joined a tour to visit local industries in Miyazaki.
Disseminating allures of Miyazaki toward Asia
The ATPF Working-Level Meeting is held within Japan every year. Taking advantage of opportunity this presents, JETRO has held the meetings in key areas outside of major cities in order to introduce the attractiveness of the Japanese countryside to attendees. For this year's meeting, Miyazaki was selected, where JETRO opened its 43rd domestic office last October.
The networking session, which was held on the first day of this meeting, was joined by the Governor of Miyazaki Prefecture Shunji Kono and the Chairman of Miyazaki Prefectural Assembly Toru Hoshihara, as well as international students, in addition to many business people in Miyazaki. All of them engaged in a lively exchange of information with meeting members. At the beginning of the session, guests took part in a toast with shochu produced in Miyazaki. Local Miyazaki cuisine was also served, and included agricultural and livestock products only available locally, such as Miyazaki beef and mango.
Industrial tourism to see tradition and cutting-edge horticulture
After the meeting, members visited some local facilities to learn about traditional Japanese industry as well as the latest plant-science technology. At a special site for next-generation greenhouse horticulture, they learned about a hybrid environment control system which grows sweet peppers in a greenhouse, along with a cultivation management system based on accumulated data in the field which has improved productivity. As an example of traditional industry, they visited Kirishima Factory Garden to learn about production of the local shochu, which is unique to the region and for which quality is controlled with meticulous care. Among the comments JETRO received from attendees, particular praise was given for the hospitality shown by Miyazaki.
Venue of the Working-Level Meeting
Networking session with Governor Kono and JETRO Executive Vice President Shindo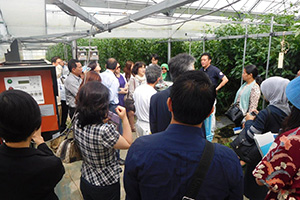 Next-generation greenhouse horticulture
Kirishima Factory Garden
Outline
Organizer/secretariat
Japan External Trade Organization (JETRO)
Date
June 14-15, 2016
Venue
Miyazaki City, Miyazaki Prefecture
Participated organizations
Australian Trade and Investment Commission (AUSTRADE)
Center for International Trade Expositions and Missions (CITEM), Philippines
Directorate General of National Export Development (DGNED), Indonesia
Department of International Trade Promotion (DITP), Thailand
Export Promotion Bureau (EPB), Bangladesh
Federation of Nepalese Chambers of Commerce and Industry (FNCCI), Nepal
General Directorate of Trade Promotion (GDTP), Cambodia
Hong Kong Trade Development Council (HKTDC)
International Enterprise Singapore (IE Singapore)
Macao Trade and Investment Promotion Institute (IPIM)
India Trade Promotion Organisation (ITPO)
Japan External Trade Organization (JETRO)
Korea Trade-Investment Promotion Agency (KOTRA)
Malaysia External Trade Development Corporation (MATRADE)
Mongolian National Chamber of Commerce and Industry (MNCCI)
Myanmar Trade Promotion Organization (MYANTRADE)
Ministry of Foreign Affairs and Trade (MOFAT), Brunei
Sri Lanka Export Development Board (SLEDB)
Trade Development Authority of Pakistan (TDAP)
Trade and Product Promotion Department (TPPD), Laos
Taipei World Trade Center (TWTC)
Vietnam Trade Promotion Agency (VIETRADE)