First Invest Japan Seminar in two Indian cities: Mumbai and Bangalore
The Japan External Trade Organization (JETRO) held its large-scale Invest Japan Seminars for the first time in India: in Mumbai on February 23 and in Bangalore on February 24 in 2016. The events received 100 participants from Indian companies and related organizations in Mumbai and 216 participants in Bangalore. With extensive coverage from Indian media sources, the seminars proved an excellent opportunity for JETRO to widely disseminate information on attractive markets and business opportunities in Japan.
These seminars were held as part of the "Japan-India Internet of Things (IoT) Investment Initiative" inked by Shinzo Abe, Prime Minister of Japan, and Narendra Modi, Prime Minister of the Republic of India, at the summit meeting held in Delhi in December 2015.
Appealing for investment in Japan's attractive market
Shigeki Maeda, Executive Vice President of JETRO, delivered the keynote speech at both seminars. Expressing expectations for expansion of FDI from India, he said "It is apparent that India has just entered a 'stage of outward investment' and, while the amount of its investment into Japan is currently very small, I believe this means that there is much room for growth." He also explained how Japan's business environment has become much more attractive thanks to a virtuous economic cycle, deregulation, structural reforms and lowered costs brought by Abenomics. He emphasized that JETRO is the core organization for promoting FDI into Japan and a competent partner. He also made an appeal for investment into Japan, saying that Japan fully welcomes the development capabilities of Indian companies, such as from the software and pharmaceutical fields.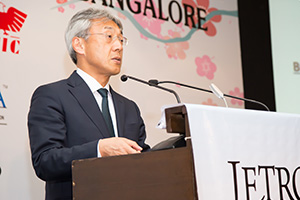 Mumbai seminar presenting examples of successful business expansion into Japan from Indian pharmaceutical and IT industries
JETRO hosted the Mumbai Invest Japan Seminar with the Federation of Indian Chambers of Commerce and Industry (FICCI) and invited speakers from two successful Indian companies. Ramesh Swaminathan, CFO of the world leading pharmaceutical manufacturer Lupin Limited, shared his company's recent experience expanding business following its initial locations in Tokyo and Osaka. He said Lupin wants to enhance business in Japan, which offers the third largest pharmaceutical market in the world, and expressed his company's intention to increase investment in the country even further. The other speaker was Shamdutt Kamble, Group Head of Industrial Automation at Wipro. The company has the largest presence of any Indian IT company in Japan, and Mr. Kamble shared his views on what kind of values need to be focused on when Indian companies do business in Japan, citing examples of his company. He underlined that Wipro's focus is placed on building "shinrai," which means "trust" in English, by introducing strict quality control for Japanese customers and employing able experts.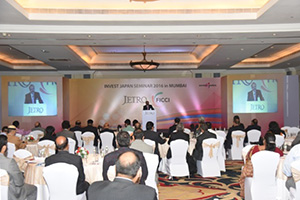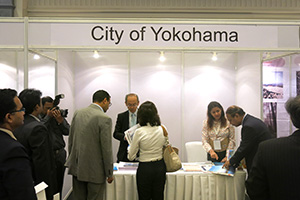 Bangalore seminar presents successful cases of FDI into Japan
At the Invest Japan Seminar held under the co-sponsorship of JETRO and the Bangalore Chamber of Industry and Commerce (BCIC), MN Vidyashankar, President of the India Electronics and Semiconductor Association (IESA), delivered the keynote speech and shared some examples from the members of his association who successfully made investments into Japan. He also said, "My Association is to set up an office in Japan and we want to explore more collaboration with Japanese companies." In the following speeches by Indian companies, two speakers came from Tata Elxi: Manager Mr. Ravi and Business Manager for Transportation Design & Engineering Business Mr. Richi. Both representatives emphasized that once a good relationship has been built with a Japanese company, it can be maintained over a long period. Amit Rana, Chief Technology Officer and Co-founder of TechJini Solutions, referred to JETRO's support for starting up business in Japan, saying, "JETRO provided various support in various schemes such as provision of free office space and assistance for obtaining visas" and he called on participants to actively utilize JETRO.
Active exchange between participants from both countries at the networking reception
At the receptions following both seminars, participants actively exchanged information on business development in Japan. Two local governments, Wakayama Prefecture and Yokohama City, set up PR booths to promote their respective areas as attractive destinations for investment (Wakayama Prefecture only took part in Mumbai). JETRO set up a booth to respond to the individual inquiries of seminar participants.
Outline
Invest Japan Seminar 2016 in Mumbai
Date
Tuesday, February 23, 2016; 14:30 - 17:40
Venue
ITC Maratha (Mumbai)
Organizers
Japan External Trade Organization (JETRO)
Co-organizer
Federation of Indian Chambers of Commerce and Industry (FICCI)
Supporter
Consulate-General of Japan in Mumbai
No. of participants
100 people (including local firms, organizations and the press)
Program
[ Invest Japan Seminar 2016 in Mumbai ]

Opening remarks: Takeshi Honjo, Director General of JETRO Mumbai
Welcome speech: Sanjeev Agarwal Executive Committee Member of FICCI
Guest remarks: Yoshiaki Ito, Consul General, Consulate-General of Japan in Mumbai
Keynote speech: Shigeki Maeda, Executive Vice President, JETRO
Presentations from Indian companies
- Ramesh Swaminathan, CFO, Lupin Limited
- Shamdutt Kamble, Group Head of Industrial Automation, Wipro

[ Networking reception ]
Invest Japan Seminar 2016 in Bangalore
Date
Tuesday, February 24, 2016 16:00 - 19:45
Venue
Taj Westend, Race Course, Bangalore
Organizers
Japan External Trade Organization (JETRO),
Bangalore Chamber Industries and Commerce (BCIC)
India Electronics and Semiconductor Association (IESA),
Association of Bangalore Animation Industry
Co-organizer
India Electronics and Semiconductor Association (IESA),
Association of Bangalore Animation Industry
No. of participants
216 people (including local firms, organizations and the press)
Program
[ Invest Japan Seminar 2016 in Bangalore ]

Opening remarks: Junya Tashiro, Director General of JETRO Bangalore 
Welcome speech: KR Girish, former President & Chairman of the Finance Committee, BCIC
Guest remarks: Jun-ichi Kawaue, Head of the Consulate of Japan in Bengaluru
Keynote speeches:
- Shigeki Maeda, Executive Vice President, JETRO
- M.N Vidyashankar, President, IESA
Presentations from Indian companies
- Mr. Ravi, Manager-CAE, Tata Elxsi
Mr. Rishi, Business Manager for Transportation Design & Engineering Business, Tata Elxsi
- Amit Rana, Chief Technical Office and Co-founder TechJini Solutions Pvt. Ltd

[ Networking reception ]