Exhibiting at Lagos International Trade Fair in Nigeria
Promoting Japanese products and brands in Africa's large market
In the 10-day period from November 7 to 16, JETRO organized the Japan Pavilion at the Lagos International Trade Fair (gross area: 2,250 square meters) held in Lagos, Nigeria's largest city. The pavilion featured 24 companies and one organization, which included participants from Japan as well as their local representative agents, in fields such as food, vehicles, transportation machinery like motorcycles, auto parts, stationary, home appliances, musical instruments, power generators, security devices, industrial equipment, electrical tools, office equipment and sewing machines.
Multitude of trucks, four-wheel drive vehicles and other large machines
The Lagos International Trade Fair is the largest international general exhibition in West Africa, and this time about 1,600 companies exhibited while a total of 150,000 visitors came over the fair period. At the Japan Pavilion, many exhibitors presented real machines like large-scale transportation machines such as trucks and forklifts, making for an impactful pavilion which drew in 28,952 visitors over the 10-day period.
Receiving "Overall Best Pavilion" Award for professional and beautiful pavilion
On the first day of the fair, JETRO Executive Vice President Tomiyasu Nakamura and Japanese Ambassador to Nigeria Ryuichi Shoji were present to greet local key figures who came to the opening ceremony for Japan Pavilion and tour the exhibition together.
Among the local guests was the Oba of Lagos (a member of a royal line veneered by citizens as the "King of Lagos"), who gave kind words in his remarks at the ribbon-cutting, saying "It is a great pleasure to receive a country that possesses advanced technology like Japan". Following the opening ceremony, a demonstration of Japanese food was held by the Japanese Embassy.
The Japan Pavilion received the "Overall Best Pavilion" Award from the Lagos Chamber of Commerce and Industry (LCCI), the organizer of the trade fair.
JETRO also concluded a memorandum of understanding (MOU) with LCCI regarding partnership in activities. The MOU, which aims to be used for future expansion of business by Japanese companies in Nigeria, was covered widely in the local media.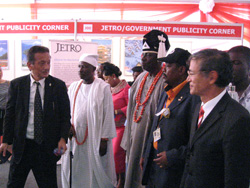 All exhibitors receiving positive response
All exhibitors of the Japan Pavilion received a positive response from visitors, getting receptive comments such as "We found promising business contacts".
It is of particular note that later in the exhibition period, the number of visitors increased and products, especially sewing machines, musical instruments, home appliances and food, flew off the racks. In addition, many sales contracts were concluded for both passenger cars and commercial vehicles.
Challenging customized consumer marketing
In conjunction with exhibition, JETRO also conducted an acceptance survey for the first time, to collect concrete information that will help exhibitors of trade fairs in emerging countries make decisions about whether to enter the market or not. In this survey, JETRO implemented prior research to identify targets in Nigeria whose views Japanese companies want to hear, as well as questions these companies want to ask. With the cooperation of local research organizations, group and individual interviews were then conducted with these targets.