Invest Japan seminar held in New York
Promotion by Prime Minister Abe and four regional officials
On September 23 JETRO held a seminar titled "Corporate Growth Opportunities and Japan's Economic Agenda" in New York with Prime Minister Shinzo Abe, the Governor of Wakayama Prefecture and the mayors of Tokamachi, Kyoto and Mimasaka to promote investment into Japan. Approximately 200 people from business circles attended the event, demonstrating the high interest American companies have in doing business with and investing in Japan.
Abenomics entering its second chapter and its goal of regional revitalization
During his address, PM Abe said that Abenomics is an attempt at reincarnating Japan, and that the dark, heavy skies which have hung over the country are beginning to clear. He pointed out that Abenomics is about to enter its second chapter, the aim of which is a bountiful and healthy revitalization of Japan's regions.
Toward the revitalization, he continued, "I will open the Japanese market to the world and change Japan through investments from overseas." He emphasized that diplomatic offices and JETRO are working together and expending all possible efforts in supporting business people thinking about investment in Japan.
Strong potential as an investment market
In his keynote address, Johnathan B. Kindred, President and CEO of Morgan Stanley Japan Holdings, said that Japan is an enormous market with a significant upper-class presence and has a transparent legal system, a safe and secure environment and an abundance of highly skilled personnel.
Mr. Kindred emphasized that the investment environment is on the road to reform due to factors such as the establishment of the Japanese Stewardship Code and the planned introduction of the Corporate Governance Code, which has been made particularly possible through implementation of Abenomics. Japan has high potential as an investment market.
Regional leaders promote local allure
Each regional head of government introduced investment advantages and incentives as well as the business environment of their respective areas. Governor Yoshinobu Nisaka of Wakayama Prefecture stated that Wakayama is near an easily accessible international airport and seaports, and has a long history of skilled personnel in engineering. In addition, he made clear how overseas companies are welcome in his prefecture by describing actions he has taken to support them, such as establishing a combined joint task force for each individual case of investment from abroad which operates under the direct supervision of the governor. The Mayor of Tokamachi City, Yoshifumi Sekiguchi, introduced his region with its beautiful nature and affluent art. He said that he expects investment in the fields of resort development, aged care and environment-friendly industry. Mayor Daisaku Kadokawa of Kyoto discussed the attractiveness of his city as a sightseeing destination which is renowned all over the world. He also demonstrated cases in which local traditional industries produced advanced technology. Finally, representing Mimasaka City, Mayor Seiji Hagiwara introduced the active international exchange of his hometown. Using various examples of people moving there from both inside and outside Japan, he pointed out the city's high potential for micro investment from the world.
Disposition for "kaizen" necessary for business in Japan
From Opower, an American company which has already made inroads into Japan in collaboration with the Tokyo Electric Power Company, Vice President of Project Management Mark Laitin spoke on the importance of endeavoring to meet the needs of the market and customers when starting up operations in Japan. He also emphasized the necessity of continuous improvement and a disposition for "kaizen", or reform: striving for perfection rather than being perfect.
There was also a very lively Q&A session which helped further deepen understanding of investing into Japan for attendees. Overall, the seminar became a successful venue for the charms of Japan as an investment destination to be freely expressed.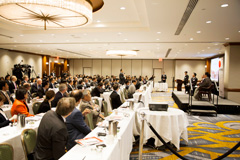 Title
Invest Japan Seminar
-Corporate Growth Opportunities and Japan's Economic Agenda Date September 23, 2014
Venue
New York Hilton Midtown
Organizer
Japan External Trade Organization (JETRO)
Co-organizer
Ministry of Economy, Trade and Industry, Wakayama Prefecture, Tokamachi City, Kyoto City, Mimasaka City
Supported by
Consulate-General of Japan in New York, Japanese Chamber of Commerce and Industry of New York, Inc., Japan Society, Japan National Tourism Organization (JNTO), Council of Local Authorities for International Relations (CLAIR), Japan Foundation New York, Massachusetts Office of International Trade and Investment (MOITI)
No. of participants
Approximately 200 (US and Japanese companies and organizations)
Program
Opening remarks: Toshiyuki Yokota, President of JETRO New York
Greetings from His Excellency, Shinzo Abe, Prime Minister of Japan Remarks(148KB)
Keynote: Jonathan B. Kindred, President and CEO Morgan Stanley Japan Holdings Co., Ltd. Power Point Presentation(248KB)
Presentation:
- Yoshinobu Nisaka, Governor of Wakayama Prefecture Power Point Presentation(3.6MB)
- Yoshifumi Sekiguchi, Mayor of Tokamachi City Power Point Presentation(7.3MB)
- Daisaku Kadokawa, Mayor of Kyoto City Power Point Presentation(3.6MB)
- Seiji Hagiwara, Mayor of Mimasaka City Power Point Presentation(4.5MB)
- Marc Laitin, Vice President, Product Management Opower Power Point Presentation(2.2MB)