London seminar: Invest in Japan – A Regional Roadmap
Prime Minister Abe makes emphatic call for investment into Japan
On May 1, JETRO held a major seminar in London promoting investment into Japan targeting local business people, with the attendance of Prime Minister Shinzo Abe and high-ranking officials from Hiroshima and Mie Prefectures and the cities of Kobe and Fukuoka. The event was joined by 119 members of the UK business community and strong interest in doing business in Japan was heard from participants.
"A friendlier and more exciting Japan for investors"
PM Abe emphasized that foreign direct investment (FDI) into Japan was a critical pillar of his growth strategy. He said that he aimed to double Japan's FDI inflow by 2020 and encourage its growth through the combined strength of JETRO and Japanese overseas embassies.
He made clear his expectations for investment into Japan, saying that based on the growth strategy, regulatory and corporate tax reform under government leadership would continue and that "Japan would be revolutionized into a friendlier and more exciting market for investors".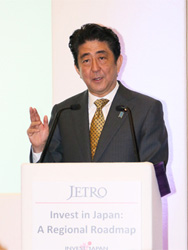 Four local government leaders promote allure of Japanese regions
Introductions on the advantages of each local region were given by the governors of Hiroshima and Mie Prefectures as well as the mayors of Kobe and Fukuoka along with information on their respective business environments and incentives.
Kobe Mayor Kizo Hisamoto emphasized Kobe's status as an international city in the heart of West Japan with over 240 foreign companies operating and introduced the Kobe Medical Industry Development Project which the city is advancing. The Mayor of Fukuoka, Soichiro Takashima, spoke about how his city has developed as a node connecting Japan with the rest of Asia from long ago. He also brought attention to the fact that the economic scale of the Fukuoka metropolitan area is even greater than Barcelona or Rome and that service industries such as the IT and digital fields are flourishing.
Governor Eikei Suzuki of Mie Prefecture emphasized Mie's proximity to both Osaka and Nagoya as well as its prominence in business, stating that the area has a diverse concentration of industries. And Hiroshima Governor Hidehiko Yuzaki introduced his own prefecture as a prominent region with accumulations in automobiles, cutting-edge technology and other industries, which also boasts an environment easy to live in for non-Japanese. All officials emphasized how their respective areas were ideal for investment.
Appeal of business and investment in Japan
Sir David Warren, Chairman of the Japan Society, London and former British Ambassador to Japan, shared his own thoughts, stating that the Japanese market is the third largest in the world, is technologically advanced and has a high level of aspiration from its customers, meaning that prevailing in the Japanese market is a benchmark for success for UK companies. He continued that those UK companies with international ambitions cannot afford not to consider investing in Japan, giving his enthusiastic endorsement of the country as a business destination.
Steve Crane, Founder and CEO of Business Link Japan, a firm with a rich history of doing business in Japan, also took the podium and said that the real Japan is completely different from the stereotype one is left with from textbooks. The Japanese have a wonderful nature and as one continues to do business in Japan, he said, he or she will grow ever more assured of their virtues. Mr. Crane also implored those present to utilize the support of JETRO and UKTI to save funds and time and to reduce risk.
The seminar ended with a lively Q&A session. Comments from participants indicated that the event was successful in deepening their understanding of business with Japan and illustrating its attractiveness as an investment destination.
Title
Invest in Japan: A regional roadmap
Organized by
Japan External Trade Organization (JETRO)
Co-organized by
Ministry of Economy, Trade and Industry (METI), Hiroshima Prefecture, Mie Prefecture, Kobe City, Fukuoka City
Supported by
Embassy of Japan in the UK, Japanese Chamber of Commerce and Industry in the UK (JCCI UK), The Japan society, Council of Local Authorities for International Relations (CLAIR), Japan National Tourism Organization (JNTO), UK Trade &Investment (UKTI)
Date
May 1, 2014
Venue
Institute of Directors, London
No. of attendees
119 from local companies, organizations, etc.
Program
Opening Remarks: Mr. Jun Arima, Director General, JETRO London
Keynote Speech: Mr. Norihiko Ishiguro, Vice-Minister for International Affairs, METI
Power Point Presentation(4.5MB)
Presentation by Mr. Kizo Hisamoto, Mayor of Kobe Power Point Presentation(3.6MB)
Presentation by Mr. Soichiro Takashima, Mayor of Fukuoka Power Point Presentation(5.7MB)
Address by Prime Minister Shinzo Abe Remarks(152KB)
Presentation by Sir David Warren, Chairman of the Japan Society (former British Ambassador to Japan)
Presentation by Mr. Eikei Suzuki, Governor of Mie Prefecture Power Point Presentation(6.0MB)
Presentation by Mr. Hidehiko Yuzaki, Governor of Hiroshima Prefecture Power Point Presentation(4.3MB)
Presentation by Mr. Steve Crane, Founder and CEO, Business Link Japan Ltd.
Power Point Presentation(4.1MB)
Closing Remarks: Mr. Hidehiro Yokoo, Director-General, Trade and Economic Cooperation Bureau, METI Remarks(112KB)