Business mission to Sri Lanka
Reaffirming its "China +1" potential
JETRO dispatched a business mission to Sri Lanka from October 14 to 17, 2013, consisting of 30 members. It was sent to fulfill the pledge included in a joint statement by Japanese Prime Minister Shinzo Abe and Sri Lankan President Mahinda Rajapaksa in March 2013.
While famous as a popular tourist destination with eight designated World Heritage Sites, Sri Lanka has not been widely recognized as an investment destination. Since the end of its civil war in 2009 its potential for economic growth has been rising. Driven by its high-quality workforce and geographical advantage sitting at the center of the Indian Ocean, the country also has potential as an export processing base.
Reaffirming the high quality of its workforce
The mission members visited several manufacturing factories, mainly of Japanese companies, in two export processing zones (EPZ) owned by the national government, where they were reaffirmed firsthand of the high quality of human resources in this country. In the factories, the workforce, which is mostly female, is highly skilled and diligent. Japanese production methods are strictly complied with in each facility.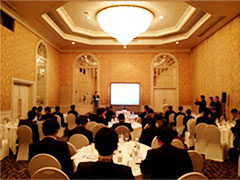 Japanese representatives of these factories pointed out several factors for why they have been able to maintain long-term operation in this country. The first is the speed and preciseness of the work of their young female employees. The second is the stable power supply. They noted that bottlenecks in doing business in this country, on the other hand, include a recent rise in electricity rates.
The mission members also made a courtesy call on Economic Development Minister Basil Rajapaksa, who assured them of the government's policies to strengthen industrial human resources and set out measures for enhancing industries. These policies demonstrate that the government of Sri Lanka is eager to attract more Japanese direct investment into the country.
Higher potential than expected
Feedback from the participants on the mission include "I saw for myself the high quality of the workforce in Sri Lanka" and "I strongly felt that there are business opportunities in this country."