JETRO holds international business symposium related to service industry in Singapore
Promoting excellent Japanese services
On October 4 in Singapore, JETRO held an international symposium under the theme of the service industry jointly with the Organisation for Economic Co-operation and Development (OECD), Ministry of Economy, Trade and Industry of Japan and relevant Singapore organizations.
JETRO's Chairman and CEO Hiroyuki Ishige delivered a keynote address entitled "Japan's New Magnetism Created through the Service Industry" focused on three subjects:
The present status of the world's service industry. What has been changing recently?
In what fields is the Japanese service industry competitive and advantageous?
Using the Japanese service industry as a core, how will Japan and Singapore be able to increase the profit of its respective counterpart?
As a major factor for the highly praised competitiveness and advantages of the Japanese service industry, he pointed out the idea of "omotenashi (hospitality)" within traditional Japanese service culture, highlighting the fact that the Japanese services focus not only on "supplying utilities," the original meaning of services, but also on hospitality. This spirit of hospitality the Japanese have fostered is key to developing products that make customers satisfied by exceeding their expectations.
Singapore, a critical business and trade hub, has a large concentration of people, goods and capital from abroad. It also attracts tourists from ASEAN countries, mainly those in the upper class. Japan can make use of Singapore as a trend center. Taking advantage of these circumstances, JETRO decided to promote cooperation between Japan and Singapore in three aspects aiming to build a win-win relationship:
Creating combined business that capitalizes on the advantages of both countries
Exercising leadership in establishing rules for service trade
Cooperation in developing markets in third countries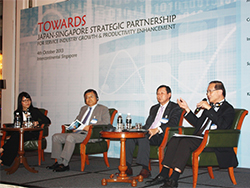 Promoting the advantages of Japanese service
In Japan, the service industry accounts for more than 70% of the GDP. This makes it clear how important this field is for economic growth. The Japan Revitalization Strategy formulated by the Government also focuses on accelerated global expansion of this industry.
In the midst of these developments, this event, the first international symposium for JETRO in Singapore under this theme, offered a significant opportunity to promote excellent Japanese products from this country to the ASEAN members.
Date
October 4, 2013
Venue
Intercontinental Hotel Singapore
Number of participants
230
Time schedule

12:45-13:00
Speech 1 "Current Status of the Service Industry in Singapore and its Importance"
SPRING Singapore, Deputy Chief Executive Mr. Ted Tan
13:00-13:15
Speech 2 "Advantages and Potential of the Japanese Service Industry in the Global Era"
METI Minister's Secretariat, Deputy Director-General Ms. Makiko Yamada
13:15-13:35
Keynote speech 1 "Industrial Advances and the Service Industry"
OECD Directorate for Science, Technology and Industry Mr. Andrew W. Wyckoff
13:35-13:55
Keynote speech 2 "Japan's New Magnetism Generated by the Service Industry"
JETRO Chairman and CEO Mr. Hiroyuki Ishige
13:55-14:15
Intermission
14:15-15:25
Panel session 1 "Productivity Improvement in the Service Industry"
Japan Productivity Center, Global Management Center, Director Mr. Mitsuo Kuroda
QB Net, Co. Ltd., President Mr. Yasuo Kitano
The Lo & Behold Group, COO Mr. Andrew Ing
ACI Academic Fellow Mr. Chung Tuck Siong
15:25-16:25
Panel Session 2 "Feasibility to Build Japan-Singapore Partnership and Outlook on Expansion into ASEAN"
Japan Association of Corporate Executives, Service Industry Internationalization PT Committee, Chairperson Mr. Toshikazu Saito
SPRING Singapore, Deputy Chief Executive Mr. Ted Tan
Yamato Asia Pte. Ltd., Vice President Mr. Richard Chua
ISES, Director Ms. Caroline Lim