Delivering Japan-Thailand collaborative products to the world
Highly praised at Maison & Objet in Paris
JETRO and Thailand's Department of International Trade Promotion (DITP) hosted a business matching event with Japanese companies in three fields in which Thailand is competitive, "food," "design and lifestyle" and "service". JETRO's cooperative project aiming at early recovery and restoration of Thailand's economy from the catastrophic flood in 2011, this matching event was conducted as a part of various supporting projects for affected local and Japanese companies in the country. JETRO also facilitated partnership between our two countries by receiving applications for individual business talks, holding business seminars to introduce characteristics of both countries' markets and features of their products, hosting business talks and dispatching missions.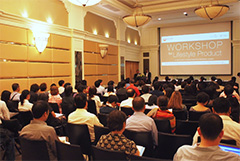 Highly evaluated at Maison & Objet
For "design and lifestyle," one of the three fields JETRO supported in this business matching, the focus has gone beyond the conventional sales of products and production outsourcing. It entails joint development, which is currently in progress, aiming at creating a new way of production for companies of both countries.
From September 6 to 10, 2013, at Maison & Objet, the largest interior-related trade show in Europe held in Paris, France, collaborative products of the two countries (approximately 50 products developed in nine joint projects) were presented and unveiled to buyers from around the world and the media. During that period 111 business talks were held and 53 deals are scheduled to be completed, achieving greater results than expected. Visitors gave positive feedback including comments such as "the fusion of Japanese and Thai advantages created unique, high-quality products." Exhibitors from both countries expressed appreciation for the joint effort. One Japanese representative said, "We've succeeded in creating a new overseas development method utilizing the channels of Thai companies" and another Thai presenter remarked "Through this collaboration our company was able to improve our capabilities."
Regarding the development of these products, JETRO has provided hands-on support to companies of both countries. JETRO's staff helped form a bridge between the two cultures by facilitating communications. Interior experts entrusted by JETRO provided advice concerning design which takes advantage of the unique aspects products of both countries have to offer while also fitting the lifestyle needs of the European market.
One example of these collaborative products is creative, luxury table lamps combining Japanese Arita ware and Thai pewter (alloy composed mostly of tin), which drew significant interest from buyers dealing in products for the upper class in Europe and the Middle East. Specific business talks have also begun between companies of both countries and buyers toward new products in the future. Further expansion is expected for these products as a result.
Prime Minister Yingluck expresses appreciation
Upon completion of the exhibition at Maison & Objet, the products returned triumphantly and were exhibited at a trade show in the Thai capital Bangkok from September 25 to 30. On the first day, Prime Minister Yingluck Shinawatra visited the booth and expressed interest in the excellent quality of exhibited products as well as her appreciation for JETRO's support.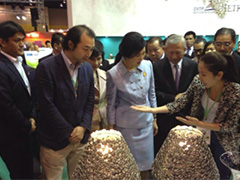 Outline of the Japan-Thailand Collaboration Booth
Event name
Maison & Objet Paris Sept 2013
Period
September 6-10, 2013
Venue
Paris Nord Villepinte (Paris, France)
Location of the exhibition
Hall 7, scenes d'interieur
Title of the booth
"l'evolution avec toi" (revolution with you)
*Chosen to give an image of products evolving in the course of joint development by Japan and Thailand and through business talks with buyers from around the world.
Event name
Thailand Innovation & Trade Expo 2013
Period
September 25-30, 2013
Venue
BITEC (Bangkok, Thailand)
Title of the booth
+6681 INNOVATION THAI-JAPAN
*The number "6681" is a combination of the country codes of Thailand and Japan and represents joint development by our two countries.