Message from the Chairman
The Japan External Trade Organization (JETRO) has a global network spanning over 70 regional offices abroad and over 40 offices within Japan consisting of JETRO Tokyo Headquarters, JETRO Osaka, the Institute of Developing Economies (IDE-JETRO) and domestic regional offices. Using this network, JETRO contributes to two-way expansion of trade and investment between Japan and the rest of the world with our ability to connect between business and government, business and business and people and people. Specifically, we implement activities based on the following three pillars.
The first pillar is assistance for overseas companies in entering Japan. Aiming at reinventing itself as the most business-friendly country in the world through building the necessary environment, such as by carrying out regulatory reforms, Japan has been proactively reaching out to overseas companies. With our key message "Talk to JETRO first", we provide multifaceted support, including one-stop services, as the first contact point for overseas companies interested in expansion to Japan. This support prioritizes R&D and fields which will create a greater number of jobs. Please consider entering Japan! We also assist secondary investment of those international companies already present in the country. JETRO connects overseas companies with Japan.
The second pillar is support for exports of Japanese agricultural, forestry, fishery and food products and delivery of excellent goods and services produced by small- and medium-sized enterprises (SMEs) in Japan around the globe. JETRO helps exports of distinctive products in these fields and delivery of quality services, content such as films and animation as well as products underpinned by sophisticated craftsmanship, to assist Japanese SMEs. In addition, we also support overseas expansion of these SMEs and play a part in the economic growth of developing countries and improvement in the life of people living there. JETRO connects Japanese agricultural, forestry, fishery and food products and excellent services with the world.
The third pillar is contribution to enhancement of global economic partnership through policy studies and research. Through preliminary studies on the formulation of bilateral and multi-lateral economic partnership agreements (EPAs), JETRO contributes to trade negotiations between Japan and other countries. As an international research institute on emerging and developing economies, IDE-JETRO gives policy recommendations within Japan and abroad and provides intellectual input to the world through creating results in value-added research. JETRO connects achievements and insight from research and studies with companies, governments and the world. Our aim is to be the most helpful trade and investment organization in the world so that we may contribute to expanding two-way trade and investment between the world and Japan. We are fully committed to helping Japan continue to be a trusted global economic partner.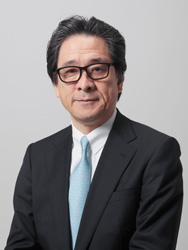 Chairman & CEO