Activities

South East Asian IP Network of Japanese Commerce and Industry (SEAIPJ)
Safeguarding intellectual property
South East Asian IP Network of Japanese Commerce and Industry (SEAIPJ)
The South East Asian IP Network of Japanese Commerce and Industry (SEAIPJ) is a group consists of more than two hundred members from private and public entities who are practicing in intellectual property (IP) fields in ASEAN region. SEAIPJ was established in March 2012 just after introduced to ASEAN IP Offices' Heads by Mr. Hiroyuki Ishige, Chair of the Japan External Trade Organization (JETRO) and honorarily received congratulations by Ms. Pajchima Tanasanti, Chair of ASEAN Working Group on Intellectual Property Cooperation (AWGIPC) who gathered in Tokyo for the First ASEAN-Japan IPO Heads meeting.
Because it is crucial for AMSs and Japan to involve private sectors in each communication, there has been the Business Dialogue between the Secretary-General of ASEAN and the Federation of Japanese Chamber of Commerce and Industry in ASEAN (FJCCIA) since 2008. Then, in order to deepen such collaboration and to do further deliberation of the IP issues arisen in the dialogue, SEAIPJ was launched in 2012. In other aspect, SEAIPJ was launched as a private sector's group which will follow up the ASEAN and Japanese IPO's collaborative activities which will come from an outcome of ASEAN-Japan IPO Heads meetings.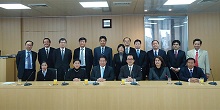 SEAIPJ is willing to work for every IP related issues in ASEAN with expertise. It sometimes works for making constructive suggestions for hearing of laws and regulations' amendment. It also works through joining meetings or dialogues of IP issued in AESAN region as far as it is allowed to participate. The members of SEAIPJ are familiar with IP system in ASEAN from private perspective. Such perspective will be useful for further constructive cooperation between Japan and each AMS or ASEAN in IP field.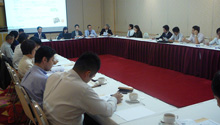 SEAIPJ Secretariat joined the Second ASEAN-Japan IPO Heads meeting held in Singapore in July 2012 and made a presentation to introduce SEAIPJ and its activities for AMSs. SEAIPJ was also mentioned by a representative of FJCCIA at the occasion of the 5th Business Dialogue between the Secretary-General of ASEAN and FJCCIA held in same month. In the dialogue, FJCCIA requests an opportunity of dialogue or exchange between SEAIPJ and IP related authorities such as IP offices in AMSs. Such communication between Japanese private entities and ASEAN authorities in IP field surely encourage further state of the art investment in ASEAN region from Japan.
---
Contact
SEAIPJ Secretariat
Tel: +66-2-253-6441 (ext160) E-mail: SEAIPJ@jetro.go.jp
Address:16th Fl. of Nantawan Bldg., 161 Rajadamri Road, Bangkok 10330, THAILAND