Section 4. Human Resource Management
4.3 Labor contracts
4.3.1 Working conditions
When hiring workers, companies enter into labor contracts with each worker. At that time, the employer must notify the employees in writing of the following employment conditions. If the worker wishes, the employment conditions can be presented via fax, email, social media, and other methods.
The term of the agreement (or where there are no provisions pertaining to term, the fact that there are no provisions pertaining to term).
Place of employment, and contents of duties.
Matters pertaining to start and finish times, work in excess of regular working hours, breaks, days off and work shift arrangements where work is to be performed by two or more teams of workers.
Methods of determining, calculating and paying wages, closing day of the payroll period, pay day, as well as matters pertaining to wage raises.
Matters pertaining to retirement and dismissal (including all grounds for dismissal).
(Note)

In the case of part-time workers, the employer must in addition specify in writing whether they will be eligible for pay increases, retirement allowances, and/or bonuses.
Any part of a labor contract that does not meet the standards laid down by law is invalid. For example, a contract containing provisions such as "the company may dismiss the worker at any time," "the company does not pay overtime fees," and "social insurance fees shall be borne entirely by the worker" (in the case of a business establishment covered by social insurance) is invalid insofar as these provisions are concerned.
It is also illegal to impose a penalty for non-fulfillment of a labor contract. For example, it is illegal to include a clause such as the following: "If a worker retires within two years of joining the company, he/she must pay to the company the sum of 500,000 yen." However, this does not preclude an employer from claiming damages from a worker for losses actually incurred.
4.3.2 Term of labor contracts
Labor contracts generally do not stipulate a term. Where a term is specified, however, it must be no longer than three years except in a few special cases. A fixed-term Labor contract exceeding five years in total by updates can be converted to a Labor contract without a definite term upon the employee's request.
However, exceptions are made for highly-skilled professionals or senior citizens who continue to work after mandatory retirement under the continued employment system.
4.3.3 Probation period
Employers are allowed to set a limited period of probation prior to fully employing somebody, so as to see whether or not the probationary employee is able and suitable for the job. However, it should be noted that if the employer decides not to fully employ somebody during or after the probation period, this refusal to employ is treated in the same manner as dismissal of an employee; in order for such a refusal to be legally allowed, valid reasons for refusal (which were not evident at the time of probationary employment) must have come to light during the period of probation, and it must be objectively reasonable for the employer to refuse to fully employ that person for the aforementioned valid reasons.
4.3.4 Re-assignment, external assignment, and dispatch of workers to other companies
Japanese companies frequently redeploy their workers through internal re-assignment and external assignment, and such redeployments may often require a worker to relocate. Generally, employers have considerable discretion when it comes to changing a worker's duties or temporarily assigning him or her to another company if this is reasonably necessary to business. However, it is necessary to follow the Employment Security Act when companies order their employees temporary external assignment (see also 4.3.9 (2)).
If a worker employed by one person engages in work for another person under the instruction of the latter, while maintaining the worker's employment relationship with the former, the former will be deemed to be engaged in "worker dispatching" (see 4.3.9). To engage in worker dispatching, a company must receive a license. It is prohibited with criminal penalty to engage in worker dispatching without a license.
4.3.5 Disadvantageous change of a labor contract to the worker
Working conditions such as wages, working hours, etc. may be changed by agreement between the company and the worker. Although the company may not change the working conditions in principle in a manner disadvantageous to the worker by changing the rules of employment, if the change to the rules of employment is reasonable in light of the extent of the disadvantage to be incurred by the worker, the need for changing the working conditions, the appropriateness of the contents of the changed rules of employment, the status of negotiations with a labor union or the like, or any other circumstances pertaining to the change to the rules of employment, the working conditions that constitute the contents of a labor content shall be in accordance with such changed rules of employment.
4.3.6 Governing law
In the case of international contracts, which country's law to use as the governing law may be determined by agreement between the parties (see Article 7 of the Law on the General Rules on Application of Laws), and labor contracts are no exception. However, legislation that is clearly intended to protect workers as a matter of policy, such as the Labor Standards Act, will be compulsorily enforced in the forum state regardless of any such agreement. Even if a worker agrees to the law of a region other than that in which labor services are provided being used as the governing law for a labor contract, he/she may claim the benefit of specific forcible provisions ("relative mandatory law") in the region in which labor services are provided by indicating to the employer that he/she wishes that such provisions should be applied. If a labor contract does not stipulate the governing law, it is assumed to be the law of the region in which labor services are provided.
4.3.7 Written guarantee of good conduct
When hiring a worker, a company may require that a guarantee of good conduct be provided by a relative of the worker or similar guarantor, and such a guarantee is held to be legally valid. The term of this guarantee is deemed to be three years if not specified, and up to a maximum of five years where a term is specified. Also, if the company seeks a financial guarantee from the guarantor, it needs to set a limit on the amount.
4.3.8 Corporate directors and executive officers, etc. ("directors, etc.")
The contractual relationship between a company and directors, etc. is, as a rule, considered to take the form of an engagement agreement as opposed to a labor contract. Accordingly, the relationship is, as a rule, subject to the Companies Act rather than labor law. If a director, etc. does not have the right to represent a company and is employed in a manner very similar to that of a worker, he/she may be simultaneously subject to labor law as a dual worker/director, etc.
4.3.9 Use of workers employed by other companies
Use of workers of other companies can be made in three ways: worker dispatching, contracting, and temporary transfer.
(1)

Worker dispatching

In principle, dispatched workers are allowed to engage in any types of work other than port transport, construction and security, as well as some medical work. Continued reception of dispatched workers in the same place of business is, in principle, limited to 3 years. Also, the period where the same dispatched worker is allowed to work in the same organizational unit in the client is limited to a maximum of three years. However, the aforementioned limitation on the dispatch period is not applied to a dispatched worker employed by a dispatching business operator without an employment period. Client companies cannot act to specify the worker that is to be dispatched in advance. Also, if a client dispatches a dispatched worker to another entity, it may be punished as an act in violation of the Employment Security Act. Further, if an entity accepts dispatched workers as a client, it is required to conform to the obligation stipulated.

(2)

Contracting

When one company (Company B) subcontracts part of its work to another company (Company A), even if the worker employed by Company A is to work within Company B, Company A is required to conduct its work, including personnel administration regarding said worker, independent from Company B, and thus Company B can neither give orders to nor conduct personnel administration of said worker. Regardless of the name or the content of the contract, if the actual situation is confirmed to be applicable to (1) worker dispatching, regulations related to worker dispatching will be applied, and will be the object of Article 40-7 of the Worker Dispatching Law.

(3)

Temporary transfer

It is generally prohibited by the Article 44 of the Employment Security Act that an employer (A) orders its employee to make a temporal labor contract with another company (B) and to work under the direction of the company (B) based on the contract between employer (A) and company (B). Despite that, the employer (A) can order such an external reassignment under certain situations (*).

(Note)

For example, external reassignment with one or more of the following purposes is usually legal;

I.

To avoid firing the employee and provide the opportunity to keep working in another company (B), which is related to employer (A)

II.

To make the employer to conduct technical or administrational coaching in the company (B)

III.

To develop the ability of the employee for career-building

IV.

To reassign as a part of personnel exchanges within group companies
4.3.10 Corporate Reorganization and Labor Contracts
Recently corporate reorganization is actively undertaken amid the advance in aggravation of enterprise competition and easing of regulations. How the labor contract is treated under such reorganization shall be, if it is divided into merger, business transfer, and company split, as follows:
(1)

Merger

In the event of an enterprise's merger, all rights and obligations are comprehensively succeeded. Thus, in both the case of consolidation-type merger (where a new company is formed as a result of a merger) and the case of absorption-type merger (where an existing company initiates a merger), the company surviving after the merger succeeds all labor contracts.

(2)

Assignment of Business

If an enterprise transfer all or some of its businesses to another enterprise, succession of the rights and obligations is determined by parties concerned (individual succession). Thus, succession of labor contract is determined by the agreement among the assignor company, the assignee company, and the worker. Labor contract is not succeeded to the assignee company if either the assignee company or the worker refuses the succession of the labor contract

(3)

Company Split

Company split has two types. One is incorporation-type company split where the company-A splits a part or all of the rights and obligations concerning the company-A's undertaking, and the other is absorption-type split where the company-C absorbs a part or all of the company-A's undertaking. Then, the labor contract of the worker who is primarily engaged in succeeded business is succeeded to the newly found company or the absorbed company by operation of law.
4.3.11 Equal pay for equal work
Within the same company, setting unreasonable discrimination between regular and non-regular employees (part-time, fixed-term, or dispatched workers) in respect of any treatment, such as basic pay and bonuses, is prohibited. However, dispatched workers may be treated under a labor-management agreement that meets certain requirements in lieu of equal and balanced treatment with the client company's workers.
Section4: Table of Contents
4.1

4.2

4.3

4.4

4.5

4.6

4.7

4.8

4.9
---
Section4: Documents businesses are required to submit to authorities
Materials listed as 'Reference' contain samples of documents regarding registration, visa, taxation, personnel and labor matters that are necessary when a foreign company establishes a corporation or other entity in Japan. These documents are not published by competent authorities and therefore are not official. For those who are going through the official procedures, please obtain the latest official documents from the competent authorities and related bodies or consult a person who specializes in advising on such information and procedures.
The information contained in this documents should be used at the reader's independent discretion. While JETRO makes every effort to ensure the accuracy of the information it provides, no responsibility is accepted by JETRO for any loss or damage incurred as a result of actions based on the information provided in these documents or provided by the external links listed on these pages.
Laws and Regulations on Setting Up Business in Japan Pamphlet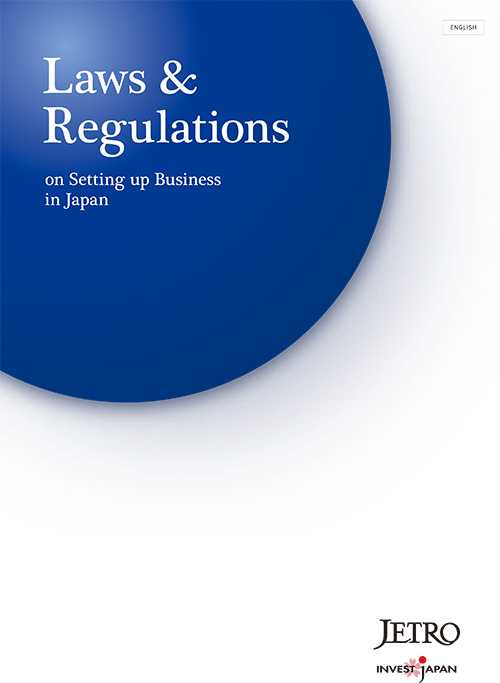 The pamphlet "Laws & Regulations" is available in PDF, and outlines basic information about laws, regulations and procedures related to setting up a business in Japan. It is available in 8 languages (Japanese, English, German, French, Chinese (Simplified), Chinese (Traditional), Korean and Vietnamese).
You can download via the "Request Form" button below.
JETRO supports your business in Japan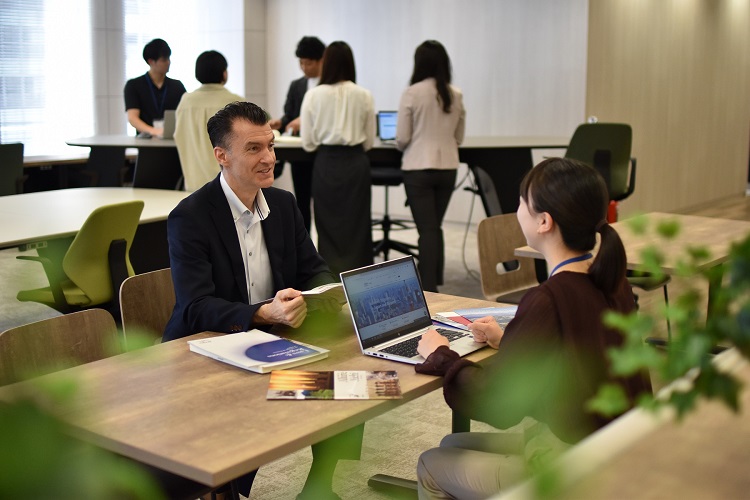 We provide consistent one-stop service for establishing a base or expanding business in Japan. See the details of support services that JETRO provides when setting up business in Japan.
Contact Us
Investing in Japan
We will do our very best to support your business expansion into and within Japan. Please feel free to contact us via the form below for any inquiries.
Inquiry Form
JETRO Worldwide
Our network covers over 50 countries worldwide. You can contact us at one of our local offices near you for consultation.
Worldwide Offices