Section 2. Visas and Status of Residence
2.8 Re-entry permission
2.8.1 What is re-entry permission?
A foreign national residing in Japan who wishes to leave Japan temporarily within his/her permitted period of stay and, after traveling to his/her home country or a third country, to enter and reside in Japan again with the same status of residence as before needs to apply for and receive re-entry permission. Under this system, a foreign national who receives re-entry permission before leaving Japan does not need to apply for an entry visa again at a Japanese diplomatic mission abroad prior to re-entering Japan, and can reside in Japan after re-entry with the same status of residence held prior to leaving Japan. Please note that departing Japan without receiving this re-entry permission will result in forfeiture of the status of residence and the period of stay previously granted.
(This shall not apply, however, to a foreign national who has obtained a Special Re-entry permit.)
2.8.2 Types of re-entry permits
There are two types of re-entry permits: valid only once, which allows only one re-entry into Japan during the period of validity, and valid multiple times, with which one can leave and re-enter Japan any number of times during the period of validity. Multiple re-entry permit is especially convenient for those persons who must often travel back and forth between Japan and the parent company or other foreign business locations. It is not possible to obtain re-entry permission beyond the permitted period of stay in Japan. In addition, persons staying in Japan on a temporary visitor's status of residence are not normally eligible for re-entry permission.
2.8.3 Application method
As a general rule, the foreign national must personally appear at the Regional Immigration Bureau having jurisdiction for his/her place of residence to apply for re-entry permission. However, if the foreign national is under the age of 16 or is unable to appear personally due to illness or some other reason, a parent or spouse may apply on his/her behalf. In addition, the applicant does not need to go to the Regional Immigration Bureau if applying through the persons approved by the director of the Regional Immigration Bureau or a registered attorney-at-law or administrative scrivener.
2.8.4 Necessary documentation, fees, etc.
Application for re-entry permission
Passport (re-entry permit will be delivered into the passport)
Residence card
Payment of fees through the purchase of revenue stamps
3,000 yen for one-time re-entry permit
6,000 yen for multiple re-entry permit
2.8.5 Special re-entry permit system
The introduction of the new residency management system from July 9, 2012 was accompanied by the introduction of a new "special re-entry permit" system. Under this system, foreign nationals in possession of a valid passport and a residence card who declare their intention when they leave to re-enter Japan within 1 year of their departure to continue their activities in Japan are no longer, in principle, required to obtain a re-entry permit. However, if the period of stay will expire less than 1 year after departure, they must re-enter Japan before the expiration of this period of stay.
(Note)

This special re-entry permit system also applies to foreign nationals in possession of a passport stating "A residence card is to be issued later".
Section2: Contents & Reference
2.1

2.2

2.3

2.4

2.5

2.6

2.7

2.8

2.9

2.10

2.11

2.12

2.13
---
Section2. Documents businesses are required to submit to authorities
Materials listed as 'Reference' contain samples of documents regarding registration, visa, taxation, personnel and labor matters that are necessary when a foreign company establishes a corporation or other entity in Japan. These documents are not published by competent authorities and therefore are not official. For those who are going through the official procedures, please obtain the latest official documents from the competent authorities and related bodies or consult a person who specializes in advising on such information and procedures.
The information contained in this documents should be used at the reader's independent discretion. While JETRO makes every effort to ensure the accuracy of the information it provides, no responsibility is accepted by JETRO for any loss or damage incurred as a result of actions based on the information provided in these documents or provided by the external links listed on these pages.
Laws and Regulations on Setting Up Business in Japan Pamphlet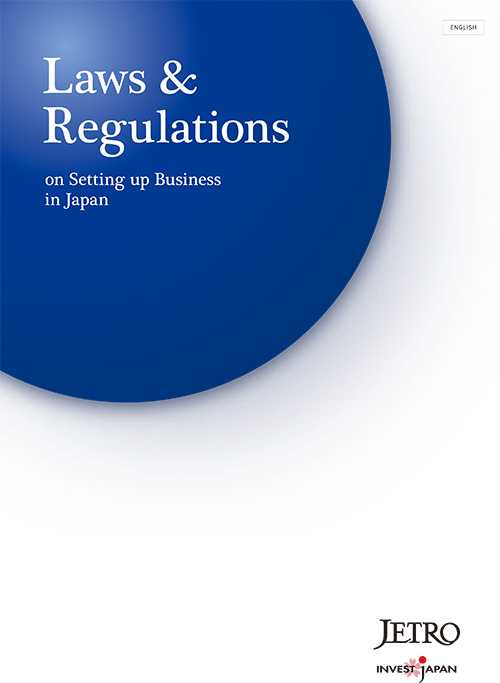 The pamphlet "Laws & Regulations" is available in PDF, and outlines basic information about laws, regulations and procedures related to setting up a business in Japan. It is available in 8 languages (Japanese, English, German, French, Chinese (Simplified), Chinese (Traditional), Korean and Vietnamese).
You can download via the "Request Form" button below.
JETRO supports your business in Japan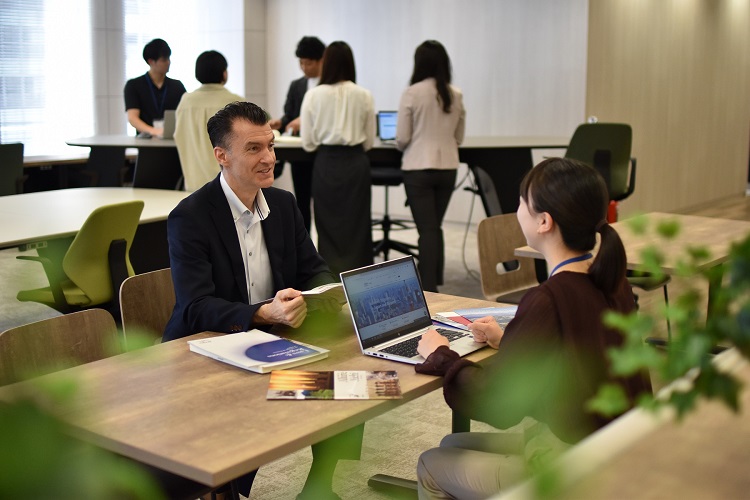 We provide consistent one-stop service for establishing a base or expanding business in Japan. See the details of support services that JETRO provides when setting up business in Japan.
Contact Us
Investing in Japan
We will do our very best to support your business expansion into and within Japan. Please feel free to contact us via the form below for any inquiries.
Inquiry Form
JETRO Worldwide
Our network covers over 50 countries worldwide. You can contact us at one of our local offices near you for consultation.
Worldwide Offices