Section 2. Visas and Status of Residence
2.2 Relation between visa and status of residence
Within the context of entry and residence procedures, visa and status of residence are two terms easily and often confused.
2.2.1 Visa
A visa can be said to resemble a letter of recommendation required for entry into Japan received in advance from a Japanese diplomatic mission abroad and attached to the passport that certifies that the passport is valid and that there are no impediments to allowing the passport holder to enter Japan within the scope of that visa (however, as discussed later in 2.6 and 2.8 below, this visa requirement does not apply to entry by nationals of countries with which Japan has reciprocal visa exemption arrangements for temporary visitor or to entry by foreign nationals having re-entry permission).
2.2.2 Status of residence
Foreign nationals entering and residing in Japan must generally receive landing permission upon arriving at their port of entry, at which time their status of residence in Japan will be determined. In other words, the status of residence constitutes the grounds on which a foreign national is permitted to stay in Japan; it is a qualification enabling the foreign national to carry out the activities stipulated in the Immigration Control and Refugee Recognition Act and to reside in Japan for the purpose of carrying out those particular activities. The scope of activities in which a foreign national may engage during his/her stay in Japan is determined according to his/her status of residence. Except where a permit to engage in an activity other than that permitted by the status of residence is obtained, the foreign national must not, in principle, engage in any activities generating an income other than those permitted by his/her status of residence while in Japan.
Section2: Contents & Reference
2.1

2.2

2.3

2.4

2.5

2.6

2.7

2.8

2.9

2.10

2.11

2.12

2.13
---
Section2. Documents businesses are required to submit to authorities
Materials listed as 'Reference' contain samples of documents regarding registration, visa, taxation, personnel and labor matters that are necessary when a foreign company establishes a corporation or other entity in Japan. These documents are not published by competent authorities and therefore are not official. For those who are going through the official procedures, please obtain the latest official documents from the competent authorities and related bodies or consult a person who specializes in advising on such information and procedures.
The information contained in this documents should be used at the reader's independent discretion. While JETRO makes every effort to ensure the accuracy of the information it provides, no responsibility is accepted by JETRO for any loss or damage incurred as a result of actions based on the information provided in these documents or provided by the external links listed on these pages.
Laws and Regulations on Setting Up Business in Japan Pamphlet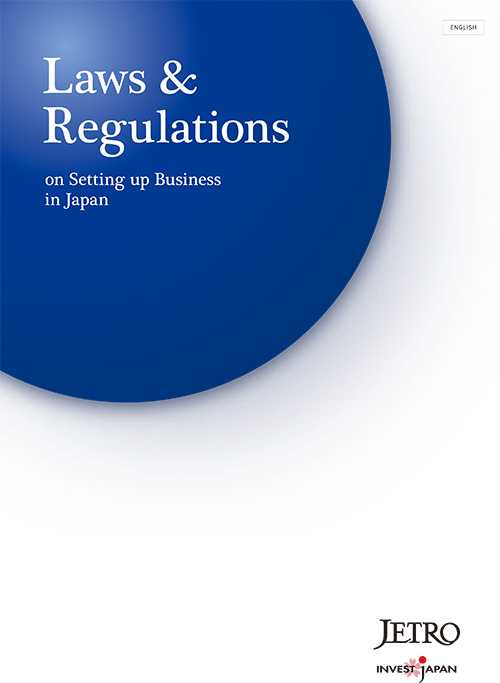 The pamphlet "Laws & Regulations" is available in PDF, and outlines basic information about laws, regulations and procedures related to setting up a business in Japan. It is available in 8 languages (Japanese, English, German, French, Chinese (Simplified), Chinese (Traditional), Korean and Vietnamese).
You can download via the "Request Form" button below.
JETRO supports your business in Japan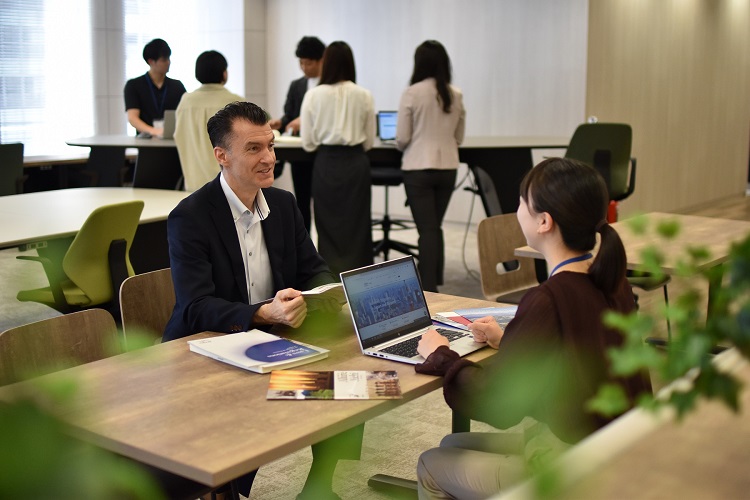 We provide consistent one-stop service for establishing a base or expanding business in Japan. See the details of support services that JETRO provides when setting up business in Japan.
Contact Us
Investing in Japan
We will do our very best to support your business expansion into and within Japan. Please feel free to contact us via the form below for any inquiries.
Inquiry Form
JETRO Worldwide
Our network covers over 50 countries worldwide. You can contact us at one of our local offices near you for consultation.
Worldwide Offices