Regional Information
Oita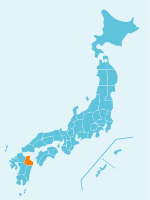 *If you can't find the information you need, please contact JETRO .
*Search for business partners in Japan via "Database of candidate partners" in the "General Business Information" section or using TTPP (Trade Tie-up Promotion Program) , JETRO's free online business matching database.
*Please note that inquires not regarding investment in Japan may not be answered.
*The information below is as of July 2014.
Basic Information
Population

*1

1.2 million
Labor force

*1

0.59 million
Area

*2

5,100 km²
GDP

*3

4,255,542 million yen
Major industries
Iron and steel, oil, chemicals, shipbuilding, semiconductors, automobiles
Offices overseas
JETRO office
Regional Profile
Strength of the region's industries and economy
Oita Prefecture is the scene of well-balanced advances by the steel, chemical, semiconductor, machinery, oil, automotive and other important industries. The expansion by solidly performing companies and other progress is creating a positive cycle in which industry concentrations spawn even greater clusters, leading to the clustering of cutting-edge businesses. Oita Prefecture also formulated the "Oita Industrial Creation Strategy 2014" with the goal of achieving sustained development that will form the basis for the vigorous development of the next generation, and supporting the proactive challenging spirit of all levels of the prefecture's population striving to demonstrate the underlying strengths of Oita.
Every possible effort will be made to ensure that companies making inroads into the prefecture will be supplied on a timely and integrated basis with the conditions and support needed for them to excel and develop in Oita, outstanding manpower, precious regional resources, wide-ranging industrial concentration, and to otherwise to reap benefits of the region.
Foreign company(s) operating in the industry
Thefollowing types of foreign companies have located operations in Oita Prefecture to date, and are active in semiconductors, chemicals, agriculture and numerous other fields.
Texas Instruments Incorporated Hiji Packaging Center (America), Electric machine manufacturing, R&D for post-processes of semiconductor manufacturing
Fresenius Kawasumi Inukai Factory (Germany): Chemical industry, blood dialysis hollowpaper
Swedeponic Kuji (Sweden) Agriculture, farm products
Sun Allom Ltd. Oita Plant (Netherlands) Chemical industry, polypropylene
Available incentives
Complimentary supply of information and advice on establishing business bases, human resources, real estate properties and other needs on a one-stop basis.
Systems available for partial subsidizing of costs, depending on amount of investment and other factors.
<Subsidy to promote business placement>
Conditions: Total facility investment of at least 300 million yen, at least 10 new employees hired locally.
Available subsidy: 3 percent of amount invested in facilities plus 500,000 yen per number of employees.
Limit of subsidy: Up to 300 million yen.

<Large-scale investment promotion subsidy>
Conditions: Total facility investment of at least 8 billion yen, at least 80 new employees hired locally.
Available subsidy:
(If hiring more than 100 employees): Amount invested in facilities x 5%
(If hiring more than 80 but less than 100 employees): Amount invested in facilities x 5% x Number of employees/100 people
Limit of subsidy:
(More than 300 newly hired employees): 3 billion yen.
(More than 200 newly hired employees): 2 billion yen.
(Less than 200 newly hired employees): 1 billion yen.
Services for investment in Japan
| | |
| --- | --- |
| Providing market information | Advice on market participation, Consulting by external experts and advisers |
| Support for finding customers | Listing of potential customers and partners, Listing of potential customers and partners |
| Support for establishing a base | Providing incubation facilities or other facilities, Providing incubation facilities or other facilities, Providing information on procedures for investing in Japan, Arranging the meetings needed to establish a base (real estate, manpower services), Introduction of available properties and advice on hiring personnel, Providing information on permits and licensing procedures, Providing information on subsidy programs |