Regional Information
Kawasaki city
Your Regional Guide : Ichiro Nagase
International Economic Affairs Office, Economic and Labor Affairs Bureau, City of Kawasaki

Kawasaki Frontier Building 10th floor
11-2 Ekimae-honcho, Kawasaki-ku
Kawasaki City, Kanagawa 210-0007 Japan
TEL: +81-44-200-2363 FAX: +81-44-200-3920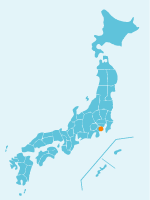 *If you can't find the information you need, please contact JETRO .
*Search for business partners in Japan via "Database of candidate partners" in the "General Business Information" section or using TTPP (Trade Tie-up Promotion Program) , JETRO's free online business matching database.
*Please note that inquires not regarding investment in Japan may not be answered.
*The information below is as of July 2014.
Basic Information
Population

*1

1.43 million
Labor force

*1

0.67 million
Area

*2

143 km²
GDP

*3

Please inquire to your local government for the detailed information about city GDP.
Major industries
Manufacturing (electronics, communications, precision machinery, petroleum/chemicals), information, service
JETRO office
Regional Profile
Strength of the region's industries and economy
Kawasaki City supported Japan's rapid economic growth as a manufacturing city, and has since undergone a drastic transformation into an international city for cutting-edge industries that is home to many R&D organizations.
The agglomeration of industrial technology and R&D functions brings great potential to Kawasaki. Many large corporations with global-scale business operations have located here, including such world-renowned information & communications giants as NEC, Canon, Toshiba, and Fujitsu, as well as JFE Steel, which has developed advanced environmental conservation technology, Ajinomoto, a maker of foodstuffs and amino acid products, and L'Oreal Japan, a very popular international cosmetics manufacturer.
Foreign company(s) operating in the industry
More than 100 internationally recognized foreign companies have moved into Kawasaki, and companies such as Dell Japan, Tyco Electronics AMP, Toys 'R' Us Japan, Mercedes Benz Kawasaki R&D, Costco Wholesale Japan, Ltd have their head office functions based in Kawasaki.
Available incentives
Kawasaki City supports commercialization of the advanced technology in the field of environment, energy, and life science in Kawasaki waterfront area so as to promote creation and accumulation of the leading-edge industries that contribute to the world and to the solution of the common issues for all humanity. The city also promotes "Asia Entrepreneurship Village Concept" with the aim of developing entrepreneurs who bridge Kawasaki and Asia by taking in the energy from Asia. The plan also supports the invitation of the companies and creation of new industries.
| | |
| --- | --- |
| Incentive name | Asian Entrepreneurship Village Concept |
| Incentive type | Others |
| Incentive target industries | Environment, welfare, life sciences, ICT, contents or manufacturing, etc. |
| Incentives overview | Besides reducing the rent of Techno Hub Innovation Kawasaki (THINK) that serves as one of the business sites (tenant companies will have their rents reduced to 50% in the first year and 70% in the second year). The non-profit organization Asian Entrepreneurship Village Promotion Organization will provide incubation support to companies expanding into Kawasaki from Asia. |
| | |
| --- | --- |
| Incentive name | Kawasaki City Advanced Technology Industry Creation Incentive Program (Innovate Kawasaki) |
| Incentive type | Subsidies |
| Incentive target industries | Environment, energy, and life sciences |
| Incentives overview | Subsidies will mainly target the associated costs incurred by the acquisition of real estate, buildings, and equipment needed to build a new business site. Subsidy rate: 10% of the acquisition cost. Limit: 1 billion yen. |
Services for investment in Japan
| | |
| --- | --- |
| Providing market information | Advice on market participation, Consulting by external experts and advisers |
| Support for finding customers | Listing of potential customers and partners, Listing of potential customers and partners |
| Support for establishing a base | Providing incubation facilities or other facilities, Providing incubation facilities or other facilities, Providing information on procedures for investing in Japan, Arranging the meetings needed to establish a base (real estate, manpower services), Introduction of available properties and advice on hiring personnel, Providing information on permits and licensing procedures, Providing information on subsidy programs |
| Other | Other service |
<IBSC Kanagawa>
Through the tie up between Kanagawa Prefecture, Yokohama City and JETRO Yokohama, Invest Japan Business Support Center (ISBC) is jointly operated within the office of JETRO Yokohama. Besides the provision of ISBC office space that is free of charge for the first 50 business days, ISBC advisors provide information and consultation services.
<The Kawasaki City Small and Medium Enterprise Support Center>
The Kawasaki City Small and Medium Enterprise Support Center has assigned managers (private-sector personnel) to offer advice on management improvements, technical issues, business startups, etc., and provides free consultations.
Support service