Regional Information
Gifu
Your Regional Guide : Koji Endo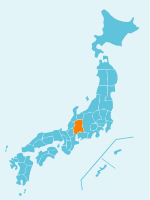 *If you can't find the information you need, please contact JETRO .
*Search for business partners in Japan via "Database of candidate partners" in the "General Business Information" section or using TTPP (Trade Tie-up Promotion Program) , JETRO's free online business matching database.
*Please note that inquires not regarding investment in Japan may not be answered.
*The information below is as of July 2014.
Basic Information
Population

*1

2.08 million
Labor force

*1

1.08 million
Area

*2

9,768 km²
GDP

*3

7,123,625 million yen
Major industries
Transportation equipment and machinery (automobiles, aircraft), general machinery, machinery and metals, electrical machinery, food products
Offices overseas
JETRO office
Regional Profile
Strength of the region's industries and economy
Gifu Prefecture is a member of the Greater Nagoya Initiative (GNI). It has a strong manufacturing industry which ships a great quantity of transportation equipment and machinery, general equipment and machinery, electrical equipment and machinery, plastics and more. It is home to a large number of technologically sophisticated small and medium-sized companies and possesses a diverse range of knowledge which gives it its manufacturing strength. Gifu develops both its established, machinery manufacturing companies as well as cultivates a concentration of diverse industries, such as die-making, pressing, parts fabrication, etc., in the areas surrounding these companies. Atop a concentration of diverse and sophisticated technology, Gifu is able to flexibly and assuredly adapt to the fluctuating demand for finished products such as aircraft and automobiles.
Foreign company(s) operating in the industry
Gifu's Seki City has the largest shipment value in Japan for knives. Because of the advanced technological environment in place for knife manufacturing, companies such as Zwilling J.A. Henckels have expanded into the area. Amazon Japan Logistic has a large logistics center in Tajimi City which has well-developed transport infrastructure.
Company name
Leatherman Tool Group., Inc
Industry sector

Import and wholesale of American-made, multifunctional tools

Date of entry
1986
Motivation for selecting region

Business and partner companies in place from prior to the company's establishment
Seki City is a knife city with the technical skill to match

Comments

Despite the fact that there are been geographical disadvantages to setting up in Gifu's Seki City as opposed to Tokyo, we devised a strategy to overcome these disadvantages.
One part of this strategy is to work on promoting ourselves via the Internet and other means. We used the opinions and requests of consumers to use in developing new products.
Another part of this strategy is to build consumer confidence in our quality.
We have complete confidence in our products. That is why we offer a 25 year quality guarantee and will perform repairs and get a product back to a customer within 72 hours. We hope that consumers will use our products not only for outdoor activities but in a variety of other work-related environments.
Company name
NIHON HYDRO-PAC INC.
Industry sector
Import and sale of American-made, high-pressure, specialized equipment
Date of entry
1987
Motivation for selecting region

Representative Director comes from Gifu
Gifu is geographically located within convenient reach of all points in Japan, which is plus for a company that has a lot of business trips.
There is no sea bordering Gifu; however, but there is no problem in using the roads to transport products that come by plane.
Daily living expenses are cheap.
The beautiful scenery and vibrant natural environment make life enjoyable.

Comments

We established a company locally because we did not like performing import and sales without being able to provide any attendant after-service.
We started out with only a few people but have steadily grown to the point where we are getting cramped and have decided to move into the city.
We have confidence in our products and have gained the trust of our customers. Our customers demand global information and, as a foreign firm, we are able to provide them with information on new technologies, specifications, etc.
It is difficult explaining to headquarters about Japanese business customs.
Company name
NBK Zimmer, Inc.
Industry sector
Development, manufacture and sale of machinery components
Date of entry
2010
Motivation for selecting region

Because in order to bring in new demand and expand markets in the ICT-related and green energy-related sectors which are expected to grow in the medium- to long-term in Japan as well as the Republic of Korea, Taiwan, and China, going forward it is essential to establish a development base in Japan which is at the center (near the center) of the market and to further develop manufacturing and sales.

Comments

Gifu Prefecture is aiming to further develop markets in the ICT sector (semiconductor manufacturing equipment, flat panel display manufacturing equipment, etc.) and the green energy sector (solar panel manufacturing equipment, etc.), sectors which are expected to see market growth in the medium- to long-term.
We will establish a base for the development of new products in Japan, which occupies a central position in the world of technology development, and flexibly proceed with the development of products adapted to markets by adding further manufacturing functions to the prefecture.
Available incentives
<Subsidy Measures>
Up to 1 billion yen is available in the form of the "Gifu Business Promotion Program Subsidy" to companies expanding their operations into Gifu.

<Preferential Treatment>
Companies acquiring production facilities of more than a set amount within designated regions in the prefecture are exempted from fixed-asset taxes, while industrial machinery can be subject to special depreciation.

<GNIC Company Startup Support Program>
Support for startup expenses up to a maximum of 500,000 yen per company is offered to companies that are going to locate in the Greater Nagoya region and are more than 50% owned by foreign companies.
| | |
| --- | --- |
| Incentive name | Gifu Business Promotion Program Subsidy |
| Incentive type | Subsidies |
| Incentive target industries | Factory, R&D center, Software business, Call center, Data center, etc. |
| Incentives overview | Up to 1 billion yen subsidy |
| | |
| --- | --- |
| Incentive name | Subsidy to attract businesses to a Gifu large-sized vacant factory |
| Incentive type | Subsidies |
| Incentive target industries | Factory, Logistics center, R&D center, Software business, Call center, Data center, etc. |
| Incentives overview | Up to 1 billion yen subsidy is available in case a company utilizes a large-sized vacant factory. |
Incentive name

Prefential treatment based on Business Location Promotion Act

Incentive type
Prefential Tax Treatment
Incentive target industries
Incentives overview

Special depreciation of machinery
Tax exemptions of property taxes
| | |
| --- | --- |
| Incentive name | GNI Business Start-up Support Program |
| Incentive type | Others |
| Incentive target industries | Foreign-affiliated company |
| Incentives overview | Support for costs of procedural requirements for establishing the company(up to 1 million yen) |
Services for investment in Japan
| | |
| --- | --- |
| Providing market information | Advice on market participation, Consulting by external experts and advisers, Arranging appointments with potential customers and partners |
| Support for finding customers | Monitoring surveys (evaluation of products and services), Listing of potential customers and partners, Listing of potential customers and partners |
| Support for establishing a base | Providing incubation facilities or other facilities, Providing incubation facilities or other facilities, Providing information on procedures for investing in Japan, Arranging the meetings needed to establish a base (real estate, manpower services), Introduction of available properties and advice on hiring personnel, Providing information on permits and licensing procedures, Providing information on subsidy programs |
The GNIC provides "one-stop" service for companies developing business in or establishing facilities in the GN area; information about specific areas, surveys, PR, invitations, arranging meetings, and help with expansion are provided.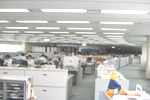 Database of candidate partners
Gifu Economic and Industrial Promotion Center


Equipment and the specialties of the registered 3,000 companies are searchable.

GNI Partners Club


The GNI Partners Club, run by GNI, supports the aims of GNI and is made up of approximately 500 businesses, universities, research institutions and others in the greater Nagoya area that wish to partner with foreign firms.
The search function offered by this club provides a major boost in helping foreign firms participating in GNI to find business partners in the area. GNI creates opportunities for and support with corporate matching.
As a result, new business within the region is created, and through the use of the Overseas Company Invitation Program, there have been numerous examples of overseas firms and local businesses and others joining together to develop new business.