Regional Information
Fukuoka city
Your Regional Guide : Hideki Kanegae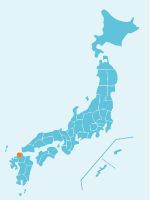 *If you can't find the information you need, please contact JETRO .
*Search for business partners in Japan via "Database of candidate partners" in the "General Business Information" section or using TTPP (Trade Tie-up Promotion Program) , JETRO's free online business matching database.
*Please note that inquires not regarding investment in Japan may not be answered.
*The information below is as of July 2014.
Basic Information
Population

*1

1.46 million
Labor force

*1

0.72 million
Area

*2

342 km²
GDP

*3

Please inquire to your local government for the detailed information about city GDP.
Major industries
Services (for businesses and individuals), wholesale/retail, real estate, transport/communication, and manufacturing industries (food processing, printing/publishing, and machinery/metals)
Offices overseas

China(Shanghai), Korea(Busan)

JETRO office
Regional Profile
Strength of the region's industries and economy
Fukuoka City's sphere of influence in terms of transportation and information extends to the whole Kyushu and Yamaguchi Prefectures, which contain a population of 15 million. It is also geographically close to markets in China's coastal regions and Korea. Because of its population concentration and highly sensitive consumers, the city is attracting attention as a location for test marketing prior to the decision on nationwide sales of new products or business expansion. Motivated by the volume of business and consumption in the Kyushu and Yamaguchi area, wholesale and B2B services comprise a large portion and the supportive functions for the industries in the whole Kyushu are concentrated here.
Foreign company(s) operating in the industry
Fukuoka City has long been a popular choice among major foreign companies as the location for their Kyushu/West Japan regional headquarters. In recent years, the city has been increasingly chosen as a toehold by the East Asian companies in East Asian countries such as China and Korea entering into the Japanese market.

For more information of the foreign companies entering in Fukuoka City, see "Interviews with companies established in Fukuoka" page of the Asiabiz Fukuoka portal site.
Asiabiz Fukuoka portal site: Interviews with companies established in Fukuoka

| | |
| --- | --- |
| Company name | HUMAX Co.,LTD. |
| Industry sector | Sales of digital satellite -broadcasting-set top box, digital-cable-broadcasting-set top box, car-audio digital AV machines. |
| Date of entry | May 2011 |
| Motivation for selecting region | Interviews with companies established in Fukuoka - Humax Japan Co., Ltd. |
Available incentives
A variety of support programs are available for businesses locating in Fukuoka City, including subsidy for the office rent. Especially for the foreign companies seeking the first toehold in Japan, part of the recruiting expenses and consulting fee for the company-formation specialist is subsidized. Contact us before making an application, because prior consultation is necessary.
Incentive name

Fukuoka City Location Subsidy

Incentive type
Subsidies
Incentive target industries

Knowledge-creating industry, health-/-medical-/-welfare-related industry, environment- and energy-related industry, Asian business, distribution-related, urban industry, headquarter functions, and large-scale customer attraction facilities

Incentives overview

A subsidy is provided for companies newly locating offices in targeted sectors for their investment amount/renting cost depending on the target sector, region, and type of location.



Subsidy for acquisition

30% of land acquisition value (Key areas * only)
1.25%-10% of acquired valued of buildings and machinery equipment
Limit: 50 million -3 billion yen

* Island City, Kashii Park Port and Kyushu University Academin City


1/6-1/3 of annual rent of buildings and machinery equipment
Term: 1- 4 years
Limit: 25 million yen -200 million yen

Subsidy for expanding into the area

Target: Foreign-affiliated companies expanding into Japan for the first time
Targeted expenses: Market research fee (commission fee), acquisition and registration fee of various types of licensing and permits, fee for interpreting and recruitment expenses
Subsidy amount: 1/2 of above-mentioned targeted expenses
Limit: 3 million yen
Incentive name

Exemption from fixed-asset tax and city planning tax

Incentive type
Prefential Tax Treatment
Incentive target industries

Businesses eligible for the Green Asia Comprehensive Global Strategic Special Zone

Incentives overview

Companies who meet the requirements under the "Ordinance for Promoting Fukuoka City's Green Asia Comprehensive Global Strategic Special Zone" conducting businesses related to Green Asia Comprehensive Global Strategic Special Zone and designated as a company of Fukuoka City are eligible for exemption from fixed-asset tax and city planning tax for premises and machinery equipment newly acquired for Special Zone business uses
<Details of Exemption>

3 years of exemption from fixed-asset tax (tax rate 1.4%) on buildings and its affiliated facilities, constructions, and machinery equipment and city planning tax (tax rate 0.3%)

Fixed-asset value of buildings and their affiliated facilities, constructions of 100 million yen or more, 10 million yen or more of machinery equipment
Fixed assets acquired between the date designated as Fukuoka City's designated company and March 31st, 2016
Employment of full-time workers when starting business
Services for investment in Japan
| | |
| --- | --- |
| Providing market information | Advice on market participation, Consulting by external experts and advisers, Arranging appointments with potential customers and partners |
| Support for finding customers | Monitoring surveys (evaluation of products and services), Listing of potential customers and partners, Listing of potential customers and partners |
| Support for establishing a base | Providing incubation facilities or other facilities, Providing incubation facilities or other facilities, Providing information on procedures for investing in Japan, Arranging the meetings needed to establish a base (real estate, manpower services), Introduction of available properties and advice on hiring personnel, Providing information on permits and licensing procedures, Providing information on subsidy programs |
| Other | Other service |
Following the example of the national government's INVEST JAPAN (comprehensive and centralized point of contact for companies directly investing in Japan), Fukuoka City established a one-stop service for administrative procedures for foreign companies locating in Fukuoka. It transmits information about the City's investment climate and provides support for companies coming to Fukuoka.
Support service
Database of candidate partners