Regional Information
Akita
Your Regional Guide : Takashi Hamano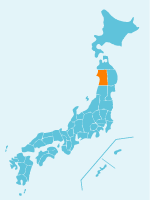 *If you can't find the information you need, please contact JETRO .
*Search for business partners in Japan via "Database of candidate partners" in the "General Business Information" section or using TTPP (Trade Tie-up Promotion Program) , JETRO's free online business matching database.
*Please note that inquires not regarding investment in Japan may not be answered.
*The information below is as of July 2014.
Basic Information
Population

*1

1.09 million
Labor force

*1

0.54 million
Area

*2

11,636 km²
GDP

*3

3,463,505 million yen
Major industries
Electronic components/devices, production and commercial machinery, food, lumber/wood products, and chemistry
Offices overseas

Seoul, South Korea (2002)

JETRO office
Regional Profile
Strength of the region's industries and economy
In terms of manufacturing industries, Akita Prefecture is characterized by the high weight of the electronic component/device industry, which accounts for approximately 25% of the total value of shipments from the prefecture, and has the largest workforce in Akita Prefecture, thus establishing itself as the leading industry of the prefecture. In the past, Akita was one of the few mining regions in Japan, and that is why the prefecture boasts an advanced metal recycling industry that takes advantage of mineral processing technologies. In addition, inflow of the automotive and other transport equipment industries into the Tohoku district is distinct, and the growth in the medical/pharmaceutical industry exemplifies the accelerating aging of the population in the prefecture in recent years.
Available incentives
Subsidy for investment in plant and equipment: A subsidy equal to 10% (the rate may be increased according to the requirements) of the investment in the plant and equipment is offered to companies locating a factory in the prefecture. Four billion yen may be paid at a maximum if it includes a research and development facilities. (There is a upper limit.)
Preferential taxation: Local taxes (real estate acquisition tax, enterprise tax and fixed asset tax) may be exempted for designated industry types located in designated areas.
Funding programs: One billion yen maximum may be lent at 1.8% per annum with repayment terms of 10 years for the investment in factory construction.
Services for investment in Japan
| | |
| --- | --- |
| Providing market information | Advice on market participation |
| Support for finding customers | Listing of potential customers and partners, Listing of potential customers and partners |
| Support for establishing a base | Providing incubation facilities or other facilities, Providing information on procedures for investing in Japan, Arranging the meetings needed to establish a base (real estate, manpower services), Introduction of available properties and advice on hiring personnel, Providing information on permits and licensing procedures, Providing information on subsidy programs |
The Industrial Agglomeration Division of Akita Prefecture provides support for foreign companies considering investments in Akita Prefecture. Making use of its network, the Office offers information about the procedures for incorporation, as well as industrial sites, human resources, universities, research institutes, and business partners, free of charge. Subsidies may be granted for part of the initial investment such as investment in plants and equipment.