Pamphlets / Video
"With and Beyond COVID-19: Business Opportunities in Japan" promotion video series
Pamphlets
Free downloads of pamphlets and other materials related to Japan's investment environment.
JETRO IBSC
One-stop service and support centers that help foreign companies set-up business in Japan.
Foreign-Affiliated Companies Contributing to Japanese Economies
This content introduces foreign-affiliated companies contributing to Japanese economies through "Promoting diverse work styles and business models", "Creating a global innovation platform", "Promoting reduction of CO2 emissions, renewable energy", and "Creating innovation through collaboration with Japanese companies"
Talk to JETRO First
English version (including QR code linked to "Investing in Japan" URL in;)
Why Japan? "5 Reasons to Invest in JAPAN"
The Japanese economy is emanating new appeal. Now is the perfect time to invest. Discover 5 reasons to invest in JAPAN.
Reason1: An Ever-growing Economy, Reason2: A Sophisticated Market, Reason3: An Innovation Hub, Reason4: Business-Friendly Infrastructure, Reason5: A Comfortable Living (March 2019)
Why Invest in Japan′s Local Regions?
-Unlimited Business Opportunities Await-
This content informs you the advantages of the investment environment Japan's local regions offer.
We have three sections of reasons "Why1 : -Business Opportunity Beyond Tokyo-", "Why2 : -Leverage the Power of Innovation-", "Why3 : -Safe & Secure Business Environment-".
Laws & Regulations on Setting Up Business in Japan
TProvides an overview of the laws, regulations and procedures related to setting up a business in Japan.
Foreign-Affiliated Companies Contributing to Local Economies
This content introduces foreign-affiliated companies contributing to local economies in Japan through "Export promotion of local products", "Job creation", "Attracting foreign tourists", and "Research and development".
Video
Begin your future with Japan's local region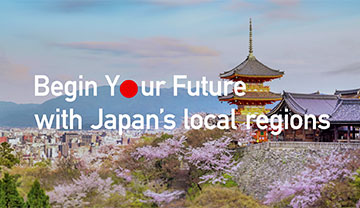 There are abundant business opportunities in Japan's local regions. Take advantage of the strengths of these areas and explore new possibilities for your business.
Watch Video (YouTube)

Fukushima: Innovation hub for high-quality medical devices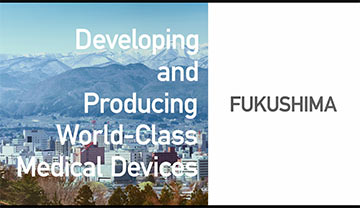 Fukushima is one of Japan's top-ranking prefectures in the production of medical devices. The presence of leading global medical device manufacturers and many local companies with distinguished craftsmanship results in world-class medical device development and production.
Watch Video (YouTube)

Fukuoka: Where open innovation begins
Fukuoka Prefecture, the heart of the Kyushu economy, has become a center for global companies and research institutes that employ advanced technologies. The area of IoT in particular has rapidly grown in the region as a result of open innovation.
Watch Video (YouTube)

Source: Videos created by the Ministry of Economy, Trade and Industry
JETRO's "JETRO Global Eye" is a TV program featuring various international business topics.
Through the above link, you can watch streaming videos of archives of this program related to investment-in-Japan including interviews with foreign-affiliated companies in Japan.
You may view videos on Japan's attractive sectors for investment such as infrastructure, energy, manufacturing, tourism and more.