Business Expanding

EarthShift Global, a provider of sustainability services, establishes a Japanese subsidiary in Ibaraki Prefecture as its Asian headquarters
EarthShift Global

is a U.S. company that provides comprehensive services related to Life Cycle Assessment (LCA), a scientific method for quantitatively evaluating the environmental impact of a product or service through its life cycle, from resource extraction and procurement to disposal and recycling. EarthShift Global's team helps top-level executives, front-line practitioners, academic researchers, and policymakers worldwide achieve their business and strategic objectives by providing consulting services, software, and training to guide advancements in sustainability. EarthShift Global's proven approach emphasizes engagement, adaptability and credible, measurable results, and the incorporation of performance-enhancing sustainable thinking into everyday business decisions. Founded in 2000, the company has about 20 employees and serves hundreds of universities, governments, research institutions, and companies across the globe in a wide range of industries, including chemicals, electronics, manufacturing, retail, food, and energy.
Establishment

2023/05
Destination

Ibaraki
---
ICT

USA
The company's SaaS platform "EarthSmart" can assess the environmental impact of a product or service throughout its life cycle, from raw materials to disposal and recycling. The environmental impact of changes to alternative materials or changes in manufacturing processes by designers and engineers can also be evaluated and integrated into the LCA design process. The company has also developed and provided "PackageSmart," LCA software for sustainable package design, and "3Pillars," software for evaluating sustainable return on investment (S-ROI), to help companies, researchers, and policy makers incorporate sustainable thinking based on objective indicators into their everyday business decisions.
In May 2023, the company established EarthShift Global, Asia G.K. in Ibaraki Prefecture as its Asian headquarters to expand its business in Asia including Japan.
To assist with establishing the company's base in Japan, JETRO Invest Japan Business Support Center (IBSC) provided regulatory and institutional information, consultation (registration, tax, and labor) and introduced service providers (administrative scriveners and tax accountants).
JETRO supports your business in Japan
JETRO IBSCs are located in Japan's major business hubs and provide one-stop support and service to foreign firms seeking to set up or expand business in Japan. The centers, which provide free temporary office space, consultation with expert advisors and access to a wealth of business information, tailor support according to the specific needs and phase of development of each firm.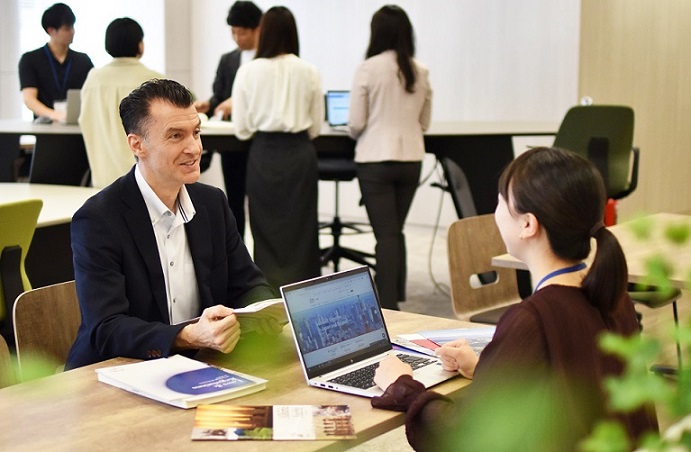 Contact Us
Investing in Japan
We will do our very best to support your business expansion into and within Japan. Please feel free to contact us via the form below for any inquiries.
Inquiry Form
JETRO Worldwide
Our network covers over 50 countries worldwide. You can contact us at one of our local offices near you for consultation.
Worldwide Offices