Business Expanding

Voxa, a U.S. company that develops microscope solutions for nanoscale structural analysis, establishes a Japanese subsidiary in Yokohama
Founded in Seattle in 2012, Mochii Inc.

(trade name: Voxa) is a US company that provides nanoscale imaging technology solutions in the fields of neuroscience, medicine, environmental protection, and space exploration.
Establishment

2023/02
Destination

Yokohama city , Kanagawa
---
Other

USA
The company's ultra-compact portable electron microscope "Mochii™" is characterized by its ultra-light weight, remote operation, and collaborative control capabilities, allowing it to be used in environments where nanoimaging and microanalysis were previously impossible. Under partnership with NASA, Mochii™ is currently installed on the International Space Station (ISS) and enables real-time remote analysis of samples by experts on Earth without needing to bring samples back from orbit. In addition, their microscope sample delivery pipeline "Blade™," which has an ultra-fast, high-resolution automatic image processing function, realizes microscopy imaging and analysis one million times faster than conventional manual workflows. The product has been used at top-level research institutions worldwide such as, Princeton University, the Allen Institute for Brain Science, Charité University in Berlin, and the National Institute for Physiological Sciences (NIPS) in Japan.
In February 2023, the company established a Japanese subsidiary, Voxa Japan Co., Ltd., for the purpose of supporting existing customers and developing sales channels in the Asia-Pacific region.
To assist with establishing the company's base in Japan, JETRO Invest Japan Business Support Center (IBSC) provided subsidy/incentive information and real estate property information, arranged business meetings with local governments, lent out IBSC facilities, introduced service providers, provided consulting (registration, visa, tax, and labor), and assisted in opening corporate bank accounts.
JETRO supports your business in Japan
JETRO IBSCs are located in Japan's major business hubs and provide one-stop support and service to foreign firms seeking to set up or expand business in Japan. The centers, which provide free temporary office space, consultation with expert advisors and access to a wealth of business information, tailor support according to the specific needs and phase of development of each firm.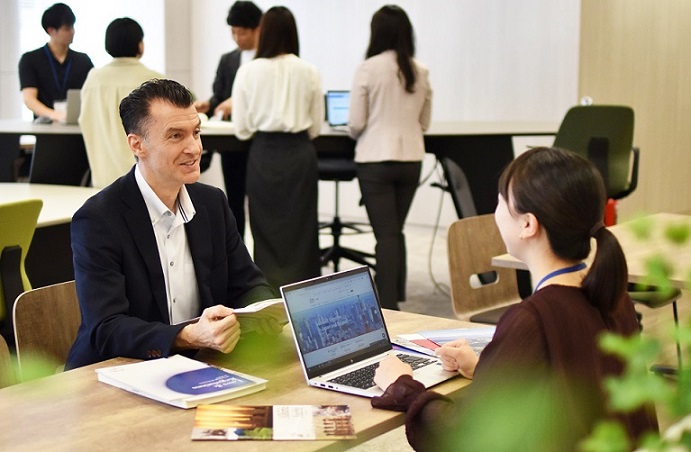 Contact Us
Investing in Japan
We will do our very best to support your business expansion into and within Japan. Please feel free to contact us via the form below for any inquiries.
Inquiry Form
JETRO Worldwide
Our network covers over 50 countries worldwide. You can contact us at one of our local offices near you for consultation.
Worldwide Offices