Business Expanding

Elekta, a Swedish company that leads precision radiotherapy solutions, steadily expands its business in Japan
Founded in Stockholm in 1972 and listed on the Nasdaq Stockholm, Elekta

is a Swedish global company that specializes in the development of radio therapy equipment, including stereotactic radiosurgery using Leksell Gamma Knife1, Adaptive Radiotherapy with Linac2/MR Linac, and brachytherapy, as an integrated radiotherapy vender. The company's hardware and software are used by more than 6000 medical institutions globally for the treatment of cancer and brain diseases. It has a global team of approximately 4,700 people, including local subsidiaries in 40 countries and regions, and provides solutions and services in more than 120 countries worldwide. Leksell Gamma Knife, developed by the company, was introduced to Japan in 1990 for the first time. Currently, 336 units have been installed worldwide, 49 of which are in Japan, the country in world with the highest number of LGK per capita and second only to the United States.
Expanding

2022/01
Destination

Tokyo
---
Biotechnology & Lifescience

Sweden
Elekta K.K. is the company's Japanese subsidiary established in Kobe, Hyogo Prefecture in 1993 and moved to Tokyo in 2009. Currently, it has approximately 150 employees, and is developing its broad portfolio. In recent years, the company has been selling products such as CT-integrated Linac developed jointly with Canon Medical Systems Corporation, and Elekta Unity, a high-precision radiation therapy system that integrates high-field, high-resolution 1.5 Tesla magnetic resonance imaging (MRI) by Philips, the company's Dutch partner, and Linac. In addition, as a global enterprise, the company is actively working on SBT (Science Based Targets), including a 46.2% reduction of greenhouse gas emissions from its products by 20323.
Elekta Unity has been introduced to Chiba University Hospital, Osaka Metropolitan University Hospital, and Tohoku University Hospital. Globally, as of September 2022, the company had received orders for more than 115 units in 27 countries, 50 of which are already in clinical operation. The cases treated at each institution to date cover more than 40 types of cancer, including pancreatic cancer with a low 5-year survival rate and liver and esophageal cancers with relatively low survival rates.
Appearance of Elekta Harmony
In recent years, COVID-19 pandemic, changes in work styles, as well as improved treatment outcomes have significantly changed the nature of radiotherapy, and the company is also innovating to meet various needs. In 2022, in order to respond to such changes in the environment, the company launched Elekta Harmony in Japan, a new Linac concept, which includes automatic patient identification using facial recognition.
In the area of treatment information systems, the company collaborated with JETRO to research cloud computing and develop networking environment, and has received an order for the first cloud-based cancer treatment system (Elekta Axis) in Japan. The monitoring application "Kaiku" was introduced, which allows patients themselves to enter their physical condition during and after treatment using a tablet or other device, and link this information with the hospital's system. By focusing on preventing the overlooking of side effects, it is expected to improve cancer treatment outcomes and improve quality of life (QOL).
Mr. Motohiko Kimura, who has been more than 25 years at Elekta, and currently a President of Elekta K.K. commented: "In the high-growth APAC market, The percentage of cancer patients receiving radiotherapy is 25-30% in Japan, which is very low compared to other countries, such as the United States4. With Elekta's comprehensive portfolio, we are committed to expanding the indications for radiotherapy so that all cancer patients can have hope for their cancer treatment."
Going forward, the company will continue to expand its portfolio as an integrated vendor of radiotherapy by applying these spirits to external radiotherapy such as Linac, and the cancer therapy information systems that manage and operate them.
To help raise awareness of Elekta K.K. in Japan, JETRO Invest Japan Business Support Center (IBSC) provided PR support (Success Stories).
Mr. Kimura (left), President and Managing Director, Japan, and Mr. Watanabe (right), Head of Marketing Asia Pacific & Japan
1.

Leksell Gamma Knife: A stereotactic radiotherapy device dedicated to intracerebral disease, developed in 1968 by Professor Lars Leksell, a neurosurgeon at the Karolinska Institute in Sweden (Founder of Elekta). This treatment method uses gamma rays (γ rays) emitted from about 200 sources (cobalt-60) and irradiates them intensively to the lesion area like the focus of a magnifying glass.

2.

Linac (linear particle accelerator): A general radiation therapy device that generates X-rays and electron beams for radiotherapy. A general-purpose system that can treat lesions in all areas of the body, from the head to the extremities.
JETRO supports your business in Japan
JETRO IBSCs are located in Japan's major business hubs and provide one-stop support and service to foreign firms seeking to set up or expand business in Japan. The centers, which provide free temporary office space, consultation with expert advisors and access to a wealth of business information, tailor support according to the specific needs and phase of development of each firm.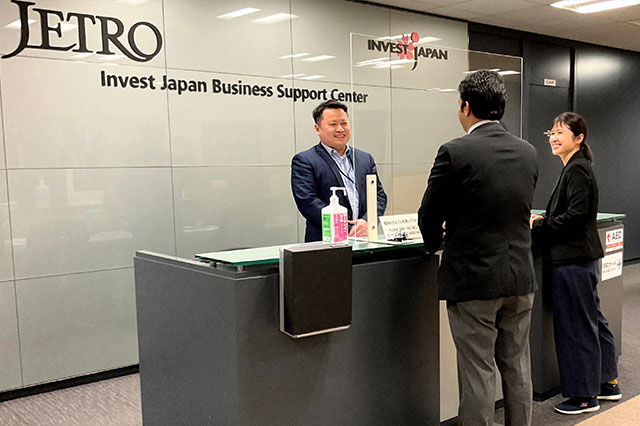 Contact Us
Investing in Japan
We will do our very best to support your business expansion into and within Japan. Please feel free to contact us via the form below for any inquiries.
Inquiry Form
JETRO Worldwide
Our network covers over 50 countries worldwide. You can contact us at one of our local offices near you for consultation.
Overseas Offices