Business Expanding

OpenLM Ltd., an Israeli-based software license management solution provider, establishes a Japanese subsidiary
OpenLM Ltd.

(hereinafter "OpenLM") headquartered in Israel is a provider of license management solutions for engineering software such as CAD, PDM, EDA, as well as software license management solutions that monitor on-premises and cloud software usage. The company's solutions monitor real-time information on who is using which licenses, and visualize and manage statistics on past license usage history to optimize software usage and reduce license costs. Companies using OpenLM's solutions can also set up license usage based on management policies, allowing all users in the company, including management as well as the license personnel, to enjoy the convenience.

Establishment

2022/02
Destination

Tokyo
---
ICT

Israel
Oren Gabay, CEO of OpenLM, commented on the company's launch of the Japanese business: "We believe that Japan is one of the most important countries for OpenLM's expansion strategy in the Asia-Pacific region. Our solutions allow you to set the license usage based on your management policy, supporting both on-premises and cloud, which can streamline software asset management within your company. We hope to provide even better solutions to our Japanese customers in the future."
In February 2022, OpenLM established a Japanese subsidiary, OpenLM Japan Ltd. in Shinjuku-ku, Tokyo in order to further expand their business. Oren Gabay, CEO of the company, also serves as Representative Director of the Japanese subsidiary, and the company aims to provide more Japanese companies with a solution that can improve their productivity by optimizing and managing license usage, based on its experience in optimizing software license management in a wide variety of companies worldwide, from SMEs to large Fortune Global 500 companies.
To assist with establishing OpenLM's Japanese subsidiary, JETRO Invest Japan Business Support Center (IBSC) introduced service providers (administrative scriveners, certified public tax accountants, and labor and social security attorneys) and invited the company to the Regional Business Conference (RBC).  
JETRO supports your business in Japan
JETRO IBSCs are located in Japan's major business hubs and provide one-stop support and service to foreign firms seeking to set up or expand business in Japan. The centers, which provide free temporary office space, consultation with expert advisors and access to a wealth of business information, tailor support according to the specific needs and phase of development of each firm.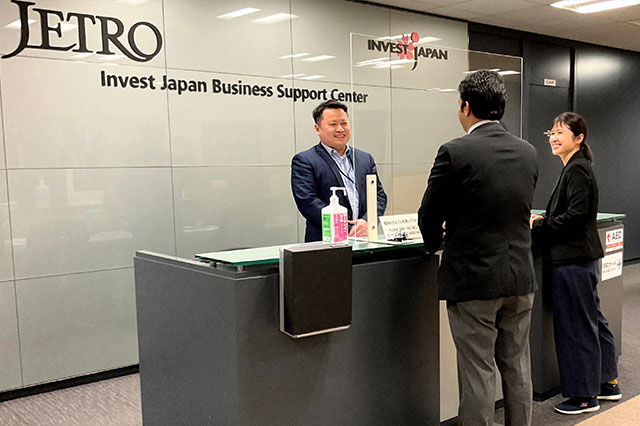 Contact Us
Investing in Japan
We will do our very best to support your business expansion into and within Japan. Please feel free to contact us via the form below for any inquiries.
Inquiry Form
JETRO Worldwide
Our network covers over 50 countries worldwide. You can contact us at one of our local offices near you for consultation.
Overseas Offices