Business Expanding

Envision Digital International Pte Ltd, a Singapore-based solution provider for carbon neutrality with renewable energy, establishes a Japanese subsidiary
Envision Digital International Pte Ltd

is the provider of the world's largest energy AIoT platform, which are installed at renewable energy plants of about 360 gigawatts, and connected to more than 100 million IOT devices and systems.
Establishment

2020/09
Destination

Yokohama city
---
Environment & Energy

Singapore
The company provides solutions such as balancing supply and demand, data management, and energy conversion in renewable energy, and various assets can be organized in a batch in an End 2 End and M2M manner. In addition, the company's group is the world's number one wind turbine manufacturer in terms of orders received, and by leveraging its network and knowledge, it has achieved a high degree of accuracy and precision in data analysis and resulting forecasts.
In September 2020, the company established Envision Digital Japan K.K. in Yokohama City, Kanagawa Prefecture. The establishment of its Japanese subsidiary will help introduce advanced energy management utilizing cutting-edge digital technology into the Japanese market.
Upon establishing its Japanese base, JETRO provided information, arranged consultations (legal, tax, and labor), introduced them to local governments, and also introduced service providers.
JETRO supports your business in Japan
JETRO IBSCs are located in Japan's major business hubs and provide one-stop support and service to foreign firms seeking to set up or expand business in Japan. The centers, which provide free temporary office space, consultation with expert advisors and access to a wealth of business information, tailor support according to the specific needs and phase of development of each firm.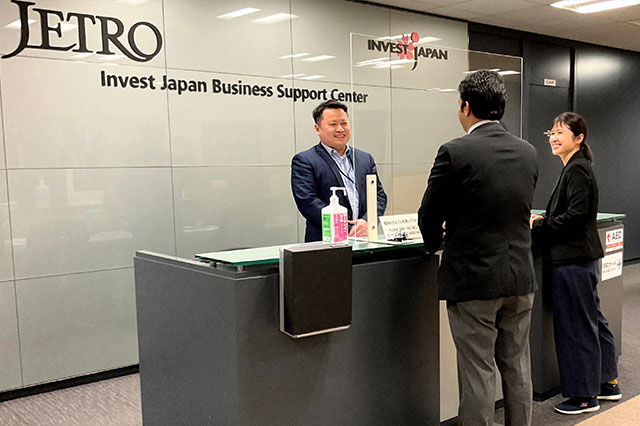 Contact Us
Investing in Japan
We will do our very best to support your business expansion into and within Japan. Please feel free to contact us via the form below for any inquiries.
Inquiry Form
JETRO Worldwide
Our network covers over 50 countries worldwide. You can contact us at one of our local offices near you for consultation.
Overseas Offices