Business Expanding

MaaS Global, a Finnish MAAS developer, establishes a Japanese subsidiary
MaaS Global

is a mobility application development company founded in 2015 in Helsinki, Finland. It is a pioneering company that has developed and commercialized a platform that realizes the MaaS (Mobility as a Service, Note¹) concept for the first time in the world.

Establishment

2019/09
Destination

Tokyo
---
Service

Finland
The company has developed "Whim", a subscription model application for smartphones that enables route searches, reservations, ticketing, and payments in a single package, combining various means of transportation (railways, buses, taxis, rental cars, rental bikes, car sharing, etc.). Starting with the practical application in Helsinki, the capital of Finland, the service area continues to expand to various countries and cities, including Antwerp in Belgium, Birmingham in UK, Vienna in Austria, Switzerland and Greater Tokyo in Japan.
Since its launch in 2016, the application has already been used for more than 18 million journeys (itineraries) worldwide. It has also received various awards, including Future Unicorn Award 2019 (Note²).
Mobile screen images of Whim app
It has brought about a change in the transportation habits of users, by improving the convenience of transportation, providing a solution to regional issues such as securing a means of transportation for the elderly, as well as by allowing users to choose a sustainable method of transportation. The goal is to replace one million private cars with the transportation means through Whim by 2030, thereby reducing CO2 emissions from travel.
In September 2019, the company established a Japanese subsidiary, MaaS Global Japan Co., Ltd., in Chiyoda-ku, Tokyo.
Upon establishing its Japanese base, JETRO's Invest Japan Business Support Center (IBSC) provided business matchings, temporary office space, consultations (labor, visa), and introduced service providers (real estate companies).
(Note¹)

A service that optimizes the combination of multiple public transportation and other transportation services to meet the transportation needs of local residents and travelers on a trip-by-trip basis, and provides search, reservation, and payment services in a single package. It is also an important means of improving the convenience of transportation and contributing to the resolution of regional issues through collaboration with services other than transportation at destinations such as sightseeing and medical services.

(Note²)

An award given by Digital Europe, a European information and communication technology (ICT)-related industrial association, to European start-ups whose achievements have been highly evaluated and who are expected to be active in the digital field in the future.
JETRO supports your business in Japan
JETRO IBSCs are located in Japan's major business hubs and provide one-stop support and service to foreign firms seeking to set up or expand business in Japan. The centers, which provide free temporary office space, consultation with expert advisors and access to a wealth of business information, tailor support according to the specific needs and phase of development of each firm.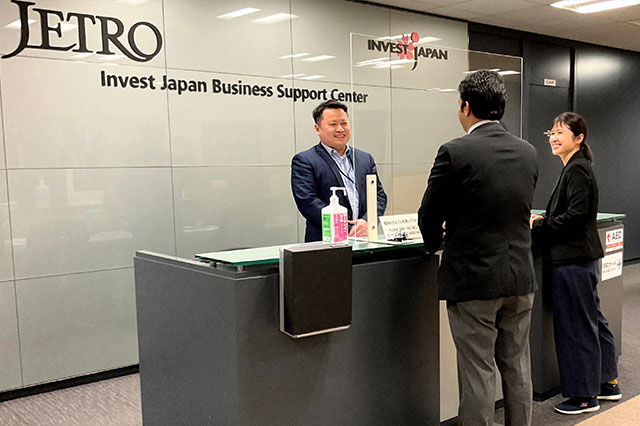 Contact Us
Investing in Japan
We will do our very best to support your business expansion into and within Japan. Please feel free to contact us via the form below for any inquiries.
Inquiry Form
JETRO Worldwide
Our network covers over 50 countries worldwide. You can contact us at one of our local offices near you for consultation.
Overseas Offices