Business Expanding

DLT Labs, a Canadian company that promotes digital transformation (DX) of supply chains with blockchain technology, starts full-scale business in Japan
Founded in Toronto in 2017, DLT Labs

provides services that leverage platforms to enable easy integration and deployment of business modules, security, blockchain tools, etc.
The company develops and offers platform products that implement blockchain technology, including DL Payment Ecosystem™ (settlement management), DL Certify™ (authentication management), DL Data Consent™ (personal information management), and DL Asset Track™ (supply chain management). The company also has several software development bases in India, and has a proven track record of providing solutions in countries around the world.
Establishment

2020/03
Destination

Tokyo
---
ICT

Service

Finance & Insurance

Canada
In 2020, DLT Labs collaborated with Walmart Canada and brought a large-scale industrial blockchain solution into full operation using DL Asset Track™. Walmart Canada's domestic distribution involves shipments of 500,000 items per year to over 400 stores in Canada using all third-party carriers that transport domestic merchandise, which results in massive delivery transaction data, and requires enormous amount of payments and reconciliations with the carriers. By using blockchain technology to automate the collection and management of this data and verify transactions, the reliability in transactions is ensured across multiple companies, and significant cost savings are delivered.
In response to the growing demand for the company's technology to innovate the supply chain with digital power, the company established DLT Labs Japan in Tokyo in March 2020. In March 2021, as part of the "NEOBANK®" service provided by SBI Sumishin Net Bank, the two companies agreed to begin studies on the construction of a platform for DX support services and supply chain finance services for operating companies. Examining the possibilities of DX support and supply chain financing for companies in the logistics and construction fields moving forward, the company launches full-scale business in Japan.
Upon establishing the company in Japan, JETRO's Invest Japan Business Support Center (IBSC) provided consultation (registration, visa, tax, labor), PR support, searching for business partners/business matching, information on subsidies and incentives, arranged meetings with local governments, and introduced service providers (real estate agencies).
JETRO supports your business in Japan
JETRO IBSCs are located in Japan's major business hubs and provide one-stop support and service to foreign firms seeking to set up or expand business in Japan. The centers, which provide free temporary office space, consultation with expert advisors and access to a wealth of business information, tailor support according to the specific needs and phase of development of each firm.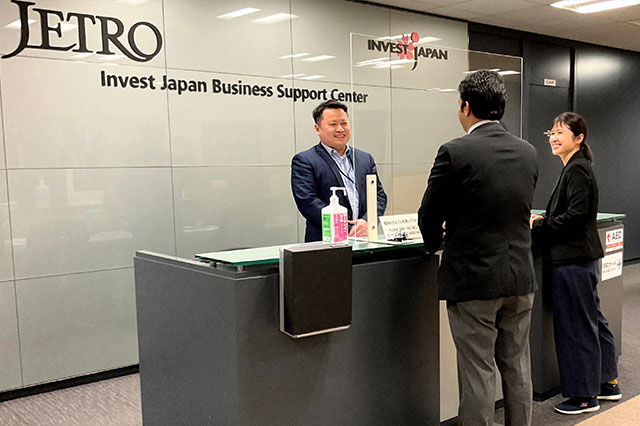 Contact Us
Investing in Japan
We will do our very best to support your business expansion into and within Japan. Please feel free to contact us via the form below for any inquiries.
Inquiry Form
JETRO Worldwide
Our network covers over 50 countries worldwide. You can contact us at one of our local offices near you for consultation.
Overseas Offices