The Japanese Government and the Tokyo Metropolitan Government together launched the Tokyo One-Stop Business Establishment Center on the 7th floor of JETRO Headquarters in Tokyo, which commenced operation on April 1, 2015.
This is the first center in Japan that has integrated the procedures for establishing business by overseas-affiliated or venture companies in one location. Through face-to-face consultation, well-versed staff members and experts in this field assist with a wide range of administrative procedures required when forming a legal entity and starting operations in Tokyo including for certification of articles of incorporation (starting from October 1), corporate registration, taxes, pension, social insurance and immigration control. At the request of these companies, the center will also provide interpretation and translation services in multiple languages.
Within this center, contact points of two related organizations were also opened. In the "Business Development Center Tokyo

", bilingual consultants will help business matching and matters concerning life for individual workers of overseas companies intending to start business in Tokyo. The "Tokyo Employment Consultation Center

" helps non-Japanese firms or enterprises which have just established business accurately understand the employment rules in Japan and smoothly develop their operations.
Contact

Tokyo One-Stop Business Establishment Center Tel: +81-3-3582-8352
Business Development Center Tokyo Tel: +81-3-6269-9981
Tokyo Employment Consultation Center Tel: +81-3-3582-8354
JETRO has operated the Invest Japan Business Support Center (IBSC) on the same floor as the Tokyo One-Stop Business Establishment Center. This enables overseas-affiliated firms to conduct all preparation and procedures for starting operation in Tokyo on the 7th floor of JETRO Headquarters.
To overseas companies wishing to set up business in Tokyo, please take full advantage of these centers.
Tour of the center before the opening ceremony. From left to right, Tokyo Governor Yoichi Masuzoe, Prime Minister Shinzo Abe, State Minister of National Strategic Special Zones Shigeru Ishiba and JETRO Chairman Hiroyuki Ishige.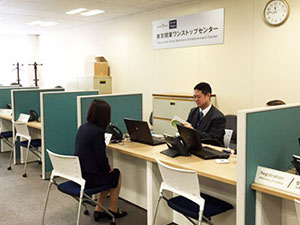 Inside Tokyo One-Stop Business Establishment Center