Invest Japan Business Support Center (IBSC)
Facilities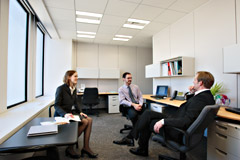 Temporary office space offered free of charge
IBSC temporary offices are located near major government offices and have convenient access to important business centers across Japan. Such proximity enables you to complete applications, registrations, business negotiations and other preparations to smoothly establish and expand your business.
About IBSC temporary offices
| | | |
| --- | --- | --- |
| Tenancy eligibility | : | Foreign company considering to start or expand a business in Japan |
| Tenancy period | : | Up to 50 business days in principle (The period can be extended as required, but a tenancy fee will be charged.) |
| Tenancy fee | : | Free (Deposit and communication fee are required.) |
| Equipment | : | Desks, chairs, telephones and broadband connections |
| Common facilities | : | Conference rooms, multipurpose hall, business library |
---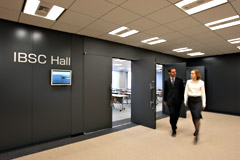 Multipurpose hall and conference rooms
Multipurpose hall and conference rooms are available to hold seminars, meetings, and other business activities so as to avoid having to reserve outside facilities.
---
Gather a wide range of information needed for your business
The JETRO Business Library is an academic library devoted to international business. Our libraries in Tokyo and Osaka hold collections of over 230,000 books and 100,000 books, respectively. Our resources include an excellent selection of English-language documents and reference materials on Japan, Asia and other countries, and visitors have free access to all items in the library.
The information is as of IBSC Tokyo, Please refer to the link below for information on IBSCs in other areas.