Invest Japan Business Support Center (IBSC)
Consultation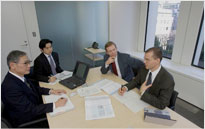 Free individual consultation for your company
IBSC staff and advisors can provide information about such matters as industrial structures and market shares, Japanese business practices in regard to procurement, product sales, and industrial systems, as well as offering advice based on the needs of your company.
Examples of consultation
Establishing an office
Taxation, labor and legal issues
Obtaining residence status and visas
Cost estimates
Market and industry information
Information on relevant legal systems
Arranging meetings with [national/ local] government authorities
Receiving requests for deregulation
Information on incentives from national and local governments
Networking with potential business partners
Introducing service providers (recruitment, real agencies, accounting firm)
Translation of subsidy application
Provide information on the regulations and incentives from national and local governments
National and local authorities offer a number of incentives to encourage investment. Some examples are preferential taxation that includes reduction or exemption of business taxes, fixed asset taxes and real estate acquisition taxes, subsidies, the provision of land and buildings, and taxes related to financing and lending systems. In addition to information on these incentives, the IBSC staff can also help you efficiently gather information on laws, standards, regulations and authorization procedures and can arrange meetings with representatives from national and local authorities. The IBSC staff can assist you with submitting certain requests for deregulation to the relevant government bodies.
Estimate the cost to set up a Japan office
IBSC can provide a customized estimate based on a number of factors showing how much it would cost you to set up an office in Japan.
Help with procedural requirements for establishing a business
Our in-house team of experts can provide you with information on company registration, visa applications, tax procedures, and labor procedures. We can also introduce you to outside professionals who can create and submit the procedural documents on your behalf.
Find qualified staff
Our staff can search for specific candidates, including representatives in Japan, salespeople, accountants, and engineers, through recruitment and job-placement companies and present the candidates to you. We also cooperate with recruitment companies in arranging interviews with promising candidates.
Find a location for your office
IBSC can help you find possible locations for your permanent office according to your needs using local real estate companies. Since you will need to have a set address for the majority of the procedures required for setting up your office—including establishment registration and public notification, certificate of eligibility application procedures, opening a bank account, and hiring employees—it is necessary to begin finding an office early in the process. IBSC can help you find an office quickly using our nationwide network with real estate companies.